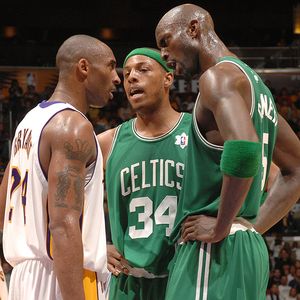 I found this pic on a Lakers' blog of all places. I think it sets the right tone for 09-10. Speaking of Lakers' Blogs, I found these interesting threads:
SoCAL24 wrote:I'd take Daniels over everyone mentioned in this thread (rush, alston, barnes). Daniels may be the most comparable sub to Ariza if we lose him, god forbid. When Dunleavy and Granger went down this season Daniels was a beast, he was also very good on Dallas before Josh Howard took over (if I have my facts right there). The short of it is, this guy is very underrated, is a 20 PPG guy with starter minutes, can play defense and is a vet but not too old. I used to not like him that much because of the tats and that he never smiled or anything but he's a good player, more mature now also. I don't konow the asking price but if it's $4 million or less I say pull the trigger. He's SOOO much better than Sasha and to be honest, better than Brown also, who I love. I would trade Luke for him also, who many joke that we'd love to dump but Luke's got a lot of intangibles that make him valuable. Even gauging all of that I'd rather have Daniels.
I agree. He's so versatile. If Ariza stays he can log minutes in the backcourt. If Ariza goes he can log heavy minutes at SF.
Again, I think we could get him for less than 3 million per ... ironically Cleveland will be our biggest competition.
ALL HAIL wrote:
ALL HAIL wrote:If Daniels can be consistently used in a rotation that utilizes him well he WILL be an absolute steal.

Someone will get this dude for 4 mill or less ...

Cleveland could REALLY use him!

Sigh



So true this is bad