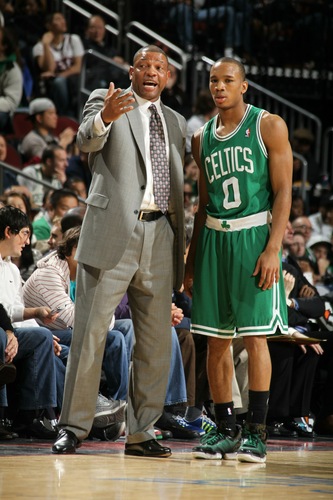 I started last season suggesting that for the Celtics to get anywhere, they needed to find a difference maker, someone young enough and talented enough who could throw the team on his back when one of the aging stars was unable to do so. We needed someone like this, I said, because the the aging stars increasingly came up empty when it counted, partly because, as aging stars, it takes them longer to recover between playoff games, and, as a result, the C's tend to take leads in playoff games they can't hold.
I might have added that aging stars tend to take leads in
series
they can't hold.
Boy, did that start a maelstrom. Email after email telling me how Ray Allen was a difference maker. My response was plain and simple. If Ray Allen was such a huge difference maker, then why did the C's have a tendency to lose playoff series in which they were once ahead three games to two?
Did anyone think Larry Bird would have allowed something like this to happen?
That seemed to quiet the crowd.
Of course, this past playoff season the Celtics seemed to have experienced, by unofficial count, their third playoff series loss after being up three games to two, at least in the "Ray Allen Era."
"Ray Allen Era" is in quotes because Ray Allen was a nice player, but other than game winning threes during the regular season, I'm not sure how much of a difference Ray Allen made, particularly when our focus is on his impact during an entire playoff series. Indeed, it is hard to recall a playoff series where he carried the team to victory.
Not so for Kevin Garnett or Paul Pierce.
In any event, it appears that the Celtics will start the 2012-13 NBA season in search of the same difference maker they were searching for last season. Of course, one might suggest that Rajon Rondo is that player. I wouldn't deny that Rondo has carried the Celtics on his back for more than a couple playoff series. But is he capable of doing it for an entire playoffs?
In other words, can he Rondo, playing with something akin to the roster as it now stands, guide the C's to title number 18?
Perhaps.
Assuming no further roster additions of major significance, Avery Bradley might emerge as the second young buck to help Rondo carry the torch. That's a big load for a player who hasn't done much during his two-year NBA career, especially when we remember he is currently recovering from double-shoulder surgery.
But if healthy, and when playing to his potential, Avery Bradley can indeed make a difference on both ends of the court. Defensively, he's proven the case since day 1. Offensively, however, Bradley is far more skilled than anyone would have guessed. He went from shooting one of the more ineffective J's on the team, to actually making three-pointers with some regularity.
Now that's a good start.
What's left is doing that consistently over the course of a long season, and then doing it when it counts, when a playoff series is on the line.
Well, kid, that's a lot to put on those two tender shoulders.
But with Ray Allen going to the Heat, Steve Nash and possibly Dwight Howard going to the Lakers, and Derrick Rose getting healthy, you might be our best bet at this point.