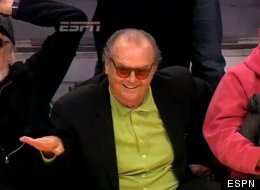 Jack Nicholson couldn't handle the ugly truth any longer on Friday night at the Staples Center: His beloved Los Angeles Lakers were hapless. The renowned fan of the purple and gold bolted early as Kobe and company dropped their sixth straight game, a
116-101 loss
to the Oklahoma City Thunder.
Despite 28 points from Bryant, Los Angeles never challenged OKC in the second half. With the Lakers trailing by more than 20 points midway through the fourth quarter Nicholson decided that he'd seen enough. He was leaving and he was taking Adam Sandler with him. But Jack didn't leave without waving goodbye to former NBA coach and current ESPN announcer Jeff Van Gundy. Mike Breen, Van Gundy's broadcast partner, called the departure.
"How bad has it gotten here at the Staples Center? Jack Nicholson is letting Jeff Van Gundy know that it's time to leave."

WATCH VIDEO ABOVE
Not long before he bailed, Reggie Miller was wondering if Nicholson would officially surrender as the Thunder rocked the Lakers behind a stellar performance from Kevin Durant, who
finished with 42 points
.
@ReggieMillerTNT

Reggie Miller
I would love for Jack Nicholson to throw a "white towel" on the floor and yell "No Mas No Mas!!"
With the Lakers not producing too many highlights to transform into GIFs lately, Nicholson's wave to JVG got the treatment. Here it is to watch over and over and over.