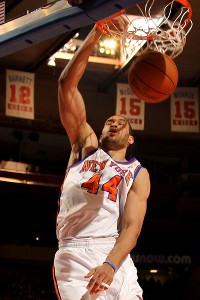 The Boston Celtics managed to a fill a need for an offensive scoring punch off the bench when they traded for Wizards guard Jordan Crawford on Thursday, but they had to send away veteran big man Jason Collins to do so, which left them very thin along the front line.
The Celtics didn't waste any time trying to fill the gap up front as forward D.J. White is set to ink a 10-day contract. Coach Doc Rivers said Friday night in Phoenix that the team will still target another big with another open roster spot available. It's very likely that -- with White on his way -- the team will proceed slowly and see what emerges from buyouts across the league. But if Boston finds itself in a sudden rush for a body, here's a handful of currently available options in the D-League and free-agent market:
D-LEAGUE
* Jerome Jordan: Currently playing for the Reno Bighorns, the 7-foot, 250-pound Jordan has a similar build to Collins, but is far more athletic and could contribute more impact plays. Last season he made 21 appearances for the New York Knicks, averaging 2 points and 1.3 rebounds in just over 5 minutes per game. For Reno this season, he's started in 18 of 22 games and has averaged 13 points, 8 rebounds and 2.6 blocks over 30.5 minutes per game.
* Tim Ohlbrecht: Hailing from Germany, the 6-foot-11 Ohlbrecht has started in 27 of 30 games for the Rio Grande Valley Vipers this season, averaging 13.3 points on 59.9 percent shooting, to go along with 7.3 rebounds and 1.7 blocks in 26.8 minutes per game. Signing a center like Ohlbrecht could give Rivers a bit more freedom to utilize Chris Wilcox at the power forward spot and keep Green at the small forward position in traditional lineups. European hoops site Sportando reported that Ohlbrecht had turned down a 10-day offer from Boston.
* Garrett Stutz: Stutz actually has a very brief history with the Celtics, as he joined their summer league roster in Las Vegas last year after Fab Melo suffered a hand injury. Stutz didn't get much of an opportunity to make an impression on Boston's brass during his time in Vegas, but it's possible they've seen more of him lately, as he's now a member of the Maine Red Claws. Through his first seven games in Maine, Stutz has averaged 7 points and 4.1 rebounds in 15.9 minutes per game.
FREE AGENTS
* Lou Amundson: Amundson could be one of Boston's primary targets, given he's only 30 years old and has actually played in the NBA this season. Amundson was waived by the Timberwolves earlier this month, but has demonstrated in the past an ability to bring energy and rebound the ball. His defensive rebounding rate of 17.8 percent is respectable (Brandon Bass' career defensive rebounding rate is 16.8 by comparison) and at 6-foot-9, he could play both frontcourt positions.