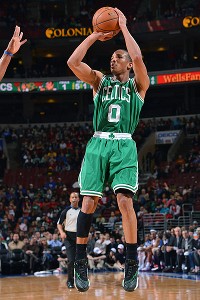 We know Avery Bradley can be an offensive threat. We saw flashes and even a few extended stretches when it was forced upon him last year. But overall, this season, he's been disappointing, stricken with more responsibilities than he can handle like making plays off the dribble (non-existent), initiating the offense (pedestrian), and putting pressure on the defense (a roller-coaster ride).
His basic per game numbers are concerning: 8.5 points, 1.5 assists, 0.8 free-throw attempts. He's shooting just below 30% on three-pointers and just below 40% overall. (Both are REALLY bad considering his low volume.) And since his debut on January 2, the Celtics have scored 3.4 fewer points per 100 possessions with Bradley on the court than off it.
--
CELTICS HUB
Last night Bradley erupted for a season- and team-high 22 points on 10-of-15 shooting to go along with seven rebounds and five assists in Tuesday's 109-101 triumph in Philadelphia.Bradley did a little bit of everything on the offensive end, knocking down a couple of 3-pointers and producing one particularly thunderous fourth-quarter follow slam. But he was also 4-of-5 shooting in the midrange, showcasing that in-between jumper that Rivers always believed he had in his repertoire.
Boston Celtics
STARTERS
MIN
FGM-A
3PM-A
FTM-A
OREB
DREB
REB
AST
STL
BLK
TO
PF
+/-
PTS
Brandon Bass, PF
25
2-5
0-0
1-1
1
3
4
1
0
1
0
2
-4
5
Paul Pierce, SF
30
6-10
4-4
2-2
3
8
11
7
0
0
5
3
+9
18
Kevin Garnett, C
28
9-17
0-0
0-0
1
5
6
1
0
2
6
4
+11
18
Avery Bradley, PG
34
10-15
2-4
0-0
2
5
7
5
1
0
4
0
+5
22
Courtney Lee, SG
30
2-7
1-3
0-0
2
2
4
4
3
0
1
1
-2
5
BENCH
MIN
FGM-A
3PM-A
FTM-A
OREB
DREB
REB
AST
STL
BLK
TO
PF
+/-
PTS
Jeff Green, PF
28
4-8
1-1
7-9
2
2
4
5
1
0
1
2
+9
16
Chris Wilcox, PF
17
2-6
0-1
0-0
1
5
6
0
0
2
1
2
-1
4
Jordan Crawford, SG
16
4-7
2-3
2-2
0
4
4
3
1
0
1
1
-1
12
Terrence Williams, SG
7
0-1
0-1
0-0
0
0
0
2
0
0
1
0
+5
0
Jason Terry, SG
26
3-7
1-2
2-2
0
3
3
6
1
0
2
1
+9
9
D.J. White, PF
DNP COACH'S DECISION
Shavlik Randolph, PF
DNP COACH'S DECISION
TOTALS


FGM-A
3PM-A
FTM-A
OREB
DREB
REB
AST
STL
BLK
TO
PF
PTS


42-83
11-19
14-16
12
37
49
34
7
5
22
16
109


50.6%
57.9%
87.5%



Fast break points: 16
Points in the paint: 38
Total Team Turnovers (Points off turnovers): 22 (30)

+/- denotes team's net points while the player is on the court.

Philadelphia 76ers
STARTERS
MIN
FGM-A
3PM-A
FTM-A
OREB
DREB
REB
AST
STL
BLK
TO
PF
+/-
PTS
Thaddeus Young, SF
33
9-20
0-0
1-3
7
3
10
0
2
1
1
1
-11
19
Evan Turner, SF
44
6-19
1-4
5-5
3
6
9
7
2
0
2
5
-7
18
Spencer Hawes, C
28
7-12
0-0
0-0
4
2
6
1
0
2
2
2
+8
14
Royal Ivey, PG
37
4-9
2-7
0-0
0
2
2
3
3
0
1
3
+8
10
Jrue Holiday, PG
42
6-17
0-3
6-6
2
3
5
10
4
0
5
2
+8
18
BENCH
MIN
FGM-A
3PM-A
FTM-A
OREB
DREB
REB
AST
STL
BLK
TO
PF
+/-
PTS
Arnett Moultrie, PF
20
5-5
0-0
0-0
3
1
4
0
1
0
0
2
-13
10
Dorell Wright, SF
23
3-13
2-7
2-2
0
7
7
2
2
0
2
2
-13
10
Lavoy Allen, C
3
0-1
0-0
0-0
0
1
1
0
0
0
0
0
-4
0
Damien Wilkins, SG
11
1-4
0-0
0-2
0
1
1
1
0
0
1
1
-16
2
Kwame Brown, C
DNP COACH'S DECISION
Charles Jenkins, PG
DNP COACH'S DECISION
Jeremy Pargo, PG
DNP COACH'S DECISION
Nick Young, SG
DNP SPRAINED LEFT ANKLE
TOTALS


FGM-A
3PM-A
FTM-A
OREB
DREB
REB
AST
STL
BLK
TO
PF
PTS


41-100
5-21
14-18
19
26
45
24
14
3
14
18
101