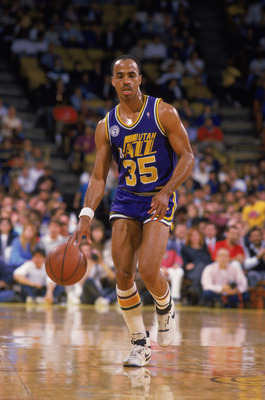 January 11, 1981
RATING NBA AT MIDSEASON MARK . . .
Would that I could state things have improved in the NBA since the Quarterly Report, but that is not the case. The number of good teams has not increased. Attendance still is a horror in too many areas. It seems as if half the league is composed of drab clubs that win two straight, lose four in a row, win one, lose one, etc. And don't even talk to me about the basic pivot play in this league. It may be, in context, at an all-time low.
But since tradition and propriety demand that we examine the state of the league at the halfway point, let us proceed.
I. Brigadier General Division
1. PHILADELPHIA. Despite, rather than because of, Darryl Dawkins, the Sixers have been the best team in the league. Rookie Andrew Toney eliminates the need for Doug Collins and enables Billy Cunningham to bring Lionel Hollins off the bench, where he teams with Bobby Jones and Steve Mix to provide Philly with the league's best quality depth, one through eight. It's getting to be a tiresome lament, but the only person keeping Double D from being the best center in the league is himself.
2. BOSTON. Has arguably the best frontcourt in basketball, and it's getting better all the time since Kevin McHale is now playing two out of three, or three out of four good games, instead of one of two, or one of three. The biggest weakness is the lack of an adequate replacement for Tiny Archibald. Henry Bibby says he would look good in a Boston uniform, and he is absolutely right.
II. Lieutenant General Division
3. MILWAUKEE. Seldom down long, the Bucks have no visible weakness, unless it's at power forward. Playoff hopes will rest on the health and spirit of Bob Lanier, who still must prove he really knows how to win. Hey, and when the discussion swings to the identity of the league's best coach, don't forget Don Nelson. And to think he was jiving us about refereeing.
4. PHOENIX. (As long as it stays away from Boston, anyway.) A very good team for the long haul, but still a questionable playoff entry, at least as long as John MacLeod continues to treat Johnny High with the same respect he accords Walter Davis. Rivals continue to insist that they'd rather win or lose with horses, were they MacLeod. He sometimes relies on his ponies.
5. SAN ANTONIO. I believe, I believe. Is it the victory incentive clause? Is it Stan Albeck's coaching? Is it the new, muscular Dave Corzine? Is it the good turtle soup, or merely the mock? Is it gonna last? I'll let you know when I finally see them.
6. LOS ANGELES. Asterisk, asterisk, asterisk. Give the Lakers a healthy Magic and they'd be the favorites if the playoffs started today. They won with seven basic contributors last year, and now they have added Eddie Jordan. It's a basic truism of NBA life that if the Big Guy wants to play, the Lakers are the best. But the Big Guy is 33 now, and easily bored.
III. Major Division
7. NEW YORK. Could it be that Ray Williams and Michael Ray Richardson would be better off with a little less talent? Could it be that Bill Cartwright never will be a rebounder? Despite these negative thoughts, the Knicks remain a scary opponent because of their offensive might. Of course, the ones New York scares the most are its own fans.
8. INDIANA. After saying that I'd like to have Dudley Bradley, I'm stuck. I dunno. Maybe Jerry Buss kept the wrong coach after all.
9. GOLDEN STATE. The Knicks of the West. They're zany and lovable, which is tough when your center is the phlegmatic Joe Barry Carroll. Let it be known that the new, sober Bernard King is a frighteningly efficient force.
IV. Staff Sergeant Division
10. CHICAGO. The World's Tallest Team (even the guards range from 6-foot-3 to 6-7) is far from the world's worst. In fact, if you throw out the Bulls' 0-9 record with Boston and Philly, they can be better put in perspective. You've got to like their long-range possibilities if Ronnie Lester ever gets healthy.
11. ATLANTA. It can't stay healthy; it's as simple as that. Give Hubie Brown a nonhurting Tree Rollins, a healthy Dan Roundfield and the rest of his cast, and he's back where he belongs - in the top six.
12. KANSAS CITY. Pardon me, but I find it difficult to dismiss a team that includes Scott Wedman, Otis Birdsong and Phil Ford. The need for a better center has now become acute, however.
13. PORTLAND. Did somebody say center? Tom Owens may have out-lived his usefulness here. This much we know: When the Trail Blazers zeroed in on Kelvin Ransey as the Playmaker of all their Christmas Futures, they had the right idea.
14. SEATTLE. Ay, Sonics, we hardly knew ye. Too many new faces in key roles mean too few chances to attain continuity. But they say Jack Sikma has performed awesomely well in a vacuum.
15. HOUSTON. It can score during the anthem, but it possesses few attributes of a superior team. A .430 winning percentage is what the Rockets deserve.
V. Corporal Division
16. WASHINGTON. A team not to be envied. It is going nowhere with ancients Elvin Hayes and Westley Unseld, but at the same time these two remain the team's best players. What to do? Recommendation: Bite the bullet (sorry) and start anew next year.
17. UTAH. Let's face it. There is a limit to how far you can go with a 6-3 1/2 scoring forward and a 6-2 jump-to-the-moon guard. Incidentally, I'm still in mild shock over Ben Poquette's 10-block game.
18. DENVER. Glad to see Doug Moe hasn't changed. He comes in, and instead of losing, 120-115, the Nuggets start losing, 133-132. But seriously, folks, Denver is kinda fun to have around.
19. SAN DIEGO. When this season is over, the most incomprehensible feat might well be San Diego's recent six-game winning streak. Paul Silas is playing with the basketball equivalent of a 35-card deck.
20. CLEVELAND. Based on a couple of his Boston performances, Kenny Carr is a cross between Elgin Baylor, Rudy LaRusso and Gus Johnson. Obviously, this does not happen every night. However, the Teddi-Bears do happen every night. What a country.
21. NEW JERSEY. Out of context, you would take Mike Newlin, Maurice Lucas, Cliff Robinson, Mike O'Koren, Mike Gminski and Jan VBK and plug them into your team somewhere. True, there have been injuries, but that isn't enough of an explanation to explain why this team should be so bad.
VI. Private Division
22. DETROIT. There has, too, been a positive development this year. Phil Hubbard is back to his pre-knee game. Believe it or not, everybody thinks Scotty Robertson is doing a good coaching job. For assuming this task, perhaps knighthood is in order.
VII. Trainee Division
23. DALLAS. It's been doomed this type of ignominious treatment since learning that the teams were going to protect eight, instead of seven. Expansion jokes are ordinarily easy to make, but you don't hear many about Dallas. Dick Motta has given them a respectable image, anyway.
In Addition . . .
Player of the Half-Year: Jack Sikma, Seattle.
Rookie of the Half-Year: Darrell Griffith, Utah. But I wouldn't trade Kevin McHale for him.
Coach of the Half-Year: Jack McKinney, Indiana. First runnerup, Stan Albeck, San Antonio. Second runnerup, Bill Fitch, Boston (You think this is an easy team to coach?).