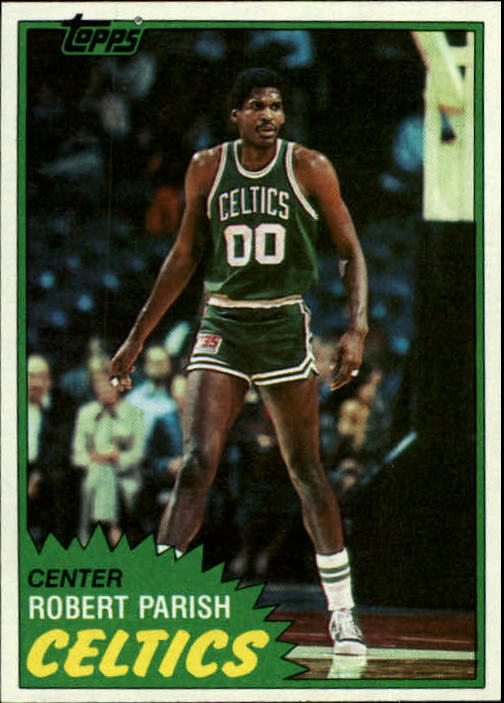 January 15, 1981
The praise for Robert Parish came from all quarters last night. And why not? He has become a gem of a center for the Celtics, and as much of a key to their success this season as Larry Bird was a year ago.
The "Chief" was his old self last night - which is to say that he was on the warpath again - with 33 points, 14 rebounds and 7 blocked shots in the Celtics' 120-113 victory over the Cleveland Cavaliers.
"I honestly believe," Cavs coach Bill Musselman was saying last night, "that he is playing the best basketball of any of the centers in the league right now. I mean Kareem (Abdul-Jabbar) is great, and you expect that. But Parish is playing so well with the Celtics."
And then Musselman added that it was his Celtic teammates who were paying Parish the highest compliment almost nightly.
"You know that he's happier playing here in Boston than he was in Golden State," said Musselman. "And he's got to be impressed by the way they go to him in the middle. After all, this is a team that had the best record in the NBA without him. But he's shown he can do the job, and they're going right to him.
"And give him some credit, too. You know he's under a lot of pressure, for if he hadn't produced, you know what everybody would say. Where is Dave Cowens? Parish has only been here half a season and nobody is even talking about Cowens."
These are the dog days, as Celtic coach Bill Fitch calls them, and his best explanation of what is happening with his club is simply that they are "grinding out the victories."
"It's a good thing that we have self motivators on this team. Players go into slumps, coaches go into slumps periodically. That's when guys just have to reach down and do it. We've got guys who are going out and doing what it takes to win."
Soon, Fitch got around to the man who has been holding the Celtics' tough midsection together and who is probably the least publicized story of their remarkable winning string that has now reached six straight and 18 of the last 19 games.
"You know, it's really nice to see him come back to the form he was earlier in the season," Fitch said. "He's been struggling since the West Coast trip. I'm not just talking about his statistics, which in some of the games have been pretty good. But those long trips are tough on the big centers. It's tough for them to hold things together mentally.
"When Robert is playing well, he's doing a lot of things. He's an intimidator, and not just to the centers. The forwards have to think about him when they go in there. He's been running on the break, too. That's what really makes us go when you've got a big man like him going up and down the court at full speed."
Parish played 40 minutes last night for the Celtics, the most for him in quite a while. But it was one of those moves that Fitch now feels he must make to keep the Celtics winning.
Parish had played 17 minutes in the first half, scoring 17 points. With the score tied at 70-70 in the third quarter, he stumbled over the feet of Cavs center Bill Laimbeer and came away limping. But Fitch sensed that the timing was right to stop Cleveland by jamming the middle, and forcing them into a perimeter shooting game. The Celtics needed Parish to make that happen, so Fitch left him in there.
"I knew he'd sprained his ankle when he fell," said Fitch. "But he was still able to move, and I was afraid that if I sat him down, his ankle might stiffen up. Besides, he really got into it after that, and I didn't really want to take him out. He was hitting his jump shot and I wanted him in there for his defense since he was intimidating both the centers and the forwards.
"I told Robey that he wasn't going to play much, but Rick understands. When Robert was struggling on the West Coast, that is when he played his best basketball. The time to have a good backup center is when you need him, and he did the job just like Robert is doing it now."
Parish hit four of five shots in the third quarter, when the Celtics went on a 34-19 spree to overcome 66-61 halftime deficit. Cleveland hit only 8 of 22 shots in the third period. Parish blocked two shots and a third block was called goaltendng. Parish blocked four more shots in the final period. When the Cavs cut Boston's lead to 114-108 with 1 minute, 50 seconds left, Parish again was the equalizer. He sank two free throws after being fouled at 1:31. Then 10 seconds later, he blocked another shot and wound up shooting two more free throws for a commanding 118-108 lead. The 33 points by Parish were a season high.
"I'm pleased about tonight," said Parish, "because it means I've played two good games in a row. I've been in a little slump of late. Now I feel I'm getting back to where I was last month.
"There isn't any real explanation of why I get the ball so much in the fourth quarter other than that this is a very unselfish team. We have a lot of guys who can score, but we made a point to get the ball to the open man. I don't ever recall ever having to whistle for the ball. If I'm open, I'll get it.
"It's fun to play with these guys. Your confidence grows. You get more recognition."
And it's fun to play with Robert Parish.
"It's no secret," said rookie Kevin McHale. "You do what you have to do to win in the pros, and right now, he's our bread and butter man. He's playing great."