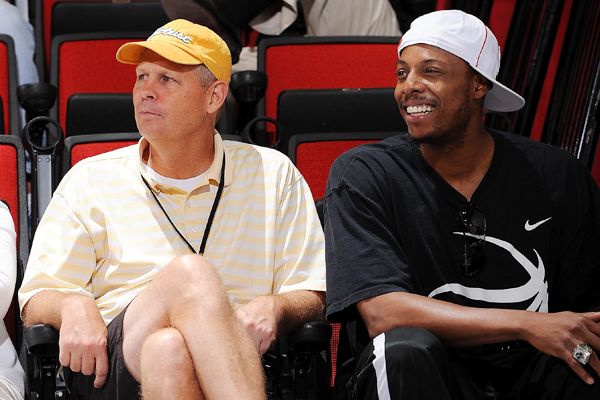 "I thought the writing was on the wall," said Pierce. "You saw Doc was leaving, [Rajon] Rondo was hurt, probably not going to be back until probably December, January, who knows? … If I was a GM and I looked at the situation, and one day I probably plan on being a GM if that's possible, I probably would have made the same decision. There's some sentimental things that go along with me and Danny being together for so long, [but] at the end of the day, he works for the Boston Celtics; he doesn't work for Paul Pierce. He works for a franchise that's going to be around a lot longer than me, and he has to make the best decisions that he can for that franchise. And, if I was in his position, I think moving forward, I would have done the same thing."
LINK
Back in 1988, when he was one of the Celtics' backcourt starters, Danny Ainge was seated at a table with Larry Bird, forward Kevin McHale and team president Red Auerbach during the organization's Christmas party. At the time Boston was reportedly considering trades that would have sent Bird and McHale to the Indiana Pacers and Dallas Mavericks, respectively. "Look at these two guys," Ainge told Auerbach, over the surrounding conversations of other players and their families. "Larry's got casts on his feet [from surgery to remove bone spurs in both heels], Kevin's got a screw in his foot [to repair a stress fracture]—you've got to trade these guys." Everyone laughed at Ainge's typical audacity, but he wasn't joking. "I would have traded Larry Bird," he insists today

.
LINK
The Boston Celtics were 41-40 last season, and had one of the highest payrolls in the NBA.
That pretty much says everything I need to know about what happened after getting smacked upside the head in the first round of the playoffs.