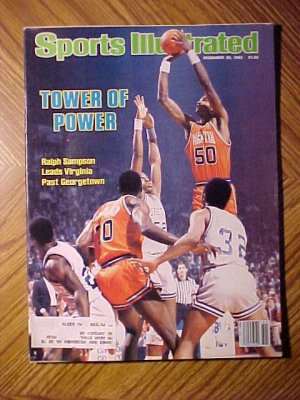 April 1, 1980
Celtic general manager Red Auerbach today proved that he still has the knack of winning the "big ones."Auerbach, the brilliant strategist, on and off the court, was overcome with elation after he personally witnessed the celebrated flip of the coin with the Utah Jazz in the New York office of NBA commissioner Larry O'Brien that decided the Celtics had won the right to pick first in the NBA college player draft on June 10.
For the Celtics, the win of the toss means an outside chance that they will be able to acquire the services of 7-foot-4 freshman Ralph Sampson of NIT champion Virginia if he decides to declare hardship and turn pro. Auerbach, who immediately pounded on the table, and let out a cry of joy at the announcement, walked off with the big prize without personally making either of the two coin tosses during the brief ceremony.
When both Auerbach and Utah general manager Frank Layden insisted that they wanted to make the call of the coin flip, O'Brien resolved the matter by deciding to make a preliminary flip of the coin to determine who would get to make the call that really counted.
O'Brien then assigned heads to the Celtics and tails to the Jazz, then flipped the coin which turned up tails in favor of Utah. Layden, in a phone hookup from his Utah office, then made the call, and selected heads before O'Brien flipped an 1883 silver dollar. It came up "tails."
The Celtics had earned the right to participate in the coin flip because of the trade (involving Bob McAdoo) they made previously with the Detroit Pistons. The Pistons ended with the worst record in the Eastern Conference, and thus, the Celtics got to represent that conference in the coin flip. Utah and Golden State finished with identical records in the Western Conference, but Utah earned the right to represent the West when O Brien picked the Jazz out of an envelope in a blind draw yesterday.
Virginia athletic director Gene Corrigan was mildly upset at "unfounded" rumors that Sampson might be more receptive to turning pro now that he has the opportunity to join the Celtics rather than Utah. "Where do these stories originate from" asked Corrigan. "I honestly don't believe that Sampson will change his mind and leave Virginia, regardless of what the Celtics have done or will do. When he came to our school, he said that he intended to remain here for at least two years.
"Obviously, we're happy with him (Sampson), and we're hoping he'll stay here all four years," he added. "But if he decided to leave, we'd be terribly disappointed. I'm sorry that they (NBA) have such a thing as hardship."