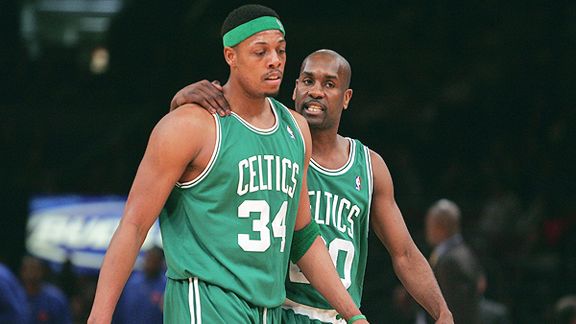 8/8/04
Paul Pierce placed a couple of phone calls to Gary Payton yesterday, hoping to offer the nine-time All-Star an unofficial welcome to the Celtics. The Boston captain later learned Payton had embarked upon a weeklong Disney cruise with his family and would be hard to reach. But the news did not diminish Pierce's enthusiasm for the trade that sent Payton, forward Rick Fox, a 2005 conditional first-round pick, and $2 million to the Celtics for forward/center Chris Mihm, point guards Marcus Banks and Chucky Atkins, and a 2005 second-round pick.
"If Gary comes and plays, it's a great situation for us, especially myself," said Pierce. "He's one of the best point guards to ever play the game. And I think we've put ourselves in a better position for the future [financially]. The only thing you worry about is the potential of Marcus Banks and Chris Mihm, but with trades you always take a gamble. But I don't see this as much of a gamble. Gary is capable of taking more pressure off me than Marcus Banks and the guys that were traded.
"I've never really played with him. But from hearing about him over the years, he's a hell of a competitor. I think he's getting a bad rap now because of what he did during the playoffs. But all the people saying he's on his last leg, I think they're wrong. He's definitely the All-Star-caliber player we need."
Coach Doc Rivers agreed, commenting that the Celtics did the deal specifically to acquire Payton. In his mind, the financial flexibility resulting from the trade was a side benefit. The coach believes the 36-year-old still has plenty of good basketball left. Boston coveted the defensive toughness and passion that have earned Payton mixed reviews during his 14-year-career. In the Celtics system, Rivers thinks Payton will again flourish.
"I've always liked Gary," said Rivers. "He's competitive and he plays the game with great effort. There's a saying that goes: I'd rather kindle a fire than start one. With Gary, you don't have to start his fire. That's a good thing. Obviously, there's going to be times when he gets too emotional. That's when you try to ratchet it down. But at the end of the day, give me a guy who wants to play hard and does not like his opponent. That's something that's always stood out with Gary. That's something I've always liked about him.
"He was in a system [with the Lakers] that's the exact opposite of the way he plays. But I think he can still defend. He can defend better if he has a defensive system around him, which he will. He'll have support defensively. Is he the same defensive player he was 10 years ago? No. But he is still one of the better defensive guys in our league."
Rivers envisions Pierce and Payton as an impressive backcourt combination. The coach believes Payton's defensive tenacity and high basketball IQ will provide Pierce with the perfect complement.
"There's issues Gary's had with coaches and other players, but you want a guy who wants to win," said Pierce. "I think we're at the same level as far as our competitiveness. I'd rather play with a guy with his passion and competitiveness than a guy with more talent any day."
Director of basketball operations Danny Ainge reiterated yesterday that he would discuss the deal fully once players passed physicals and the transaction received league approval. Given Payton's initial frustration with the trade, the Celtics want to see him report before they treat it as a done deal. When asked if he had any concerns that Payton would not report as required by Aug. 16, Ainge said, "No."
Rivers added, "I don't see that happening, but the tough part about working with veterans at this point in their career is they could wake up one morning and say, 'You know what? I'm not going to do it.' That's the biggest gamble with this."
All signs indicate that it's Fox who will not be in uniform next season, whether he retires or takes a buyout. But that may be good news for the Celtics, who would gain another roster spot and who have plans to sign a free agent big man. According to Rivers, the team would not have made the trade if it couldn't sign another big man. Former Piston Zeljko Rebraca, whom Ainge watched work out a couple of weeks ago, and Tom Gugliotta are candidates.
Until he has to welcome a new big man, Pierce will keep trying to reach Payton. When the two connect, Pierce knows exactly what he will say.
"I just want him to know I'm in full support of him and we can use him," said Pierce. "I think it's a great situation for him. He can bring his stats back up."