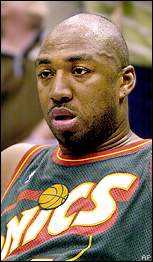 11/7/04
NEW YORK - Putting a slight spin on Frank Sinatra, Gary Payton figures that if former teammate Vin Baker "can do it in New York, with a city like that, then he can do it anywhere." Baker continues his recovery from alcoholism while playing basketball in the city that doesn't sleep. After resolving a protracted contract dispute with the
Celtics,
Baker signed with the Knicks as a free agent last March. Last night, Baker faced Boston for the first time since the team terminated his contract, and scored 2 points and grabbed six rebounds in 14 minutes in the Knicks' loss. He's happy to be a role player for New York, but Baker is still disappointed with the way Boston handled his situation.
During a preseason interview with The New York Times, Baker said: "I think they were waiting for the ultimate demise. I won't ever bash an organization. I'm thankful to God for my new opportunity. But I will go on record as saying that when it did happen, when the relapse did happen, they weren't all too eager about me getting the necessary treatment that I needed at the time."
Supported by Knicks president Isiah Thomas, who lost a brother to alcoholism, and Madison Square Garden chairman James Dolan, a recovering alcoholic, Baker hopes for a comeback with a happier ending in New York. During the offseason, he underwent surgery to correct an irregular heartbeat and re-signed with the Knicks for approximately $7 million over two years, the second year a player option.
"I'm happy because he's getting his life together," said Payton. "Basketball is secondary. If he doesn't play basketball again, I wouldn't care. "I think about his life before all this. When basketball is over, if he still has this problem, it's got to be fixed.
"What I want him to do is get his life together, get his money right, and get things going on where he can relax, kick back, and watch his kids grow up and he doesn't have to have these problems. I think he's going in the right direction with that right now."
Matter of trust
Of all the statistics compiled by rookie Al Jefferson, 9.6 is the most important number. That represents the minutes per game he is averaging. He had an 11-minute stint Friday against Indiana in which he scored his first career points and blocked three shots, and he played 15 minutes last night, scoring 8 points and grabbing four rebounds.
"Al just fumbles around and plays well," said coach Doc Rivers. "It's funny. He's 19 years old. It's a shame right now you can't trust him at the end [of games] because I guarantee you he'll have some fight."
While Jefferson appreciates the awkward compliment from Rivers, the young big man believes more than luck puts him in the right place at the right time.
"I'm getting more comfortable every game and I'm glad he's giving me an opportunity," said Jefferson. "I want to help with rebounding. I'm not going to say it's luck because it's happened too many times."
Those were the days
Rivers and Thomas go back to their days at Maywood Park on Jackson and 17th streets in Chicago. The two first played against each other when Thomas was in ninth grade. At the time, Rivers was tagging along with his older brother.
Thomas remembers "how strong he was. He always had big calves and big thighs and he was pretty well put together. He could always jump.
"I remember the first time looking at him and I was trying to size up his game. He could really take the ball to the basket. His jump shot wasn't that good; however, it got better. He never could go left and he still can't go left. But going right, he was dunking on you."
The Knicks' home opener made Thomas more nervous as an executive than when he was a player.
"It's always important to win at home," said Thomas. "Last year, I wasn't that pleased with our home record. If you're going to be a good team, you've got to win at home.
"For me, personally, it's a nervous night because you've got all the right people in the building. You've got the fans, the entertainers. It's a hot night for everybody."