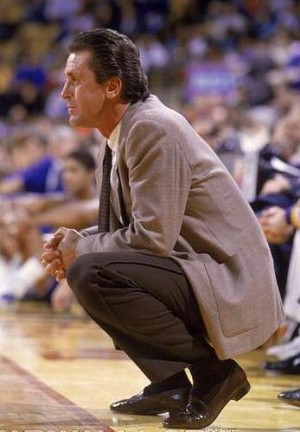 May 1984
"The Lakers are probably as good a team as we've played all year," said McHale, Boston's stellar sixth-man, in recalling that L.A. won both regular season games with the Celtics this year.
Asked how the two teams would match up, McHale said: "We're more physical, but they run well. We don't want to get into a wild running game with them."
But they may not have a choice. "We are going to be the first team Boston has seen that really runs back on them," said the Lakers' Riley.
Maxwell, on the other hand, views the series as one that will be decided by the superstars.
"How Larry (Bird) goes, we will go," Maxwell said. "How Robert (Parish) goes, we will go.
"For them, how Magic goes, L.A. goes. How Kareem goes, L.A. goes. Both teams are so evenly balanced, I don't analyze it being a four-game affair, either."
Who in his right mind would?
On Feb. 8 of this year, the Celtics and Lakers played one of the regular season's best games. It ended with L.A. on top, 111-109. In that game, Abdul-Jabbar set the all-time record for most field goals in a career and received such a moving ovation from the Boston Garden crowd that he wrote a letter to the Boston Globe, thanking the fans for their kindness.
When the two teams moved West for the second and final regular-season game later, the Lakers won another good one, 116-108.
Entering today's game, both clubs are reasonably healthy (Boston guard Dennis Johnson is nursing sore fingers on his right hand but should play), so the injury factor that hurt the Lakers against the 76ers in last year's finals should not come into play.
And, according to McHale, the fact that L.A. had to end a series in Arizona Friday, then travel 3,000 miles yesterday for a game today should not affect the quality of play.
"A lot of people said the same thing about us in the Milwaukee series - that after going through a seven-game series with New York that we'd be physically and mentally drained," he said. "That sort of thing doesn't happen to pros."
Abdul-Jabbar noted that Los Angeles faced a similar situation before last year's championship series (the Lakers won in San Antonio on a Friday and had to travel to Philadelphia for a game Sunday).
"This time we are mentally prepared, but it doesn't mean we're going to go and run them off the court," he said.
Said Riley of his team's lack of preparation:
"I know Boston is a great basketball team, but I had an opportunity to watch most of their Milwaukee series. We had a scout at all their games, and we've got videotapes for our players. We have a pretty good handle on what they do."
But if they are still weary, just walking out onto Boston's famous parquet floor to begin a chase toward a title ought to be enough wake up the Lakers.