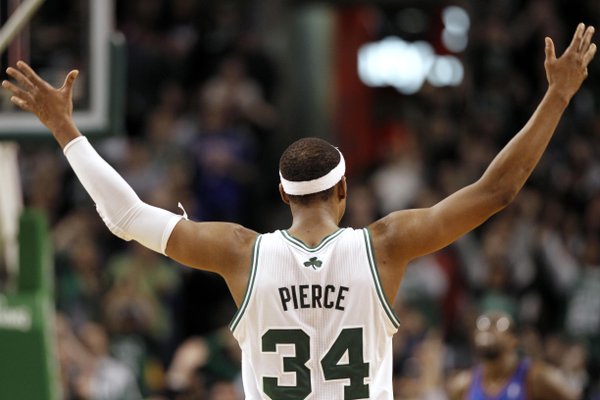 PETER MAY
As 2007 turns into 2008, and with the Celtics winning with such proficiency and ease, it is time to salute Danny Ainge, Doc Rivers, and the team's owners. I know they haven't won anything yet. But so far, to borrow a phrase from Mike Huckabee ... shazam!
Looking back, it's impossible to have seen this coming. Can you imagine what the reaction would have been on the evening of May 22 if Ainge had stood up and said, "Well, we're disappointed we didn't get the first or second pick. But we're going to use that fifth pick and we're going to use several of the players we have from our 24-win team to get Ray Allen and Kevin Garnett. Oh, and by the way, we're not giving up Paul Pierce."
++
With a nod to the lads down in Foxborough, there's another team in town that not only is mowing down opponents but is doing so at a rate that, statistically, could rank it as one of the great regular-season teams of all time.
The Celtics are 29-3. Take a step back and reflect on that utterly astonishing record. They could go .500 the rest of the way - which would be a dramatic dropoff from the way they are playing - and still finish with 54 wins. They are (a) a Paul Pierce 3-pointer (which he's been known to make on occasion), (b) two Ray Allen free throws (money) and (c) a silly Tony Allen foul from possibly being 32-0.
++
Well, I guess we know what happened to the guys who ran the numbers for Barack Obama in New Hampshire. They went out and set the pointspread for the Celtics-Bobcats game.
And you know what? They were right. The Celtics deserved to be 13-point favorites, even though, as Gerald Wallace said after last night's stunner, "We should be 2-0 against them."
As we know, once in a while strange things happen in politics and sports, and last night, 24 hours after Obama saw a 13-point poll lead disappear in the Granite State, the Celtics suffered the same fate against the lowly Charlotte Bobcats at TD Banknorth Garden. In what certainly qualifies as a shocker, Charlotte took it to the Celtics and came away with a 95-83 victory.
++
Can we please turn back the calendar to 2007? These Celtics we've seen in 2008 bear little resemblance to the wrecking crew that terrorized the NBA in November and December. Ever since the Celtics flew back from Los Angeles, conquerors of the Lakers for the second time and winners of four games in four tries out West, there has been, well, something missing.
++
It was totally unrealistic to think the Celtics' otherworldly play in November and December would continue unabated. But we had become so accustomed to routs at home, victories on the road, wire-to-wire wins, dominating defense, that close wins over Houston and Memphis in early January were, well, almost shocking. Then came - horrors! - home losses to Charlotte, Washington, and Toronto. They were lucky to beat the Timberwolves - at home. Who foresaw that after what happened in the first two months?
But are they closer to the 26-3 tsunami of November-December or the 10-5 high tide of January? Probably the latter (although if you look at their games in April, they might run the table). The Celtics now have a body of work out there for other teams to strategize against. I always thought the Celtics would have more luck early, even with all the new faces, because there was nothing to prepare against if you were an opponent. Now, there is. That still might not help you stop Paul Pierce down low or drive on Garnett, but it's out there.
++
We've been hearing it now for a while. Somehow, Kevin Garnett no longer is a consensus choice for Most Valuable Player because he (a) had the temerity to suffer a serious injury for the first time in his career and (b) his team had the temerity to win seven of the nine games he missed.
But after last night's 98-88 grinder over the Hawks, the Celtics are, ahem, 39-10 when Garnett does play. And when he plays like he did yesterday, you'd like to send the game film to all those who have elevated Kobe Bryant and LeBron James to exalted status.
The case for Garnett is pretty simple. The Celtics have the best record in the NBA, have had the best record all year, and he is their best player. The Celtics have been the best defensive team pretty much all season (save for that hideous two-game stretch in Denver and Golden State) and Garnett is the reason. He makes it all possible. Thibodeau gets props for his schemes, but if you don't have Garnett out there at middle linebacker barking out calls, it doesn't matter.
++
They trailed by 16 after one (scoring just 16 points in the process). They trailed by 17 midway through the second, en route to what looked like it might be a fourth straight loss on this trip. Already they had lost as many games in four days as they had in the first two months, they were winless since Kevin Garnett returned to duty, and they were getting out-everythinged by the young, frisky Blazers.
"They were excited. They attacked us. We didn't handle it very well," Rivers said. That would be an understatement. They were getting overwhelmed. And, as Rivers noted, "It's dangerous to get down on the road." But then the Celtics' big guys finally showed up, as did the one common denominator of Boston's excellence all season - the heretofore missing defense. Paul Pierce and Ray Allen, who were a combined 5 of 25 in Phoenix Friday night, awoke offensively and Garnett anchored a defense that held the Blazers to 70 points over the final three periods on 41-percent shooting.
"After that first quarter, I thought our defense was phenomenal," Rivers said. Had the Blazers not enjoyed a Tommy Heinsohn-infuriating 26-15 advantage at the free-throw line, this one would have not have been as close.
++
Kind of overnight, the Celtics have become the Spurs. They brought in defensive guru Tom Thibodeau ("He's a master," lauded Bowen). They brought in Garnett. At times yesterday, the Spurs must have felt like they were playing against their old selves. The Celtics allowed them very few uncontested shots and 0 (as in zero) fast-break points in the game.
++
Most NBA games can be taken at face value. The one we had last night at the Garden was not one of them. The Celtics huffed and puffed and huffed and puffed some more before subduing their alumni team - known in some quarters as the Minnesota Timberwolves - 87-86. But there was a lot more going on.
Do not believe a word any of the principals said Thursday. Just another game, said Kevin Garnett. Boston means nothing, added (Big) Al Jefferson. Anyone got a micrometer handy? Let's measure those noses, just to make sure.
Truth be told, this was one of the great nights on the 2007-08 NBA calendar. This was, of course, a match between the team with the NBA's best record and he team with the worst. That's got to happen, sooner or later. But how these two got here ... whoa, that's another matter.
It's not as if anyone in either city is ever going to forget The Trade.
But if the teams were wearing generic white and black jerseys with no lettering, any neutral observer would have assumed the team with the black jerseys was the one sending its coach to the All-Star Game and the team with the white jerseys was angling for the best lottery position.
For 46 minutes, anyway.
The truth is the Celtics had to pull a Brady to win this game. It all came down to a two-minute drill. The Celtics trailed, 86-81, with 2:01 left. In those final two minutes, Paul Pierce made two free throws, blocked an Al Jefferson shot, and converted on what was at least a fifth-chance follow-up; the Celtics caused a crucial five-second inbounds violation; Kendrick Perkins had a soft-dunk putback of a blown Ray Allen layup (one of many during a brutal 4-for-18 night) with 16.6 seconds left for the go-ahead basket; and, finally, Kevin Garnett, having reentered the game with 1:51 left after being examined for an abdominal strain, capped a truly amazing defensive possession by knocking the ball away from Sebastian Telfair a few feet from midcourt and then beating the Wolves guard to the ball with a Cowensian flop to put the game away.
That's all.
If anyone was wondering how Garnett makes his way onto the All-Defensive Team every year, all they need to do is watch what he did in Minnesota's final possession. Acknowledging that very few big men possess the package of agility and intelligence to make this play, Rivers put it in perspective. "I mean, he went from denial to the top, to helping on the deep with Al [Jefferson], to back out, getting his hands on the ball, and then he beat a guard to the ball and then he beat him to the floor - which is rare. You know, when you think about it, the guard is 6-feet-whatever, he's closer to the floor, he should get the ball first."
And to be out there to make this play, Garnett had to beg his way into the game after being examined for his abdominal problem.
Yeah, I'd say Kevin Garnett is nice to have around.
++
So some brave soul raised the possibility that the guy across the hall in TD Banknorth Garden - no name was needed - might be in the discussion as well.
O'Neal shook his head. No way.
"I'm going to have to go with my guy before him," he said, motioning to Stoudemire's locker. "All day, every day."
When O'Neal was done speaking to the media mass, I went over and asked him if I had heard what I thought I heard. Did he really say he'd take Stoudemire over Garnett, especially after Garnett had put a Ziploc bag on Stoudemire in the second half? We know that one of Shaq's missions in Phoenix is to bump up Stoudemire, but this seemed to be a bit far-fetched.
"They've got the same numbers," O'Neal said. "Yeah, I would."
For MVP? This year?
"Yeah."
But Garnett is anchoring the best defensive team in the NBA and has totally transformed the Celtics.
"Garnett doesn't play defense," Shaq said.
After that, what was there to say? What games have you been watching this season? Garnett doesn't play defense?
++
But whoever emerges from the brutal West, is that team going to be seen as the putative favorite over the Celtics? Or the Pistons?
I can't see it, at least not now.
The Celtics are set. The Pistons are set. They are on a collision course for late May, a series both sides have eagerly awaited since, oh, November. In my mind, the NBA champion comes out of that series.
The West may be best, but the real beast lies in the East.
++
Celtics 111
Sonics 82
You had the feeling this one was going to be over in a hurry.
Not even Tim Donaghy could change the outcome.
++
Q: What is worse than a game between the Heat and Knicks?
A: An overtime game between the Heat and Knicks.
++
There still was 5:53 left in last night's game when Leon Powe took a pass from Paul Pierce and slammed home a dunk that (a) brought the fans to their feet and (b) sent Powe crashing to the floor, setting up a 3-point play.
As he lay on the floor, Powe looked up to find the chattering presence of Kevin Garnett in his face. And I mean in his face. Not only that, Garnett was pummeling his teammate with a series of quick hits to the chest. Bam. Bam. Bam. "There were two, three, four, maybe five or six, Roy Jones-type punches," Powe said. "He was excited."
What about it, KG?
"Leon's a grown-ass man," Garnett said. "Those were like high-fives to him. They just happened to be on the chest. I don't think he felt them at all."
Said Powe, "I felt them."
Sam Cassell and Garnett then helped raise Powe to his feet and the Hawks, soon to be down by 23, called time. And as Pierce walked back to the Boston bench, he had that look on his face. He moved his head up and down as if to say, "Yup, this is how it should be." It was over.
JACKIE MACMULLAN
Another night, another elite team featuring players with MVP credentials - and another third-quarter smackdown. Seriously, now. Who can beat the Boston Celtics when they play like this?
But, just as there's more to New Orleans than Paul and West, there are other Celtics besides Garnett, Ray Allen, and Pierce who can deliver a big shot. And that's where Rondo comes in again. After New Orleans closed within 76-73 with about four minutes left in the third quarter, Rondo stood on the left baseline while his more celebrated teammates garnered all the attention. When the ball came to him, the skinny kid from Kentucky nailed it so cleanly, you'd think he'd been shooting it like that forever. Then, when he did it from the other corner, the Garden exploded.
That ignited a crushing 12-0 Celtics run that tore this game open.
++
Of course, any conversation of this nature begins with the obvious - the almost surreal sight of Ray Allen and Kevin Garnett in Celtic green, a vision that, truthfully, I still have trouble believing is real.
It's like going to bed one night with the family minivan in the driveway, loaded with multiple car seats for the gaggle of youngsters who need to be transported along for the journey, then waking up the next morning with a Cadillac Seville and a shiny new Hummer at your disposal - and a host of drivers mature enough to trust behind the wheel.
It has been equally intriguing to watch Rajon Rondo transform the point guard position from a question mark into an exclamation point.
++
You forget sometimes what the captain has endured.
Paul Pierce is the afterthought of the New Wave Celtics, the resident star who has chugged along, doing what he's always done: take (and make) big shots. He has gladly watched teammate Kevin Garnett bask in the glow of this rejuvenation, understanding that without No. 5 in the house, the future wouldn't be nearly as tantalizing.
Last night, with the Detroit Pistons looking to put a damper on Boston's rising fortunes, Garnett submitted a season-high 31 points. He was brilliant and inspired, and his energy was infectious.
Yet, when it came time to bury the biggest shot of the night, it was Pierce who did the honors.
With the Celtics clinging to a 1-point lead and 5 1/2 minutes left, Pierce sized up a three and nailed it, closing the door on an aggressive Detroit team that plans to see the men in green again when the games matter most.
The KG-Wallace matchup in the first half was worth the price of admission.
First it was Wallace burying a trey over Garnett's outstretched arm. Then it was Garnett countering with a demonstrative drive to the hole in traffic, 2 of 12 consecutive points he would score to extend the locals' lead to 13 (38-25).
Of course it came down to the wire. Pierce followed his clutch three with a fast-break layup from Rondo off a steal, and Detroit was trailing by 8 (85-77) with 2:56 left. The Pistons did not recover. The Celtics finished off the 90-78 win with the kick of a strong shot of whiskey.
The Celtics enjoyed a superlative performance from their blue-collar workhorse, Perkins. They witnessed their young point guard, Rondo, grow up a little more. And they reveled in the MVP performance of KG, who has allowed Celtics fans to dream of greatness again.