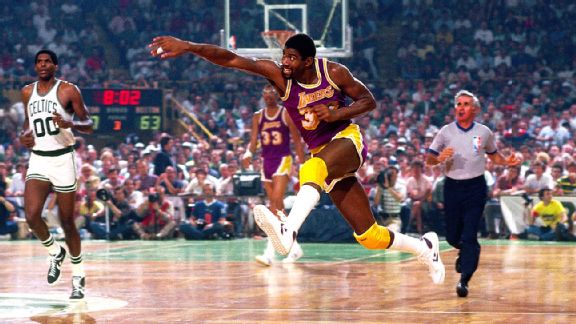 May 27, 1984
"We must stop them from running," Robert Parish said. "If we do a better job of rebounding, they don't get the ball, and without it they can't score. You saw what happened in the second half, when we rebounded and played better defense."
What happened was that, by the start of the fourth period, the Celtics, with 10 points each from Dennis Johnson and Bird, had closed to within 4, trailing the Lakers 92-88, after earlier trailing by 19, 81-62.
During the timeout between the periods, the message board flashed "IT'S NOISE TIME," and the capacity crowd of 14,890 responded. But the Celtics could do no better. Byron Scott, the Lakers' rookie guard, twice scored on fast-break layups to increase the lead to 8 points.
Boston cut the lead to 4 points several times, but, as Jones put it: "We just didn't have it. There was always something, a turnover here . . . We did not look like a playoff team in the championship round. Larry had one of his rare off days. But we'll discuss all that at practice tomorrow."