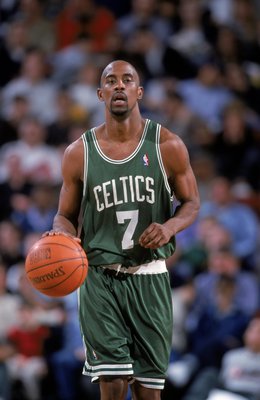 Kenny Clarifies the Point
January 12, 1999
WALTHAM - We bring you a tale of two Kenny Andersons. First, there is Kenny The Point Guard.
This is the Anderson who had a great offseason. His sore knees didn't bother him, as they did the first half of 1998. He played pickup ball with teammates Antoine Walker and Paul Pierce. He got himself into shape, working with a trainer at UCLA. This is the Anderson who is so confident in his conditioning that he doesn't fear the beginning of PitinoBall next week at Brandeis because, as he said yesterday, "I wasn't b.s.-ing over the summer."
And then there is Kenny The Public Relations Man. Before we get into that, you should know that this Anderson did not major in PR while attending Georgia Tech. Or, saying it another way: If Anderson handled the basketball the same way he handled his words in the offseason, he forever would be rooted to Rick Pitino's bench.
During the NBA lockout, Anderson joked that he would have to sell one of his luxury cars to bring in additional funds.
The joke bombed.
Hours after the lockout was lifted, he rushed to his car and appeared to tell a young autograph-seeking fan to "get outta here." The video was shown over and over on television. Anderson said the cameras and microphones did not put the words into context.
So his jokes weren't funny and the media failed him. This is not what you would call good PR. Anderson knew people would want to talk about his interesting summer (and winter) when he arrived here yesterday. He walked into the Celtics' voluntary strength and conditioning session promising to tell his story and clear his name from the ridicule of commentary pages and talk-radio shows.
The 28-year-old from Queens, N.Y., knew he had plenty to explain. He started with the fan, who had approached as Anderson left a midtown Manhattan office building.
"It was more to it than what you saw on TV," Anderson said. "There was a heckler on the left side of me and he was just swearing me down."
Anderson explained later that the heckler had cursed him, called him a jerk and "this that and the other. I looked at him and he looked, kinda, like he was drunk."
The heckler's words began to chime in with those of the other fans walking beside Anderson. The point guard had spent part of the morning on a red-eye from LA to New York for the players' meeting. So he was tired. And it was cold. And he doesn't even remember the young fan. He says the cameras didn't show that he actually was talking to someone else.
"The kid must have been talking [ behind me] , 'cause I wasn't looking at him," Anderson said. "I was talking to my camera man, who works for CNN, [ saying] that I have to find my car and that 'I have to get outta here.' That's what that was about. It turned out to make me look like I was being rude to a fan. Those who know Kenny Anderson know I'm not like that. Fans made me what I am today. I've done community work. During the lockout, Thanksgiving week, I gave out 500 turkeys."
People in Portland, Ore., can attest to that. Anderson was one of the more popular figures in that community before being traded last February. But he realizes now that the post-lockout frenzy was no time for mistakes - or misunderstandings - with the public.
"It was the wrong time," he said. "We had just come off a [ lockout] and the fans missed out on basketball. That's how it was made to look by y'all in the media and the paper. I expect y'all to do things like that. My skin is thick. If I worry about what y'all write about me, what y'all say about me, then I'm definitely in the wrong business."
But Anderson does worry about what the fan thinks of him. If he can find the young man, he'd like to invite him to a game. He also would like to explain the circumstances that led to this PR mess.
"It was a lot of cameras, a lot of people pushing," he said. "It was just a hectic environment. I'm not saying it was the right thing to do, but maybe I made a mistake. Like I said, if that fan is watching me, I'll invite him to one of the Boston games and be my guest. I'll give him two tickets."
Of course, the chances of finding that fan are minimal. He would be tough to find in Boston, where less than a million people live in the city itself. New York? Millions and millions and millions of people? Nearly impossible. Anderson wants the fan to contact the Celtics. That definitely will lead to some memorable calls for Jeff Twiss, the team's public relations director.
"You know, it could be like 100, 200 people" calling the offices, Anderson said. He wasn't trying to be funny when he said that. But people still laughed. That's how most jokes work, anyway. Unforced. Anderson knows he forced one when he, a man who makes more than $ 5 million a season, joked about selling a few of his cars.
"That's another thing," he said. "It was a joke. I have cars. So I said that if the lockout goes any longer, I'll sell one. It was a joke. And people ran with it. So, I don't know what to say about that one. I just was joking."
Anderson smiled a few times and then went to work out with strength and conditioning coach Shaun Brown. If you are a Celtic fan, you know what an in-shape Anderson means. It means that you will happy to have someone like him leading your offense. And you'll also be happy when someone else is telling the jokes.