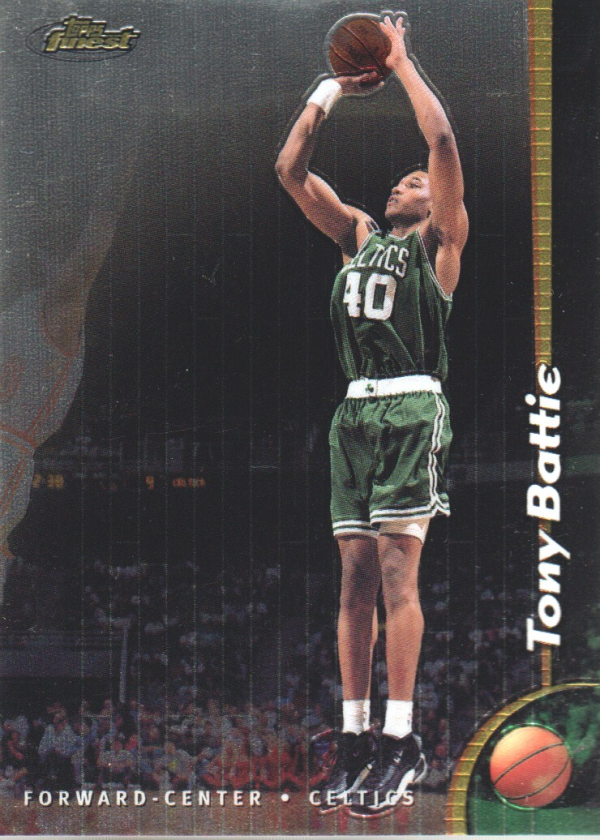 Battie Doing Just Fine
February 1, 1999
WALTHAM - As he waited for the NBA lockout to run its course, Tony Battie did a little running of his own in Los Angeles, where his daily workout partners included the Celtics' Paul Pierce and Kenny Anderson.
"I was playing with two of my teammates but I didn't know it then," said Battie. "With the lockout going on, I didn't know I was being shopped and I definitely didn't know that [ Rick] Pitino was interested. I'm sure glad he came and rescued me."
Indeed, Battie, an ex-Nugget, was soon to become an ex-Laker when the Celtics dealt Travis Knight back to Los Angeles Jan. 21.
"Being with Boston is the perfect system for me, especially being a little under weight as a forward playing center," said the 6-foot-11-inch, 240-pound Battie, who left Texas Tech after his junior year and was drafted fifth overall by Denver before the 1997-98 season. "The running and trapping game is kind of my forte, with my long arms, my reach, and the up-and-down the floor - it all fits me perfectly."
The Nuggets, for whom he averaged nearly 24 minutes, 8.4 points, 4.5 rebounds, and 1.06 blocks per game, traded him to the Lakers last June for guard Nick Van Exel and Battie fully expected to be wearing a Laker uniform this season.
Instead, he's living in a hotel, waiting for his belongings to be shipped east.
But he doesn't mind the wait - especially after being dubbed "El Busto" by Nuggets general manager Dan Issel.
"It's a good change of scenery. Boston's a better place to play, especially because of the fan base and the team's great history that you have to come in every day and live up to. We have a lot of work to do before we can be mentioned in the same sentence with a lot of guys who wore the Celtics jerseys before us," said Battie, who had 11 points and six rebounds against the Raptors in an exhibition game Friday.
Battie may have had some tough times in Denver, but last Feb. 10 against the Celtics wasn't one of them. "I nearly had a triple-double," Battie recalled of his 10-point, 13-rebound, 8-block performance.
Celtics general manager Chris Wallace saw Battie play in college "about eight times. We also worked him out in Philadelphia. We liked him a great deal. He was our second choice behind Ron Mercer. If Mercer had been taken prior to the sixth pick, we would have taken Tony.
"He's very athletic and runs the court extremely well for his size. He can block shots and rebound and he's also shown the ability to face the basket and shoot with some range from 10 to 12 feet. He showed that in the exhibition game the other night when he made some face-up jumpers."
Wallace also has seen in Battie an ability to get the ball in the post with his back to the basket, turn around, and get his shot off unhindered. "There are very few people who are going to step up and block his shot and that's a great attribute to have because you don't really have to force anything," he said.
All of the above is what Wallace was hoping he was getting in return for Knight, but there's more.
"You can do all the scouting before the draft, but you don't know until you get a guy in for practice and games and seeing him interact with the players and coaches what he brings to your team. It's almost like moving into a new house and getting used to it," said Wallace, "and from what we've seen, he's been a jewel so far. He's very eager to learn, wants to be in Boston, and wants to play for Rick Pitino. And I think we have him at a time in his career where he's very highly motivated and hungry to make amends for a disappointing rookie season."
Battie called his tenure in Denver "totally a learning process. In the long run, it was good to get that year under my belt. But it was a terrible season in other ways. I think it taught me some mental toughness."
Battie said that when the Nuggets took the floor last year, "we were playing for the wrong goals. We were playing not to be the worst team in league history."
Now, he is ready to play wherever Pitino needs him and he realizes that as a center with a forward's physique, "I know I'll need some help against some guys. I'm not going to match up body for body against Shaq, that's for sure."