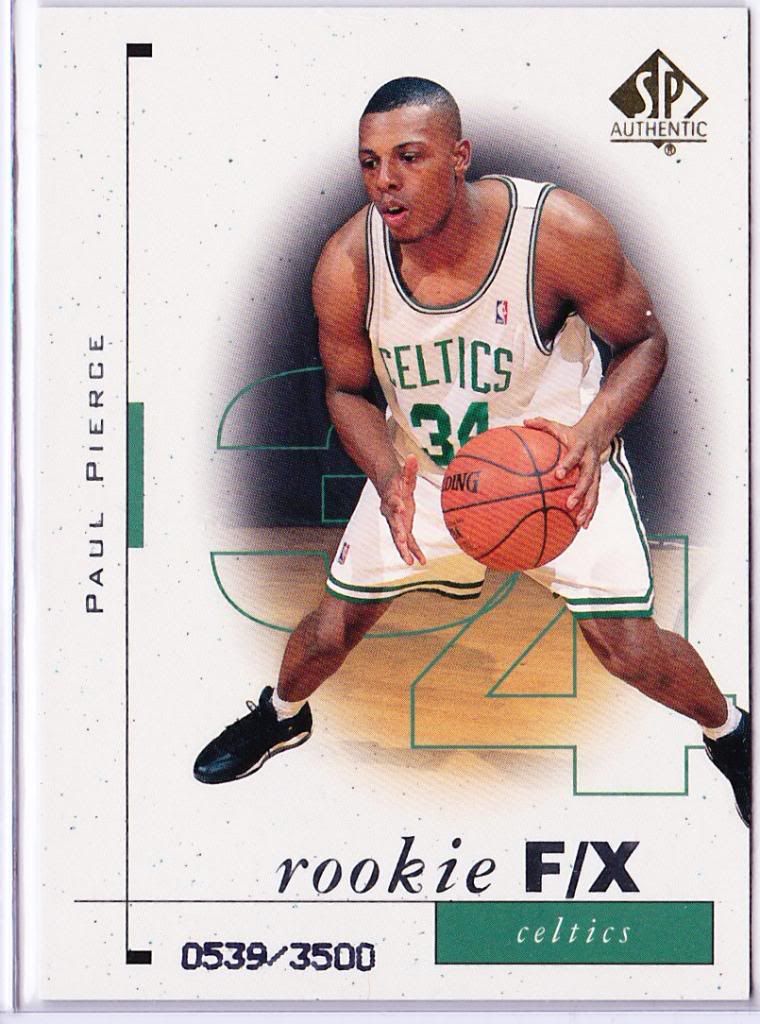 Early Whispers Say Paul Pierce will Win Rookie Honors
February 5, 1999
The Joker was recently in a gym, sitting on the top row of aluminum bleachers, trying to recall one of his favorite funny moments.
"Awww," the funnyman said after a few smiles and pauses, "I can't think of any good ones."
More smiles. More pauses.
"Really," he said, smile broadening, "I can't think of any."
You're not going to fall for that, are you? No way you should believe this guy. He's a prankster. In fact, you should be watching your back right now, just in case he is planning some humorous chaos at your expense. That's what The Joker, Paul Pierce, does when he isn't playing basketball.
Tonight he will start at small forward for the Celtics in their season opener against the Raptors. That will be the serious side of him. He stands 6 feet 7 inches and can shoot, rebound, and pass. You will not be surprised when someone tells you he's been doing that since he was a chubby seventh grader in Los Angeles, playing ball in the Police Athletic League, at Rogers Park, or anywhere else there was a basketball wearing out a neighborhood's outdoor courts.
You will hear how his current coach, Rick Pitino, went to see him shoot in LA. After seeing The Joker make 20 of 24 shots, Pitino pulled an observer aside and said, "Wow, he was really hot today." The observer replied, "He's been hot every day. He's been the best player here all summer, and that includes the big names." Pitino: "Are you serious?" Observer: "Yep." Pitino would leave and later say, "When I realized what I was watching wasn't a fluke, I knew we had ourselves a find."
It will be obvious that double-teaming Antoine Walker and Ron Mercer will be impossible, as long as Pierce keeps shooting the way he has all his life. You will imagine that he is a quiet kid who went to the University of Kansas, way out in the fields of Lawrence. You will mutter something like, "What a nice young man. He would never . . . "
Too late. He's got you. Next thing you know, you'll be walking by a window and someone will be dumping a bucket of water on your head.
"Ohhh," The Joker laughed. "I did that to one of my teammates at Kansas. I shut the window real fast so he wouldn't know who it was."
So we imagine Terry Nooner was a little upset about that?
"Oh yeah," Pierce said.
More smiles. The Joker smiles a lot when he is away from basketball courts. Anything to do with basketball courts? You won't find many smiles there. Pitino tells him he will need to read the scouting reports, learn the plays, and understand illegal defenses. That's why Pierce has gone home a few times after practice with the team's plays in his hands. He did some at-home study for a while. But then something changed. He picked up the plays quickly, so quickly that "you couldn't help but know them. We went over them in practice a few times, so I just picked them up."
That's one reason the Celtics like him. He's quick mentally. And that's the same reason you should watch out for him. Next thing you know, you'll be walking into your office and he'll be there, waiting to throw you into a swimming pool.
A kidder as a kid
Patrick Roy knows about that. Roy is the boys' basketball coach at Inglewood High, Pierce's alma mater.
"I'm telling you, this kid loves to have fun," Roy said. "He is one of the happiest, most pleasant people I've ever been around."
Roy likes to have fun, too. Before Inglewood practices, the coach would sneak behind some of his players and put them in a playful headlock. The players rarely turned around in time to catch the swift coach before he wrestled with them. So one day they did the next best thing. They conspired with the school's janitorial staff. They got the keys to Roy's offices and waited for the coach to arrive. He walked in the door, and seconds later, he was off his feet. A few players, Pierce included, carried him to the pool and dropped him in.
Hold it right there. You may have just said to yourself, "That wasn't very smart. What if that poor man couldn't swim?" Well, all we can tell you is that you have to think faster to keep up with this Joker. He already thought of that. Throwing his coach in the water was probably one of the most responsible pranks he could have done.
"You see," Roy explained, "I've been a swimming instructor for nine years."
It's a good thing Pierce has a good sense of humor. Otherwise, he might not know how to handle some of the jokes a joker named Fate has tried to play on him.
It started early in Pierce's high school career. He was the 14th man on a 15-man team. Roy used to call him into his office and tell him he should play junior varsity. "We were going to cut him," Roy said, "because, quite honestly, we didn't think he was good enough for varsity ball." Pierce told him he was good enough. He proved it at a Christmas tournament in Las Vegas when several members of the Inglewood High team didn't show up. Pierce was forced to play. "He never came out of the lineup after that," Roy said.
End of joke? Nope. Senior year of high school. Time to name the five best players in the country. Paul Pierce finishes . . . No. 6. Then: Junior year at Kansas. Time to name the Big 12 Player of the Year. The winner, from the University of Kansas, is . . . Raef LaFrentz. And the worst: NBA draft night.
"The night before, I'm going to sleep thinking, 'I'm in the top three, or at least nothing lower than five,' " Pierce recalled. "Once No. 4 [ Golden State] comes around, I say, "All right, I'm going here. Once No. 5 [ Toronto] passes, I'm like, 'What's going on?' A lot of things went through my mind. I started to get real nervous. I wondered who would pick me; I wondered if there were rumors going around about something I've supposedly done."
When No. 5 turned into No. 6 and No. 6 turned into No. 7, Pierce's friend Scott Collins got his attention and said, "That's where we want to be." He was talking about the Celtics, who were picking 10th. The Celtics took him and haven't stopped smiling since. Which makes these two perfect for each other. They are smiling about him, and as you know, this guy likes to smile. He can take a joke, too.
"My kids used to tease him about certain things," Collins said.
Tell us, Scott.
"Oh, I don't know."
Come on, Scott.
"You're not putting this in the paper, are you?"
Paper? What's that?
"Well, they used to tease him about his foot odor," Collins said. He laughed and said, "He has since corrected that problem. I guess Scot Pollard used to tease him about it at Kansas." Collins's children told Pierce that if he ever got his own brand of sneakers, he should name them after the way his feet smelled.
Of course, the children were able to get a whiff of Pierce's sneakers because he spent a lot of time at their house. Collins, a police officer, has been a friend to Pierce for 10 years. He has even made a habit of cutting Pierce's hair, at which point all jokes are off. Collins has never shaved "Kick Me" or any other message into the back of Pierce's noggin.
"Paul likes to keep it basic," the occassional barber explained. "He doesn't change it up too much."
The people who see the serious side of Pierce - Walker, Mercer, Pitino, Kenny Anderson - will join him tonight, trying to bring the Celtics their first regular-season win since April 1998. All have said they are expecting great things from Pierce this season.
And the people who have seen all sides of Pierce - his mother, Lorraine Hosey; Roy; Collins and his wife, Regina; and a few of his friends - will watch him at the FleetCenter. There have already been whispers among them that Pierce will be Rookie of the Year. If that happens, you know what will come next, right? The nine teams that passed on Pierce may become fodder for yet another joke. Watch out for this guy. Next thing you know, you might be watching him carry off a trophy for first-year excellence.