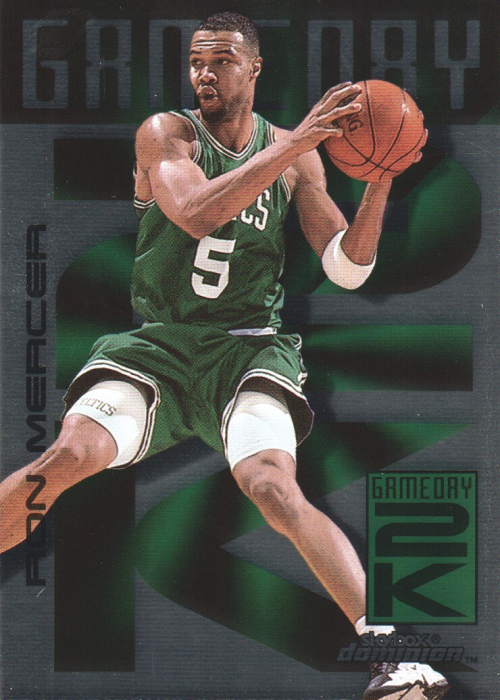 January 28, 1999
Mercer Takes 27 Shots in 40 Minutes of Exhibition Game
WALTHAM - For those of you who watched, Ron Mercer appeared to be in normal late-January form in the Celtics' exhibition opener Tuesday night at Toronto. He scored the team's first 11 points, drove to the basket, took a lot of shots (27), and was on the floor for all but eight minutes.
In many ways, it was a logical progression from his impressive rookie season. In another way, however, it was a bit of a departure. This year's Mercer may look a lot like last year's Mercer on the court, but he is quite different - on and off the court. He's more open, reaching out more, more vocal and determined to be a voice within the team and the community.
We got a few glimpses of Mercer Emerging during the lockout. He has a New York public relations firm working for him. There was the ill-fated attempt to organize some workouts at Brandeis, something for which he took inevitable flak. He dropped big-time agent David Falk for rap star Master P's No Limit agency. No Limit. That's how Mercer sees himself and his role this year.
"Last year," he said, "I just wanted to come in, take care of business, and try to prove myself. This year, for me to get a lot of things accomplished, I have to be more vocal in everything that I do. I mean, I kind of have been like that, but I never really showed it." Did the Ron Mercer of four years ago, the one who chose Kentucky to blend in and not be the main man, ever think he'd see this Ron Mercer?
"Eventually, I figured I would," he said. "Maybe not this quickly, but I knew I would open up sooner or later." His coach, who has been with Mercer for four straight years, also has noticed, and in his view, it's vive la difference! "I like it," Rick Pitino said. "Very much so. We need guys in the organization - like Popeye [ Jones] - who will go out, be a part of the community, be personable, and market our team. [ Mercer's] personality is a lot different. Ron is very shy, very quiet. He's still shy to a certain degree, but he's no longer timid. He wants to be outspoken more, to come around more, and that bodes well for him because he needed to be that way."
Mercer said his decision to go with Master P (nee Percy Miller) has a lot to do with his personality change. He's mentioned how he admired the rapper's open way of greeting people and dealing with fans. He'd like to be that way. "A lot of it has to do with him," Mercer said. "Just being around him. He's the type of person who's going to speak his mind. You have to be able to speak up. You have to go out and make speeches and different things like that. It forced me to open up a little more, faster than I wanted to, which is a good, positive thing."