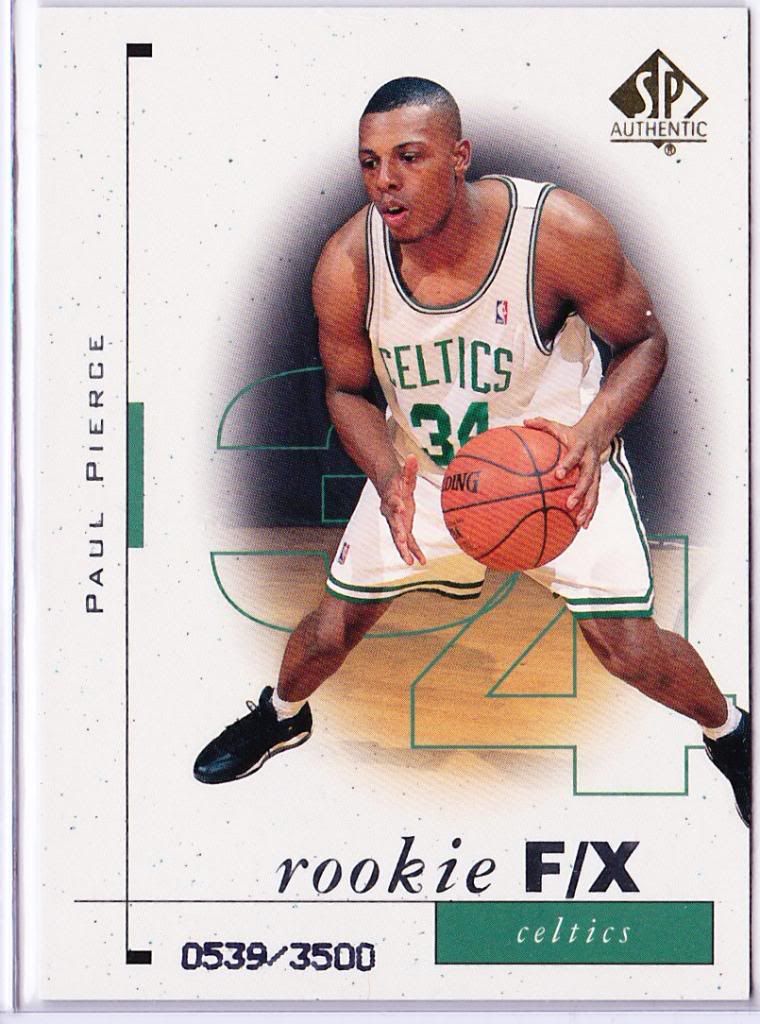 February 3, 1999
Rookie Pierce Goes for 21, 12, & 5 in NBAX
You have to constantly ask yourself what to believe when watching most NBA exhibition games. Teams don't run all their "real" plays, officials don't call all the "real" fouls, and, in cases like last night's, fans don't always pay the "real" prices of admission.
The Raptors and Celtics played one of those questionable games last night at the FleetCenter. In the first Boston game since the 204-day NBA lockout, more than 18,000 people got into the building for free and watched the Celtics beat the Raptors, 120-99. All the Celtics swear their second win over the Raptors this week won't mean anything if they don't come to play in their real game, the season opener next Friday.
So, you might be asking, in the midst of all this faux basketball, what was real about last night? Well, we have a two-word, objective answer for you: Paul Pierce.Somehow NBA general managers determined that nine other players should have been drafted before Pierce. So the 6-foot-7-inch rookie spent the summer working on his jump shot and taking his draft snub personally. He had 21 points, 12 rebounds, and 5 steals last night. He always appeared to be in good position on defense, and other than the usual rookie malady of being magnetized to cheap fouls (he was whistled for three), there was nothing to dislike about Pierce's game. And we're not just talking about the stats.
"If I look at where I was in the preseason [ in 1997] and where he is now, I'd have to say he's far ahead of me," second-year guard Ron Mercer said.Mercer was asked to elaborate."We had seven preseason games last year; he's only played two and he's already been great," Mercer said. "In my first three preseason games, I really didn't play well at all because I didn't adjust to the NBA itself. Different players, things like that. I think he's far ahead of me in that category."
If you had heard Celtics assistant coach Lester Conner singing last night, you would know why Pierce is more advanced than the average rookie. Conner spotted Pierce at his locker and broke into a sing-song of "West Side, West Side." No, it is not a recognized composition. It is simply an acknowledgement of the place Pierce spent many hours being pushed around by Magic Johnson and Conner. It is the west side of Los Angeles, where Pierce grew up. He remembers Johnson demanding excellence during their workouts. He also knows that "Magic is still tough to guard, even at his age."
Pierce and the rest of the Celtics are tough to guard, too, when they shoot like they did last night. Pierce took five 3-pointers and made four. Dana Barros (20 points, 9 assists) took eight threes and made four. The Celtics had 63 points by halftime (when they were shooting 51 percent from the field) and had 106 points with six minutes remaining.
Are all those stats real? You could argue that the answer is no, especially when you consider that the Raptors are not one of the stronger teams in the league. You could also convince yourself that the answer is yes, especially since the Celtics are going to be impossible to double-team when they shoot like this.
"I want to be in a position to contribute to this team," Pierce said. And in case you wondered, he thinks about being drafted 10th all the time. Not only did his slide mean that nine teams didn't think highly enough of him to draft him, the 10th spot will wind up costing him money. In one of the quirks in the collective bargaining agreement, Pierce will actually make less money than the draft's 11th pick during the final year of his five-year contract.
"I feel like I should have been one of the top players drafted," Pierce said. "So I want to go out and show them that this is what they're missing out on. This is what you could have had."The Raptors were one of the teams that passed on Pierce. They chose to draft one of his buddies, guard-forward Vince Carter. The rookie from North Carolina had 20 points and a near technical from Mike Mathis last night. He avoided the technical by telling Mathis, "Man, I can't afford it." When the season starts for real, the Celtics will have to worry about Carter as well as Kevin Willis and Alvin Williams.
It was hard to get a read on a lot of things last night because the team was playing a mind game within its exhibition game. Neither coach wants to reveal too much of his "real" game plan before Opening Night. So Rick Pitino gave big minutes to Eric Riley and Marlon Garnett while choosing to rest Popeye Jones and Dwayne Schintzius. Was that a real rest? Will that happen for real next Friday?
None of us knows for sure. But anyone who watched last night can be sure of one thing. Pierce will play next Friday. And he'll probably play a lot.