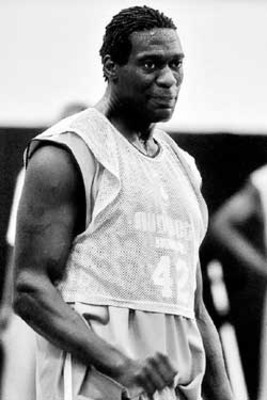 February 7, 1999
The 96 Million Dollar Man is a Bit Bloated
The Cleveland Cavaliers say Shawn Kemp weighs 280 pounds. Of course, they say it with a wink. Kemp will indeed be 280 pounds when he loses 10 more.
Kemp was at the FleetCenter last night, putting some new creaks and dents into the parquet. He scored 18 points and had seven rebounds in 34 minutes, but there wasn't one second when he looked like a man who should be paid $96 million over the next seven years.
But that was fine with me. I expected Kemp to be the bloated, landlocked forward he now is, rather than the defiant dunker he used to be. I had a different agenda last night; I came here to be a weight watcher. If it were up to me, Kemp and the Cavs would have been the Celtics' Opening Night opponents. For some reason, stories of Kemp's dramatic weight gain have roused the voyeur in me. I hadn't been this excited about seeing a notably fat person since I was 4 years old and my mother took me to the circus.
Kemp's story is one of the most intriguing to come out of the lockout. You may have heard that the Celtics' Bruce Bowen worked at a funeral home during the 204 days the NBA went away.You may not have heard that Kemp spent his time becoming as big as a funeral home.
We are a nation obsessed with weight, certainly. That was obvious when Kemp's poundage became national news after he played in a December charity basketball game televised on Showtime. The reports were that he got tired in the pregame warmup lines. Later, when asked about his weight, he replied that the only numbers that mattered were "20 points and 10 rebounds." Never mind that those weren't his averages last season.
All this weight talk had me eager to get out of bed yesterday morning. I wanted to find Kemp. Exactly how big would he be?
Word is that the Cavs weighed Kemp after the lockout and refused to reveal the number that assaulted their scale. Go ahead, guess what that number was. (Hint: If you are in the 200-somethings, you are much too low.) Kemp supposedly checked in at 303.
A Cleveland columnist mused that she enjoyed the weighty descriptions of Kemp because it was one of the few times a man's weight was scrutinized, not a woman's. I wanted to see if Kemp compared with some of the biggest men in Cavs history. This team once had a man named Geoff Crompton who could have passed for one of the cranes crowding Boston's Big Dig-influenced skyline. They also had "Dinner Bell" Mel Turpin, who used to load up on cheeseburgers before and after practices. Was Kemp that big?
I had heard that Kemp and his Cavs would be staying at the Boston Harbor Hotel. So at about 11 a.m., I ventured to the hotel's cafe, Intrigue, and waited near the buffet line. I thought it would be the most logical place to find the man. I stayed there for a while, didn't see the 6-foot-10-inch forward, and, as a tribute to him, decided to take a crack at the buffet myself (no grits; how disappointing).
Turns out my information was wrong. Kemp was staying at the Ritz-Carlton. I didn't find that out until I got to the FleetCenter and went on a new search for Kemp. How big would he be?
"Well, he doesn't look like me," Cavs broadcaster Joe Tait said.
Tait calls himself fat all the time. He will also acknowledge that, when he wears a sweater, it looks as if he is hiding a stack of telephone books underneath. Kemp may not look like Tait, but the two could definitely have a long conversation about one of the broadcaster's loves: trains. Tait has tons of books on them; Kemp now has a caboose for a backside.
That was obvious when Kemp was finally spotted, lounging in the visitors locker room. He wore headphones as he sat, slowly moving his head to the music. I was afraid to ask him if he was listening to the "Nutty Professor" soundtrack. I know he is a fan of hip-hop, so I wanted to ask him about the new hip-hop aerobic craze called Taebo. But that would have qualified as a dumb question because, clearly, Kemp hasn't been doing any aerobic activity.
I did notice that he wasn't nearly as big as I imagined. I also meant to get his opinion on Tipper Gore, leader of the President's Council on Physical Fitness, being appointed to a WNBA post.
"I saw him with his shirt off," a Cleveland reporter said of Kemp.
And?
"It wasn't obscene or anything like that."
I asked Kemp if he wanted to talk. "Not right now," he said. Seconds later, he left to speak with a television reporter. What, am I too skinny for this guy?
Kemp has promised that he will play himself into shape. He did that last season, when he also came in overweight. By April 1998, he was torturing Larry Bird's Pacers in the first round of the playoffs, averaging 26 points and 10 rebounds. He also brought hope to a group of kids in his hometown (Elkhart, Ind.), when he dressed up as a very believable Santa Claus near Christmastime.
He got off to a decent start last night. He took three first-half shots and made them all. After one sequence, he fell to the floor and was helped up by Bob Sura, a 200-pound guard. Sura used only one arm to help Kemp up. I have new respect for Sura.
Size doesn't matter when you are a 300-pound banker, engineer, accountant, or journalist. But 300-pound basketball players who are supposed to be 270 don't make life easier for coaches or teammates. The Cavs found that out the hard way last night. In the game's final minute, the Celtics' Eric Riley had two free throws attempts that, if good, would have given his team a 74-73 lead. Riley missed both. On the second miss, Paul Pierce got around Kemp and tipped in the ball. That wouldn't have happened with a conditioned Kemp.
On their subsequent possession, the Cavs went to Kemp in the pivot. He missed his shot. Pierce got the rebound and added two more free throws. Now the Cavs have two losses and one star who is severely out of shape.
There were some fans at last night's game who certainly remember the svelte Kemp who had some great years with the Sonics. During those days, he would dunk and some hip kid would yell, "That was phat," meaning that it was very good. But these days, Kemp might take that phrase the wrong way.