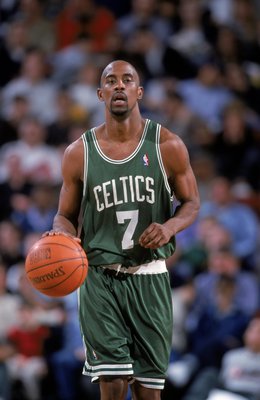 February 23, 1999
After spat, Celtics are fined and dandy
WALTHAM - Kenny Anderson stood near a door yesterday, talking about ego trips, former teammates who were a trip, and the Celtics' recent road trip. He was on his way to talking about the intelligence of Boston sports fans ("You can't fake anything with them; they know their basketball") before he was interrupted. While Anderson's back was to the door, someone sneaked behind him and got the point guard in a headlock. The scene was filmed by several camera crews. "Y'all see this?" Antoine Walker said. "We're boys. We're cool. Now it's on TV."
Both men got a laugh out of their act, a day after they cursed each other during a 86-75 loss to the Wizards. Things got so heated at Washington's MCI Center that Rick Pitino told both players to shut up or he'd suspend them. There wasn't any similar drama yesterday. Anderson and Walker said they left their grievances in the capital city of Starrs and stripes. They also learned that Pitino knows how to give and take: The coach gave them a talking-to after the loss and took away some of their considerable cash, fining them for what he said was the "ultimate in unprofessionalism." "We'll be fined, and we deserve to be fined, I have no problem with that," Walker said. That was it, officially. But they are smart enough to know that the incident didn't play well with Celtics fans.
If you took a random poll, you probably would find that three out of four people identified Walker as the villain. If it were up to the public, there would have been no fine for Anderson. "I think both of us was wrong," Anderson said. "Being the point guard, I should have known better. If I wouldn't have said nothing, it would have been squashed. Then in the locker room, we might have handled it like a family." But, Anderson said, being yelled at didn't bother him. "If I had a nickel for all the times I was yelled at for not getting guys the ball - with all the great players I've played with - I'd probably be rich," the very rich man said. "I don't get caught up in it, I really don't. It just gives y'all something to talk about for the next week."
And something for Pitino to sleep uneasily about. The coach said he went home Sunday night dejected. He turned on ESPNEWS and, half-asleep, heard someone talking about players yelling at each other. "I got up and said, 'God, I wish it would go away,' " the coach recalled. But when he looked at the television he was surprised. "It wasn't about us," he said. "It was about the Lakers. It was Olden Polynice talking about the Lakers. "I think [ disagreements] are things all basketball teams need to do behind closed doors; you can't have it on the court." So now what? "It won't happen again," Pitino said. "I'm very confident of that." Pitino is also confident that Walker will win your heart. So, if you're wondering whether Walker is still the team's captain, he is. If you're wondering whether Walker still considers himself a capable leader, he does. Do he and Anderson have deeper, hidden issues? According to them, no. Does Pitino like Walker? According to him, yes. "Let me say this: Antoine Walker knows he was dead wrong," Pitino said. "He's been extremely frustrated with his play.
But there are guys in this league, and you cover them all the time, that never practice. This guy was out there diving on the floor today, making up for it the right way: with hard work." But there have been stories that Walker is not a nice guy. A trainer said last year that he is one of the least-liked players in the NBA. "He's a much better person than people perceive him," Pitino said. "If he wasn't, I'd get rid of him yesterday. I'd be on the phone today getting rid of him." The coach paused and added with a laugh, "If the base salary wasn't quite as high." You won't hear many people questioning Walker's passion. It is the same passion that has led him to scream in the faces of officials during games. It is the same passion that led Pitino and Paul Gaston to sign him to a six-year, $71 million contract extension last month. But many fans wonder whether, at 22, Walker knows how to direct his passion so it helps his team.
"That's you all saying that. My team doesn't question it; that's the only thing that matters to me," Walker said. "People are going to say what they want to say anyway because we're not winning. As far as my leadership, I'm a competitor. I'm emotional. I'm going to play to win. And that's something my team understands. "I'm frustrated at my own self. Not at my teammates, not at Coach Pitino, not with Kenny, but with my own performance. I want to come through for this team." Walker said he has been immature for "getting down on myself after only eight games." He also said he has no problems with Anderson. "I love him," he said. "I love playing with him. I think he's one of those point guards who is going to make me a great player. "Right now we're struggling a little bit. Not necessarily him. I'm struggling myself, getting my game together. I've had a couple of bad games." Anderson reminded everyone that he did play his first few seasons in the New York market, with the Nets, and that his incident with Walker is "peanuts, compared to what I've been through my first couple years." He said he and Walker's problems were over instantly. "It wasn't nothing like, 'I'm not talking to him when he gets on the bus,' or kiddie stuff like that," Anderson said. "It was squashed." Both men walked away yesterday, insisting that they were cool. Before leaving, Anderson explained how that cool was temporarily lost. "I understand," he said. "It's about egos. We all have them."