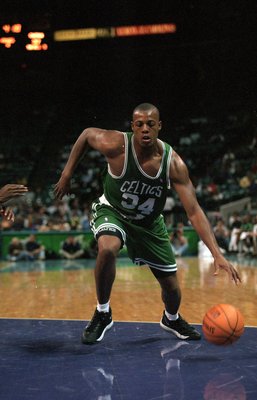 Pierce Dazzling with 26 Points and 7 Steals
February 19, 1999
VANCOUVER - The country music station yesterday morning asked its listeners to name a song fitting for a funeral. Celine Dion's "My Heart Will Go On" was the landslide winner - something by Garth Brooks was a distant second - but in between calls, the two talking heads at the station wanted to discuss something quite different: basketball. Specifically, they rhapsodized about Wednesday night's triple-overtime game between the Grizzlies and the Celtics, one that undoubtedly could have spawned several C&W hits, not to mention a few blues numbers.
Boston and Vancouver dueled into the late British Columbian night, matching improbable 3-pointers, dealing with questionable calls, and enduring almost four hours before the Celtics emerged with a 131-129 victory. "My players are exhausted," Celtics coach Rick Pitino said. A scheduled practice for yesterday was limited to "reserves only" and cut to an hour. "I can't begin to imagine how they feel," Pitino continued. "I'm numb. And I didn't do a damn thing. It was an unbelievable game." We still are witnessing far too many clunkers in this lockout-impacted season, but those of the 13,041 who remained at GM Place for the whole affair got their money's worth. Early on, it looked like a game that neither team especially deserved to win.
There was a rat-a-tat sequence when each team turned the ball over twice within 10 seconds with wayward passes, one of which bounced off the side of the backboard. On their next possession, the Celtics committed a 24-second violation. But after 191 shots, 93 free throws, 75 fouls, 49 turnovers, 260 points, and 17 lead changes in the final 21 minutes, it was clear that the game really did not deserve a loser. The Celtics had four starters who scored 20 or more points, but the two biggest baskets came from two reserves - Dana Barros and Andrew DeClercq - who combined for 15. Rookie Paul Pierce again was dazzling with 26 points and seven steals, including two in the final four seconds of the third overtime.
Vancouver's estimable Shareef Abdur-Rahim played 56 minutes and rookie Mike Bibby went 54, including wire-to-wire in the three OTs. After the loss, Vancouver coach Brian Hill sat in his office, across a small coffee table from his wife, Kay, a red felt pen in his hand and a marked-up statistic sheet in front of him. He looked wasted. "Five overtimes in 24 hours," Hill said, referring to the team's double-overtime victory the night before in Anaheim against the Clippers. "We never should have let it get away." He's right. This had been a gut-wrencher. His team could not hold a 3-point lead in the final five seconds of regulation play. His team committed 31 turnovers, including four 24-second violations in the fourth quarter, three in the final 3:12.
A victory would have been the Grizzlies' third in a row and would have put them over .500 at 4-3, no small achievement for a franchise that has yet to win 20 games in a season. Which brings us to the first of three signature offensive plays, two of which extended the game and the third which, mercifully, ended it. 1. Dana Barros's big 3: The Celtics trailed, 94-91, with 4.5 seconds left. In came Barros, who had been on the bench for the last seven minutes and was in a 3-point rut. "I had no rhythm at all," he said. But he found an opening on the perimeter, just out of reach of Bibby, who should have stayed with him. "As soon as he caught the pass," Hill said, "I knew he was going to make the shot. As soon as he caught it." Barros said, "I knew it was on line, but I couldn't tell if it was going to be short or long because I had to shoot it so high." Of course, it hit nothing but net. On to overtime. 2. Sam Mack's big 3: Prior to the game, Pitino talked incessantly about Mack's long-range shooting and that he had to be watched like a hawk. In the second OT, Boston led, 114-110, with 25 seconds left and Mack was fouled attempting a 3.
He made all three shots. After the precocious Pierce made two more free throws, Vancouver needed a trey to tie the game. Mack somehow got open in the left corner and, of course, knocked it down. "I don't know what happened on that play," Barros said. "There were a lot of people there." Added Pierce, "I got a hand in his face and I probably could have blocked the shot. But I didn't want to risk a foul. He hit a tough shot." On to the third OT. 3. DeClercq's steal and winning hoop: The Celtics trailed by 4 in the final minute, but Pierce (there's that guy, again) weaved in for a scoop. DeClercq then collapsed on Abdur-Rahim, creating a turnover. (Abdur-Rahim had eight for the game.) Barros and DeClercq then worked a pick and roll and the big center got the ball. Now, DeClercq driving to the hoop does not conjure up images of, say, James Worthy. He took a bull-in-the-china-shop first step and went up awkwardly, but successfully, for a layup.
He was fouled by Tony Massenburg and made the big freebie with 15.8 seconds left. Someone mentioned afterward to DeClercq that the play looked a little disjointed, that he went to the hoop as if he had two left feet. "Gee, you must be from Vancouver," DeClercq said. "That's the way I always look." There was, of course, much more. The Celtics won even though Ron Mercer and Antoine Walker fouled out in the third OT. Pierce stole the ball on the Grizzlies' last two possessions and pronounced himself whipped after going 49 minutes. There was the return of the Celtics' press, with first-unit guys doing the drudge work.