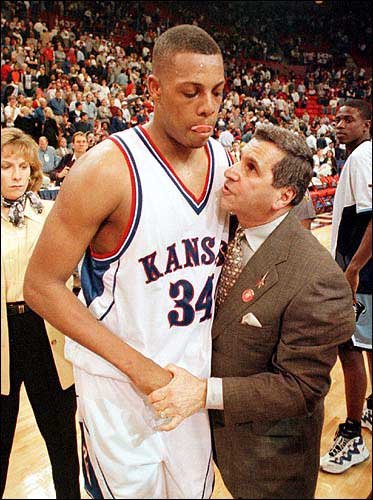 February 11, 1999
Pierce has Finishing Touch
MIAMI - It seems silly to say that Paul Pierce has been doing anything for a long time. Pierce is 21. His NBA career is four games old. He is about the same age as Rick Pitino's oldest son, Michael. So, yes, the temptation is to stop yourself when talking about the Celtics rookie and long stretches of time. Really, what is "a long time ago" for someone in his 20s? The early years of ESPN? For Pierce, the answer to that question is simple.
Ask him how long he has been doing certain things and he will tell you they have been happening as long as he can remember. Pierce has been having great fourth quarters as long as he can remember. Celtics fans know he had a 15-point fourth quarter against the Cavaliers Saturday. They also know about his 11-point fourth quarter against the Heat Tuesday. But Patrick Roy can go back further. "There was a game against Dominguez High," said Roy, Pierce's coach at Inglewood (Calif.) High. "We were down 30-something in the third quarter. I don't allow players to say much when they come to the bench, but Paul said, 'Give me the ball.'
"Roy gave it to him. "So we were down 20 with about four minutes to go," Pierce said yesterday, recalling the game from his senior year. "I was able to string together some pretty unbelievable shots from long range to get us back in the game. With a minute to go, we were down 3." The story did not end perfectly. Inglewood lost the game. But Roy knew Inglewood High would not be the final stop in Pierce's basketball career. And Pierce? He isn't quite sure what he has. "I don't know," he said with a shrug. "I guess . . . I guess it's just a gift or something." It's the kind of gift that makes people change their stances. Immediately.
Before Antoine Walker saw Pierce play, he speculated that the rookie would have a hard time starting. That thought ended fast when Walker stepped on the court with Pierce last summer. And on Tuesday night, the two were standing in front of a camera at Miami Arena, smiling. They slapped hands a few times and laughed, giddy about what they had just done to the Heat. Walker had 31 points, 10 rebounds, and at least three Walker Wiggles. Pierce had 19 points, 7 rebounds, and one chest bump with Walker. The Celtics won, 108-101, and everyone wanted to talk about Kenny Anderson, Walker, and the impressive rookie. "The only thing that will keep him from greatness is himself," Pitino said of Pierce.
"You know, if he gets a big head. That's the only thing. By the way, I don't think that will ever happen. He's a humble young man and has it all together. " The coach was not finished. "He without question has what Antoine has, what Ron [ Mercer] has, what Kenny has. They are not afraid to do things. They're risk-takers, and you like to see that." And there was even more. "You know, Paul could really be a great, great defensive player," Pitino continued. "He's so strong and so quick. His timing is unbelievable. He's kind of an unusual guy. I haven't seen too many guys like him, guys that all of a sudden catch the ball and explode. He has uncanny ability that I've not seen too often in my lifetime." Pitino is 46.
He was the Boston University coach before Pierce was a year old. He had his first Final Four team before Pierce was 10. That may not be a long time, either. But for Pitino, it's long enough to know that he likes what he sees. Mercer was expected to practice with the team yesterday but did not. Pitino said he didn't consider that a setback for the guard, who has a sprained right knee. But the coach did say that Mercer may not play on the West Coast after all. "Maybe it will be the Washington game [ Feb. 21] ," Pitino said. "We don't know right now. We'll let [ trainer] Ed Lacerte determine that." . . . Walker got a day off from practice to rest his back. But Andy Enfield was working with him on his free throws . . . The Celtics will have one long practice today rather than two sessions . . . The team had its highest grades of the season during the Miami game. Pitino uses a 20-step system to grade games. The Celtics were in the 70s Tuesday. "If you can stay in the mid- to high 70s in the grading charts, you're not only going to win but you're a good team," Pitino said. The Celtics had a few games in the 80s last season.