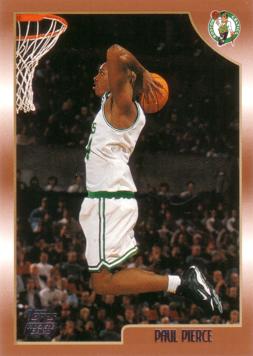 February

26, 1999
Pierce has the look of a peerless rookie;
Paul Pierce simply won't give us a chance to see if there are any warts. After nine games, he's doing to the NBA what Tiger Woods did to the PGA Tour: showing he's mature, developed, prepared, well beyond his years.
Is there any need to avoid the obvious any longer? Paul Pierce is not only the best player on the
Celtics,
he's playing at a pace that makes him a serious All-Star candidate. With every game he plays, he looks so comfortable, so in place, that it's almost sacrilegious to even call him a rookie.
This guy may only have played three years at Kansas, but he came out of the basketball womb ready to go, a full-term delivery. None of this preemie stuff. He had all his fingers, toes, and every other essential.
"I've been playing against Paul since we were both in high school," said Bruce Bowen, another Southern Californian. "He was always able to hold his own. Always. Wherever we played. He just had a knack for it. With some young guys, the older guys think they can find something. You can't find anything with Paul."
Pierce is polished. He belongs. Like Woods, he doesn't have one of those days when he shoots a 79. He's a mortal lock for double figures in points, but that only begins to tell the story. It's the other stuff that he's doing with frightening regularity that, if it continues, is going to thrust him right into Bird-dom in terms of first-year contributions.
Last night was yet another example, the ninth in nine games. Pierce didn't even play in the elongated garbage time of Boston's 111-79 bludgeoning of the Magic, but by then he already had accumulated a more-than-acceptable dossier, starting with 19 points.
He also had 6 rebounds, 3 assists, 5 steals, and 3 blocked shots in 31 active minutes. He's undoubtedly going to be leading the league - again - in steals when the latest stats spin off the Elias computer today. He's among the top 15 in the league in blocked shots and scoring.
Two defensive possessions in the third quarter cut to the essence of the Pierce story. With Boston leading, 58-42, he missed a shot. But he then stripped Anfernee Hardaway and that led to an Antoine Walker dunk. (It also was the first hoop of a 9-0 Boston run that ended competition for the night.) In that same stretch, he also stripped the ball from Bo Outlaw and, while on his knees, threw an over-the-shoulder, no-look pass to Walker, who fed Ron Mercer for a dunk.
"I really take pride in my defense," Pierce said. "You can get embarrassed in this league and I don't want to be the guy on the highlight film getting beaten."
How many guys talk about not wanting to be on "SportsCenter" for fear of humiliation?
This is looking more and more like the Hoop God's rebate for the 1997 draft. It was as if last June, He looked down from above, and told Rick Pitino, 'OK, you missed out on Tim Duncan and Keith Van Horn. But we'll have Paul Pierce ready, able, and vengeful for you next year. Just hang in there.' " (He might have added that Walter McCarty is now officially Wally Pipp.)
The Hoop God not only held Pierce for the
Celtics,
he also made sure the
Celtics
were going to get someone who would look at the nine teams that passed him by the same way Clint Eastwood looks at creeps.
"When he got drafted 10th, he felt he had worked his entire college career to be a high draft pick, and he wasn't," Pitino said. "So he decided he was going to get his body and his game in great shape, to show people, to show himself. What he is is a man with incredible pride."
We know now what happened the night of the draft. Pierce figured he'd go in the top three. Should he unexpectedly slip a little, he already had told Toronto and Sacramento to forget about it. Golden State, which could have had him, decided to go with Antawn Jamison. By the time it got to No. 8 and Philadelphia, Pitino was beginning to think the unthinkable. But, he said to himself, how could Larry Brown pass on a Kansas guy? (Answer: the same Larry Brown who traded Van Horn for Tim Thomas, that's who.)
Already, Pitino had seen his hoped-for guy, Dirk Nowitzki, slip away, thanks to a trade. Now he was looking at UNLV's Keon Clark, for goodness sake, but Pierce kept sliding. The Sixers took Larry Hughes, who might be a fine player one day. Then came the prearranged Nowitzki pick and it was Boston's turn. Pitino was dumbfounded.
We hearken back to Frank Layden's memorable line when Karl Malone was still available at No. 13 in 1985. "What does he have, AIDS?" Pitino wasn't thinking that, but he was thinking there had to be a skeleton somewhere.
"When I was sitting in that [ draft] room, I said, 'Dammit, Philadelphia is going to take him,' " Pitino said. "And Chris [ Wallace] said, 'No, they're not. They're going to take Hughes.' And my next question was, 'OK, what's wrong with him? There must be something wrong with him. Find out what's wrong. There's gotta be something.' "
There was something, of course. Something wonderful.