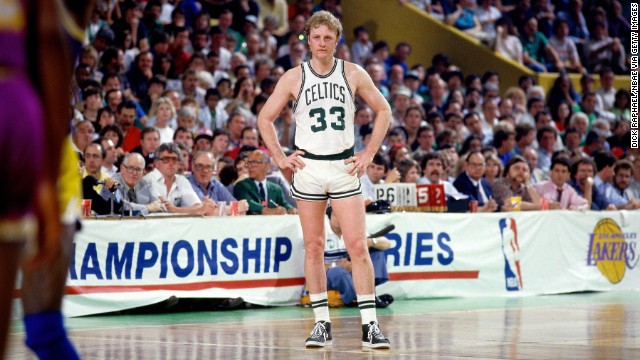 Such is the legend of Larry Bird that you tend to forget the things that other, more human players end up becoming known for.
For instance:
Did you know that Larry Bird was the
first player since Elgin Baylor who made it a practice to throw the ball off the backboard in order to get it back so he could lay it in?
After Bird had done so in a 1982 game against the Bullets (getting himself a 3-point play), one of his teammates was aghast. "You should have heard McHale," laughed Bird. "He said, 'Damn, Larry. It's a close game!' "
And, to the question "
Did Larry Bird ever goaltend
?" the answer is "Yup." On Feb. 9, 1988, he goaltended an Akeem Olajuwon shot in the course of a 44-point (17-for-27) effort against the Rockets. This is the same Olajuwon he beat in a jump ball in the first quarter of Game 6 during the 1986 Finals. It defied the laws of physics, but Bird did it.
On Jan. 24, 1982, Bird had
two up-and-down violations in the same period
(third) during a home loss to the Portland Trail Blazers.
On Jan. 2, 1981, he went scoreless while shooting 0 for 9 from the floor during the famed "
Eight Bricks and a Block" game
in Oakland. Two nights later, he scored 12 seconds after the opening tap, hit his first six shots and had 33 points in a victory over Portland.
The Celtics were famous for the hordes of so-called Green People who cheered them from coast to coast during the Bird Era, but it may have reached a peak in 1988 when
cries of "Lar-ree Lar-ree" came rolling down from the rafters . . . at Madison Square Garden.
Larry Bird had 61 teammates, not counting exhibition game mates. The tallest was Artis Gilmore, at 7 feet 2 inches. The shortest was Andre Turner, at 5-9 (or so).