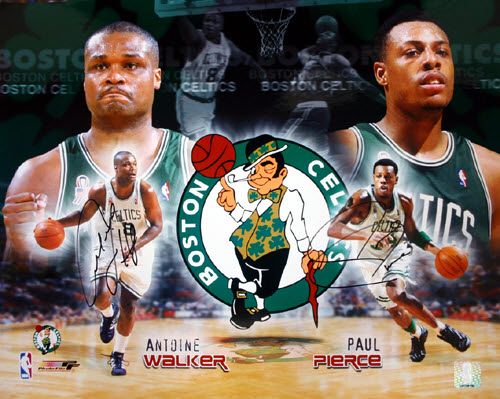 February 26, 2002
Refocus, v. 1. To bring concentration or attention back to a particular goal or plan. 2. To return to a better, more productive state. 3. To redouble efforts.
See for reference: The Celtics, who are resolved to hold large leads and finish games strongly, to perform the way they did earlier in the season.
WALTHAM - It comes down to the 26 remaining regular-season games. The Celtics stand three games back in the loss column from second place in the East and three losses ahead of 10th. Certainly, they want home-court advantage for the first round of the playoffs, but there's little room for error just to make the postseason.
Translation: They cannot afford to squander leads of 20, 18, and 14 points, as they did during their recent seven-game road trip. They must be more aggressive on the glass, and execute, not implode, down the stretch.
Last season, the Celtics' fourth-quarter play paralleled the way they finished the season. Too little. Too late. This year, they don't want the surrendering of leads to become emblematic of how they end the year.
"We're taking it practice by practice, game by game, doing the things that have gotten us 31 wins and put us right now with home-court advantage, which is our goal," said coach Jim O'Brien. "There are 26 games remaining, 16 at home and 10 on the road. [We need] to focus and do the things necessary that will allow us to continue winning.
"I think we're in a solid frame of mind. If any of us at the begining would have said, 'You're coming off the West Coast trip and you're fourth in the East and you have home-court advantage, you're healthy, you're looking at 16 at home, 10 on the road, you have Tony Delk and Rodney Rogers on your team,' we would have been pretty pleased about that.
"But that being what it is, we've got to play tough basketball. We have to play a hardened type of game, where we really scrap and raise our game a notch from the level that it took us to win 31 games."
There are plenty of reasons for the Celtics to pat themselves on the back. But their work is far from over.
"We're getting away from a lot of things that we were doing that made us jump out to a great start," said Erick Strickland. "Our defensive principles are breaking down, stuff like that."
The Celtics have played more games than any other team in the East beside Toronto, and they seem to think that this will afford them extra time for breaks and practice. But it really doesn't work that way. Starting with a March 4 matchup against Philadelphia, the Celtics play a game at least every other day until April 2. That's 17 games in 30 days, many against teams battling for the playoffs themselves.
This doesn't give newcomers Delk and Rogers a lot of practice time to get acclimated. Strickland, who was signed by the Celtics as a free agent Nov. 1, said it took him about a month to adjust to his new team. He added that Delk and Rogers have appeared a little tentative in their new roles.
After straightening out their personal affairs in Phoenix, Delk and Rogers arrived in Boston yesterday afternoon and went through semi-private workouts with the coaches. O'Brien is confident enough in Delk's abilities to name him the starter at shooting guard for the moment. Rogers will relieve Walker for approximately 10 minutes a game as he learns how to play small forward and center.
The coach noted that neither Delk nor Rogers was acquired to "watch the action."
"You don't have to be a brain surgeon to understand who we let go," said Kenny Anderson. "I'm not knocking [Randy Brown, Joe Johnson, and Milt Palacio]. If I was the general manager, I might have done the same move, but I would have been bothered giving up on Joe Johnson so early. But - and there's a but - you're looking at Rodney Rogers, who's a proven, solid, veteran player. Tony Delk, who's a solid player. It was a good situation for now."
Boston will need the instant offense Delk can provide and the rest Rogers can give Walker. Considering the number of teams in contention for playoff spots in the East, it should come as no surprise that 13 of Boston's final 26 games come against conference rivals with a shot at the postseason.
The next eight games could be the most crucial stretch; the Celtics play the Bucks, Sixers, Magic, Pistons, Wizards (twice), Nets, and Hornets. All but Charlotte are in contention.
Philadelphia and Orlando have the most games left against Eastern Conference foes, 16 each. Charlotte, Detroit, and Toronto have the fewest, 11 each. But like the Celtics, the Sixers play a good portion of their remaining 28 games at home (17). Washington and Indiana are the only playoff contenders with more away games than home games left.
"I think we're going to make it through the tough stretch," said Paul Pierce. "I think this is a challenge everybody on the team welcomes. We're in a good position to make a run.
"I said it a couple weeks ago. It's going to be a difference between three games from the second to the eighth spot. Every game is important.
"We didn't take advantage of the West Coast like we wanted to. It's going to come down to one or two games that decides whether we're in the playoffs, have home-court advantage or not."