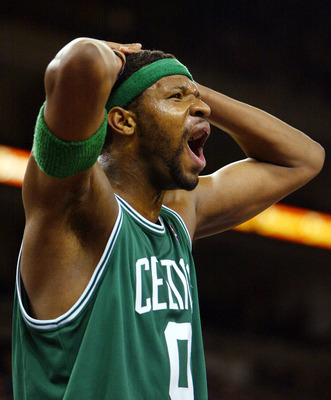 March 4, 2002
WALTHAM - Call it the Green carpet treatment
The rest of Rodney Rogers's family - wife Tisa and daughters Roddreka and Rydeiah - arrives in Boston at the end of the week for a short visit. Celtics general manager Chris Wallace will be at Logan Airport waiting, ready to serve as tour guide. It's all part of an effort to make Rogers's transition to his fourth NBA team as smooth as possible and to court the player, who becomes a free agent this summer.
Wallace is so determined to succeed in his new role as recruiter that he has dramatically reduced his scouting schedule and even has considered attending a NASCAR race or two with Rogers, an avid fan of fast cars and big trucks. For Wallace, the Celtics' recent trade with the Suns was never all about the 2002 stretch drive and luxury tax concerns. He believes both Tony Delk and Rogers can be in the fold next season."We have a very short period of time for him to get a feel for the Celtics and the town and where he fits in," said Wallace. "There's no real need to go to college games and scout. One, we don't have a first-round pick and it's almost impossible for us to have one. What's more important for us is that I want to be around and help Rodney and his family through this transition, introducing Rodney to Boston and the Celtics organization.
"The recruiting process might normally start in the summertime. I'm into it right now. I'm really going to spend time with him, so he sees that there's a viable future here for him and that this is a wonderful place for his family to come to as well."
The Celtics are facing a hectic summer with five players - Rogers, Walter McCarty, Mark Blount, Erick Strickland, and Roshown McLeod - up for free agency. With the team's 2002-03 payroll projected to be between $51 million-$52 million, it's likely it only will be able to afford one free agent, unless someone signs for a ridiculously low number or the team dumps more salary. The luxury tax is expected to be between $52 million and $53 million.
Turning corner
The Sixers present a more immediate concern for the Celtics, who will try to snap a four-game losing streak in Philadelphia tonight. Boston held a two-hour-plus workout yesterday, the longest in recent memory. By the players' own admissions, they needed the extra time. The last part of practice was spent running through plays, with the emphasis on execution. Boston sees a golden opportunity tonight.
"That's definitely on our mind," said Paul Pierce. "That's why we came out and had a good hard practice because it's time for us to get back on track. What better way to do it than against the defending Eastern Conference champs? They've been playing well of late and we haven't. This would be a great game for us to turn the corner."
The key to any game against Philadelphia is controlling Allen Iverson, who leads the league in scoring (30.8 points per game), steals (2.82), and minutes (43). The last time the teams met, Jan. 25, Iverson scored 47 points.
During practice, Celtics coach Jim O'Brien made the point that bad things usually happen to players who drive the baseline in the NBA - except Iverson.
"Great players drive middle," he said. "Mediocre players drive baseline, with the exception of Allen Iverson. Bad things happen when you drive baseline in this league, unless you're a superstar."
Pierce didn't quite agree, calling himself "an optimist" when it comes to driving the baseline.
Battie out
Tony Battie, suffering from a swollen lower right leg, will not make the trip. According to trainer Ed Lacerte, Battie apparently pulled a muscle behind the knee toward the end of the last road trip, causing the swelling. If this were an extended trip, Battie would have traveled. O'Brien will determine today whether Vitaly Potapenko or Mark Blount will start. "Tony's the best rebounder that we have on our club per minutes played," said O'Brien. "He's the best shot-blocker we have, though Mark gives us shot-blocking. [But] I have a lot of confidence in Vitaly and Mark." O'Brien added that Rogers would get some minutes, with Antoine Walker playing a bit at center. "We're going to be able to make sure that Rodney gets an ample amount of time and play a smaller lineup sometimes with Antoine at [center]," he said. "We have enough weapons, I would hope, to be able to get over the hump for one game."