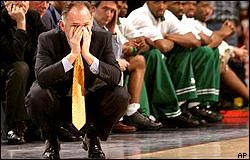 Offensive on boards
Rebounds. Rebounds. Rebounds. What has happened to the
Celtics'
rebounding? Last night's 45-28 pounding on the boards was as horrid as it was reflective of their trip. Over seven games, the
Celtics
were outrebounded in each by an average 11.5 a game. Last night, they got crushed at both ends (Houston had 17 offensive rebounds), prompting Paul Pierce to observe, "It's tough to swallow. They outrebounded us with three guards. We've got to do a better job rebounding the basketball. I know I do. I'm not doing a good job."
The
Celtics
have not outrebounded an opponent in the last 15 games. Said O'Brien, "We're not getting the commitment from the five people we have on the court to rebound the basketball." . . . Tony
Delk
got thrown into the starting lineup in his first Boston appearance. In 23 minutes, he had 3 points, 3 assists, 2 rebounds, a steal, and a turnover. "I tried not to force anything," he said. "I'm just trying to fit in, learn the plays, and get familiar with my new teammates." O'Brien's rationale for starting
Delk
: "Why not? That's why we made the trade. Why wait any longer? Let's see what happens."
Delk
, who wore No. 00 in Phoenix, opted for No. 28, last worn by Quinn Buckner in the 1984-85 season. Rodney Rogers, meanwhile, also made his Boston debut, scoring 2 points in six first-half minutes. "I wish I could have been more effective out there," Rogers said. "We needed this win." Rogers wore No. 54.