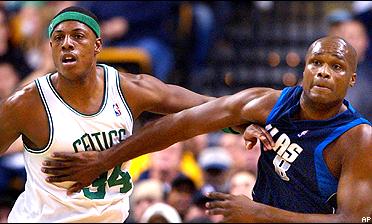 March 8, 2002
The behind-the-back, no-look toss. The alley-oop. The fast-break outlet. They all work just fine, but Celtics coach Jim O'Brien will take a simple pass any time. That's the key to having six players record multiple assists, as Boston did against Orlando Wednesday night. Antoine Walker and Kenny Anderson led the way with seven apiece, followed by Paul Pierce with five.
"One of the former Celtics said this, it might have been [Bob] Cousy or Bill Russell or [Tom] Heinsohn, but a great passer makes a good pass every time," said O'Brien. "There are no great passes. You don't try to make great passes. You simply put the ball on your teammates' hands where he can do the most effective things with it. Roy Williams at Kansas said simply, 'Hit the open man every time.' If there's an open guy, you don't have to decide what to do. If you do those two things - hit the open man every time and put it on his hands - then you're a great passing team." The Celtics would like to be a great passing team, or at least a consistent one. Boston is 27-15 when it records at least 20 assists. (The Green had 29 against Orlando.) The Celtics are 16-2 when Walker has at least seven assists. Also, Boston is one of only six teams in the NBA to have two players averaging more than five assists per game with Anderson (5.2) and Walker (5.1).
"Simplicity is the best way to do it, even though all of us want to have a nice pass, a fancy assist," said Walker. "You look at Magic Johnson, who's probably one of the best passers ever, he had some fancy passes. Magic and Jason Kidd probably take the most chances and pinpoint the passes the most. Coach wants us to stay away from that . . . He wants us not to give teams an opportunity to [steal the ball]. We need all the shot attempts we can get. For us, being simple is good because we've got good shooters."
His time's coming
Eric Williams is neither gone nor forgotten, just spending a lot less time on the court as O'Brien continues to work with a frontcourt that incorporates newcomer Rodney Rogers at power forward, Walker at center, and Pierce at small forward. Meanwhile, Tony Delk has been seeing minutes at both guard spots. As a result, Williams played just six minutes against Orlando. But O'Brien made it very clear after yesterday's practice that Williams was definitely in the team's plans.
"Don't be misled by the fact that Eric Williams did not get many minutes the last two games," said O'Brien. "As you well know, I'm an Eric Williams guy. One of the reasons why I'm the coach of the Boston Celtics is because of what Eric Williams has done for our team since last January. I have tremendous confidence in Eric. Certain guys are just giving us good offense, good defense, and good rebounding . . . And when you have guys that are as hot from 3-point range as Tony Delk, Walter [McCarty], Kenny, Paul, then you have to make a decision as to who to play in certain circumstances."
O'Brien has told Williams and Erick Strickland, who played just seven minutes against Philadelphia, to be ready because they never know what could happen next and when they might be needed for 30 minutes. For now, O'Brien considers it a luxury to have Williams waiting in the wings and resting the left knee tendinitis that has bothered him all season.
Cause for concern
The news about Tony Battie's lower right leg keeps getting worse. Although O'Brien said it was "not a serious" injury that caused swelling and forced Battie to miss the last two games, the starting center does have a small tear in his calf muscle. When he went through Wednesday morning's walk-through, the leg swelled up, surprising the staff. The team must now decide whether Battie should be placed on the injured list. Right now, there would seem to be no rush for Battie to return . . . Save these dates: Paul Pierce bobblehead doll night is March 20 against the Cavaliers. The first 5,000 fans will receive the limited-edition dolls. There will be another mystery bobblehead giveaway April 17 against the Hawks . . . On March 28, ESPN Classic will review the career of Hall of Fame coach Jack Ramsay, also known as O'Brien's father-in-law. A film crew was in town yesterday to shoot O'Brien talking about Ramsay.