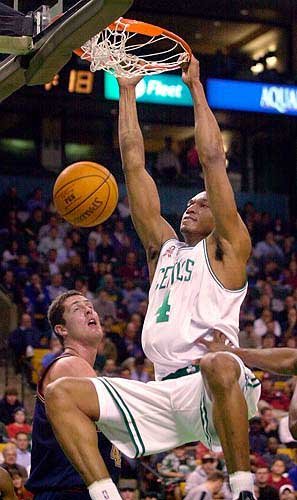 March 14, 2002
Let it be known that the decision to rest starting center Tony Battie last night at the FleetCenter had nothing to do with the fact that Nets center Todd MacCulloch was also out injured, nor did it have anything to do with the fact that the Celtics' five-game winning streak occurred while Battie was sidelined. According to coach Jim O'Brien, the reason Battie sat out was to make sure the small tear in his right calf is completely healed when he returns.
"He doesn't have any swelling, to the best of my knowledge," said O'Brien. "He has a little bit of a tear, that if we played him he could aggravate it. It was everyone's decisions - Tony, the doctors, mine - that we need Tony Battie healthy."
Battie is considered day-to-day, leaving open the possibility of a return tomorrow night in Memphis. Summer job
Asked if Paul Pierce was a slam dunk to make Team USA, New Jersey president and general manager Rod Thorn said, "He was as far as I was concerned. I didn't hear any dissenting voices. He's one of the top players in the league right now and he wants to play [in the 2002 World Championships]." Thorn is a member of the Team USA selection committee . . . If O'Brien was worried about a hectic summer for Pierce if he plays for Team USA, the coach should take a look at the endorsement and community service schedule the Celtics cocaptain has lined up during the season. After last night's game, Pierce flew to Toronto with Jason Kidd to film a commercial for Nike this morning. Yesterday, Pierce was nominated as one of nine finalists for the Fannie Mae Foundation's 2002 Home Team Community Service Award. The winner receives a $50,000 grant (a split donation from the Fannie Mae Foundation and NBA) to donate to the charity of his choice . . . Pierce will be the subject of a segment on ESPN's "The Life." The piece is scheduled to air in April . . . O'Brien made a point of acknowledging owner Paul Gaston's willingness to pay Antoine Walker and Pierce the big money. "They're players that we are building this franchise on. Clearly, Mr. Gaston made a commitment to these guys for a long time at the max. They're max players and they played like two great leaders tonight." Scott caught
The NBA announced it was fining New Jersey coach Byron Scott $7,500 for criticizing a pair of late calls in Saturday's loss to the Sonics. "I expected [the fine]," said Scott. "I didn't expect it that high. Not $7,500. I didn't get my money's worth. I've got to say some other words if they're going to charge me $7,500." Bringing to mind Kidd's recent $5,000 fine for directing an obsence gesture toward a heckler in Phoenix, Scott jokingly added, "Next time, I'll just be silent and I will use gestures."