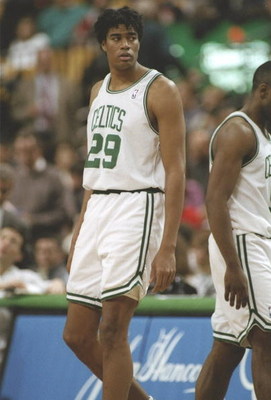 March 12, 2002
WASHINGTON - Thirty-six wins. That represented the high-water mark for Rick Pitino and only a dream for M.L. Carr. It was even unapproachable in Chris Ford's final days. But it's what the Celtics had last year - and what they have this year, with 19 games remaining. Is there any more graphic evidence of this team's growth and success than that one number?
Last night, the Celtics made it five straight wins with a 104-99 victory over the Washington Wizards. They're now only 3 1/2 games astern of the once-uncatchable Nets, who are in town tomorrow night for what in November looked like just another game for lottery positioning. Even better for Boston: The Nets have to play Toronto tonight.
"Let's hope Toronto wears them out," Antoine Walker said amid a sea of jubilant faces in the Celtics locker room. "Obviously, we're close enough now so that we have a shot at them. I think if we take care of business, we can shake them up."
They shook up the Wizards twice in as many days, though both wins were close games as Washington continues to feel the absence of Michael Jordan. They are 2-8 without Jordan, including 2-6 in the eight games he's missed since undergoing knee surgery.
The Wizards played hard, did not quit, and weren't officially interred until Paul Pierce (37 points) dropped his fifth trey of the night with 8.8 seconds remaining. That gave Boston a 6-point lead and emptied the MCI Center in a Washington minute.
Pierce had 16 in the fourth quarter - Johnny Most surely would have dubbed him "St. Paul the Fourth" by now - and had a team-high 9 rebounds as well in 42 minutes. It was an altogether fitting performance from someone who had found out earlier in the day that he will be a member of the United States team for this year's World Championships.
The Celtics also got big plays down the stretch from Tony Delk (19 points) and Walker (19 points, 6 assists) and moved nine games over .500 for the first time since Dec. 23, when they were 17-8. Their 36 wins are second only to New Jersey's 39 among Eastern Conference teams and they are only percentage points behind Detroit for the second-best record in the conference. Their 17 road wins, meanwhile, are their most since 1991-92.
"I really feel like we've started a whole new season," Walker said. "It's like we've found a new identity. I think we've become a real good team."
You won't get any argument from Washington, which lost three of four to Boston this year. Coach Doug Collins pointed to 21 turnovers as the culprit this time.
"Our margin of error is such that we can't throw the ball away 21 times against this team and expect to beat them," Collins said.
The Celtics led for most of this one but never looked comfy, even when the margin was 12 points in the third quarter or 11 with 8:05 to play. But the Wizards got a late run, led by Richard Hamilton (31 points) and Courtney Alexander (24), and were within a basket (90-88) with 3:53 remaining. The Celtics called time, Jim O'Brien congratulated them on a good defensive sequence, and then Pierce knifed through the lane, got the basket, got whacked by Alexander, and converted the free throw. That was Big Hoop No. 1.
The second came after Washington, trailing by 3, absolutely, positively had to have a stop in the final seconds. The Celtics got the ball to Pierce, who drove a stake through the Wiz with a looping trey. Washington called time. Pierce, arms extended in triumph, exulted on his way to the bench.
"That's why I'm in the All-Star Game," he said. "The guys expect me to deliver. The shot clock was winding down and we needed a bucket, desperately. It was just a big shot that lifted us to the win."
O'Brien might quibble with his defense (the Wizards shot 51 percent) or the rebounding (Washington had a 38-35 advantage), but those are issues that can be addressed today. As the coach noted, it's always easier to teach after a win. He should know.