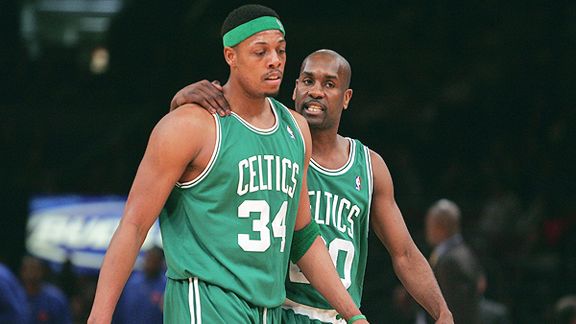 Da Glove Ready to Go
January 6, 2005
Gary Payton's downtime lasted predictably long - one game. The Celtics point guard was back in his customary, starting position last night against the Golden State Warriors. A new consecutive games streak has begun.
Payton went 33 minutes, collecting 13 points (on 6-of-7 shooting) and five assists in the Celtics' 84-83 victory. He spent some time on the exercise bike when he wasn't in the game and, if you hadn't known he'd missed a game, you'd have thought nothing was amiss by what you saw on the floor.
"I thought he looked fine," coach Doc Rivers said.
Payton missed Monday's game against the New Orleans Hornets with a strained left hamstring. It was just the fourth game he had missed because of injury in a 15-year career covering 1,140 games. (He's missed two more because of suspensions.) The Monday DNP snapped a 305 consecutive games streak. He's also had streaks of 354 and 356 games.
Payton said after Monday's game that he was a virtual lock to play last night, and he was on the mark. Said Paul Pierce, "He's the type of player who hates to sit out and watch, so I knew he'd be back and he gave us a lift."
Rivers said before the game that all parties had given Payton the green light. But he also recalled a time when he had a similar injury, was cleared to play, and quickly tore the muscle.
"That's when I was the Clippers," Rivers said. "I think that happens when you're with them. That's a part of it."
Rivers did indicate that he'd watch Payton carefully but that Payton had looked fine in a brisker-than-usual shootaround yesterday morning. "He went pretty hard," Rivers said, "and he looked normal."
But he also said he didn't really trust Payton to be square with him, remembering full well that he, Rivers, was sometimes a tad dishonest with his condition when he played.
"I once had a concussion in New York and I told [Pat] Riley I was fine," Rivers said. "Then I went out and threw the ball to the wrong guy, and I didn't even know it. So I was safe with the lie. I didn't know."
Step aside
Pierce passed old pal Antoine Walker on the Celtics' all-time scoring list, moving into 12th place. He only needed 5 points and he ended up with 19. (Perhaps it was fitting that on the night he passed Walker, he didn't make anything other than a layup.) Next up for Pierce, who now has 11,010 points, is Tommy Heinsohn, who has 12,194. But Pierce will have to average around 23 points a game and go wire-to-wire to catch Heinsohn this season. He's currently averaging 21.7. "Hey, Tommy, I'm coming after you," Pierce cracked . . . The Warriors were without their leading scorer, Jason Richardson, who missed his third straight game with a left ankle sprain. Richardson also leads the team in minutes and is second in rebounding. "You don't manufacture guys like that," coach Mike Montgomery said. Richardson was really missed when the Warriors couldn't get off a shot in the last 16.9 seconds. "Jason Richardson would have gotten a shot," Montgomery said. The Warriors also were without Mickael Pietrus, who has a right ankle sprain . . . After wearing an Afro for the last few games, Ricky Davis was back with the usual cornrow look . . . In addition to missing 9 of 20 free throws, the Warriors also were assessed two defensive three-second technicals. That stuff tends to add up in a 1-point game . . . There were 10 lead changes and six ties - all in the first half . . . Clifford Robinson led the Warriors with 18 points and also had four blocked shots . . . Weird night for Marcus Banks (who was spotted wearing a Yankees hat). He played 14 minutes, had two baskets (both treys) and no assists . . . Golden State welcomed former Sun Zarko Cabarkapa to the fold with a 69-second cameo at the end of the first half. Cabarkaba was the Suns' first-round pick in 2003, 17th overall, but had played only 11 minutes this season for Phoenix and was sent to the Warriors Monday. Golden State, using a trade exception from the Nick Van Exel-Dale Davis deal, only gave up two second-rounders for Cabarkapa, one in 2009 and the other in 2005, but protected to the first 40 choices . . . The Warriors also activated rookies Andris Biedrins and Luis Flores, and placed Davis on the injured list . . . When the Celtics allowed 100 points in 11 straight games recently, it raised a question: When did that last happen? You have to go back to the 1996-97 team, the one M.L. Carr deliberately drove off the tracks in the hopes of getting Tim Duncan, to find such a lengthy stretch of 100-point games. That team, which went 15-67, allowed 100 or more points in a 14 game stretch (March 6-April 1) and a 17-game stretch (Jan. 28-Feb. 28.) In those 31 games, the Celtics went 3-28. That Celtics team allowed an average of 107.9 points a game, 11 more than the league average.