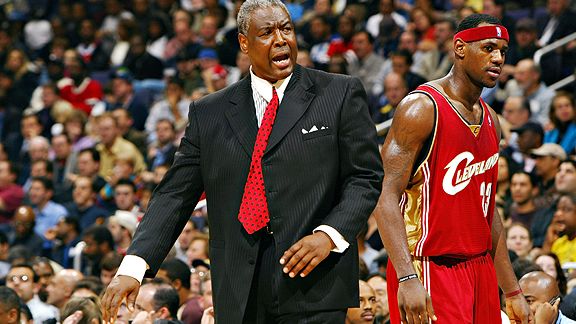 January 10, 2004
IT'S NOT A GRIND FOR JAMES ROOKIE RELISHES ALL THE ACTION
With 82 regular-season games and such quirks as back-to-back road games and three games in four nights, the NBA schedule is, by nature, a grind.
That should be even more true for a teenager, though LeBron James claims playing 36 games in a little more than two months has been anything but a grind.
"When I was in high school, I did choose to play that [amount] of games," said James. "After the season, I always wanted to play more. That's why I'm here. Getting ready for a game is fun. It's not hard. Everybody thinks it's hard because you didn't play so much in college and high school. You always wanted to play more. You always wanted to play more when the season was over. I'm happy here. I'm happy I get to play more games."
That said, Cleveland coach Paul Silas has seen a less consistent effort from James in recent games. (James scored 19 points in last night's Cavaliers' loss.) But Silas was unsure whether fatigue from a hectic schedule was to blame.
"He's been up and down a little bit in the last few ballgames, but I don't know whether it's the wall or not," said Silas. "But he's got to pick it up now, especially defensively. With our rotations, he's got to pick that up." Put in his place
In light of highly critical comments he made about Cleveland as a city and an organization, Ricky Davis got a lesson in how players should conduct themselves in Boston.
"We don't like to be negative in the press about anybody," said coach Jim O'Brien. "It was uncalled for, even if there are emotions involved. Ricky and I had a discussion and I told him the viewpoint that we have in this organization on the way we deal with issues in the media.
"He was frustrated with his time in Cleveland and I'm sure this will not repeat itself." Results are in
The Dec. 15 trade that sent Kedrick Brown, Tony Battie, and Eric Williams to Cleveland for Davis, Chris Mihm, and Michael Stewart was a good one for both teams, O'Brien said.
"It certainly was good for them," he said. "They got three guys that have been in the playoffs the last couple years and have a certain mentality about how to go about things. I'm happy for those three guys that it's working out."
For his part, Brown believes Cleveland is a better place for him than Boston.
He quickly earned the starting spot at shooting guard and his minutes and points per game increased. He scored 9 points in 24 minutes last night.
"I'm having fun out there," said Brown. "Ever since the first day I was out there, they made me feel at home. So, I'm just out there enjoying myself. Here, it was kind of tough getting playing time behind Paul Pierce. But over in Cleveland, we're young and I think I fit well on this team. Everyone's around my age and we're just out there having fun." Pledging support
Both Battie and Williams were shocked by the news of Vin Baker's relapse. But like their former teammates, they voiced their support for Baker.
"I was surprised," said Williams. "I didn't see anything. Before I left, he was averaging 15 points a game. He was doing great. We were winning. Then, after I left, I don't know. He was my guy. I sat right next to him on the bus. I talked to him many times. I didn't see any signs. Then, I saw him and people said he started picking up weight. He picked up like 10 pounds. Then, I started looking at the box scores and saw he wasn't playing a lot of minutes and I started wondering what was going on. Then, to see it run across the TV screen was a shock. I knew he was on a high. I don't know what happened."
Added Battie: "I just know it's a hard-fought battle. I've known some people who've had to go through the same things, people who were pretty close to me, like family. I wish Vin the best. I know he can win that battle because he's strong-minded and he wants to."
Meanwhile, despite "numerous phone calls," O'Brien has yet to speak to Baker since the three-game suspension was imposed. The coach has talked to one of Baker's advisers and asked to talk with the power forward. O'Brien was not concerned about the lack of communication and simply said, "It is what it is." Pierce fined
NBA senior vice president of basketball operations Stu Jackson announced yesterday that Pierce was fined $7,500 for throwing and kicking the basketball into the stands during the second half of the Celtics' 101-93 win over the Magic at the FleetCenter Wednesday ... Silas knows a little about what it's like to be traded, then play your former team. "Every team I was traded from, I wanted to beat the hell out of them when I saw them again," he said. "When I was traded from the Hawks to Phoenix, I came back and I was probably a 68 percent free throw shooter. I made 17 straight free throws." ... Raef LaFrentz was back on the bench last night, supporting his teammates in person for the first time since right knee surgery in mid-December.