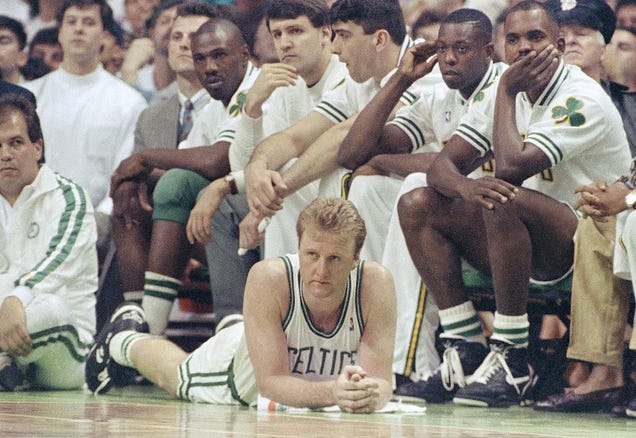 July

22, 1991
Larry Bird is due for an exam this week and
Celtics
boss Dave Gavitt said all signs are encouraging.
Bird, who underwent back surgery June 7, is walking, jogging in a pool and riding a specially-made bicycle, Gavitt said. The next step?
"I think it would be jogging," Gavitt said.
"He has done everything according to plan and still has no pain," Gavitt said. "So all the signs are good."
Smith, Bagley not around
While most of the
Celtics
reserves are here, Michael Smith is not. He participated in last year's rookie camp but was not scheduled for this year's. Gavitt said yesterday that Smith was not here because of an ankle sprain suffered in some workouts recently at Hellenic College. However, Smith said at the end of the season that he would be unable to attend because of a family wedding . . . Where is John Bagley? "I'm embarrassed to say, I don't know what his status is," Gavitt said. Neither did coach Chris Ford. "But I do know he's not ready," Gavitt said. "Otherwise, he'd be here." Bagley, who is under contract through next season, missed all of last year because of a knee injury. He had surgery March 14.
Tompkins shines
Pat Tompkins of Wisconsin has wasted no time in establishing himself as an inside force. He's only 6 feet 5 inches, but he goes after rebounds like a poor man's Charles Oakley. "That's kind of one of my specialties," said Tompkins, a first-team all-Big Ten selection, the first for Wisconsin in 23 years. Tompkins wasn't drafted, which he said came as no surprise. He prepped for this camp by going to the Philippines for two months. "It was a good way to stay in shape, play some games and make a little money," he said. He also was in Manila when Mt. Pinatubo erupted. "I experienced the ash storm. I was right there." . . . UNLV's Anderson Hunt arrived in time to participate in the evening workout.