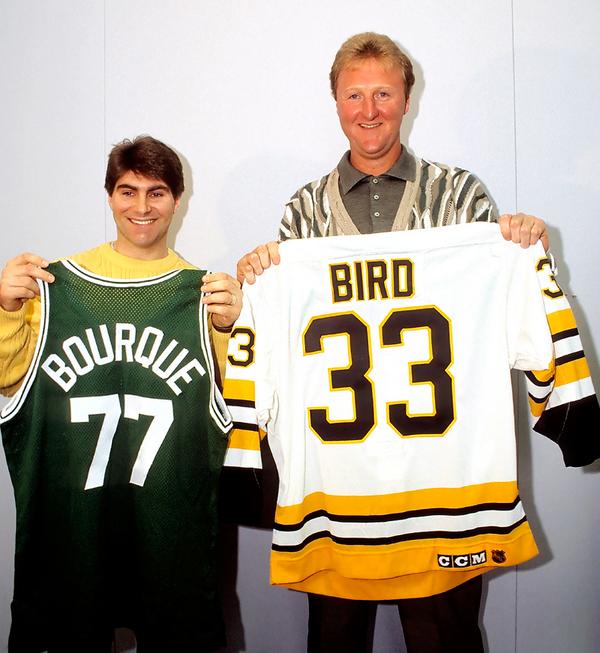 October

5, 1991
There are only so many of these days left. Sometime soon, the
Celtics
are going to host their annual kickoff media day and Larry Joe Bird won't be here. He'll be home in Indiana eating what he wants to eat, raising a family and maybe playing a little pickup basketball when the mood strikes him.
Meanwhile, he still belongs to Boston, and yesterday Bird stood around for a few minutes and answered questions in the final hours before the start of his 13th professional camp.
Bird and Ray Bourque today stand as Boston's senior athletic statesmen. They've been representing this city since Jimmy Carter was in the White House. Larry Legend will be 35 in December, which means he's already older than Bob Cousy was when a leather-lunged fan shouted, "We love ya, Cooz." Bird is four years older than Tom Heinsohn was when Tommy Gun fired his final hook shot in 1965.
Never totally comfortable with the public relations duties of his celebrity (interviews rank just below back surgery), Bird yesterday submitted to a few questions about the usual topics.
Family first. Larry and Dinah Bird this summer adopted an infant son, Connor Anthony Bird. Life is different. Life is better. The dollars and trophies are pretty small compared to your first son.
"He's a pretty good little kid," Bird said with a smile. "He causes no problems so far, so I'm pretty happy with it."
We knew you'd want to know if Larry's doing the night feedings, so we asked.
"I don't have no 3 o'clock wake-up calls," he said. "That's why you get a partner in these relationships, and you don't have to do all that. But he sleeps all the time. He sleeps all night."
For the record, Connor Anthony Bird is not named after Conner Henry. Connor Anthony is almost 4 months old. What's he up to these days? we asked.
"He was jogging this morning," said Bird. "What do you mean what's he doing? What's he supposed to be doing?"
We kept firing the hard questions. We asked Bird if he strolls Connor around in the baby carriage.
"I have, but I sort of hide it so you guys can't see me," he said. "Let's not talk about it. I'll say the wrong thing and my wife will be ticked off at me for two months. It's made my life better."
A back brace was Bird's unwelcome companion for most of the summer. He wore the thing for almost three months after major back surgery June 7. Everybody is hopeful, but there is no certainty that he'll be able to play this year, or ever again. But he's a lean 223 pounds and says he's feeling good.
"I haven't scrimmaged up and down yet," said Bird. "I've been running a lot. I've been feeling good, so I don't think there's room for concern. We'll see how two-a-days go. If I make it through that, I don't foresee any more problems. I look forward to having a good camp. It's been feeling good the last month, and I don't see why it won't hold up through this.
"I'm here to play basketball. I really didn't know how I was going to feel. I just came out and did everything they told me to do and laid around for three months. When they told me it was OK to start doing things, I went out and ran and played ball and played tennis and did about everything. I'm optimistic about being able to go any time soon."
What do his doctors think?
"I'm sure they have a little concern right now," he said. "I don't know how many of their patients go back to play basketball. I'm sure it's a concern for all of us - just to be able to see if I'm going to be able to do it. I don't know if I'm going to be able to do it. But I'm going to try."
Bird's status this summer as a 1992 Olympian inspired more debates than Clarence Thomas. The controversy was fueled when Isiah Thomas was snubbed and when old friend Bill Laimbeer called for an audition.
Asked about the theory that Isiah was frozen out by Michael Jordan, Bird said, "I think it's a bunch of bull. I don't think Michael has any say about who goes over and plays. Isiah's a competitor and he wants to play, and I understand that."
When the theory was floated that Bird is playing because Magic Johnson wants him to play, Bird said, "Magic don't make my decisions. I make my own decisions."
Good enough. But why now? After years of talking about letting a younger man go, why is Bird on the bus to Barcelona?
"One of the things was they told me that a young guy wouldn't be taking my place," he said. "It would probably be a guy 30 years old. Right there, it made me back up and start thinking about it again."
Is he worried about being window dressing? Is his spot on the team some sort of True Grit/Lifetime Achievement Award?
"I talked to five or six guys involved with the decisions, and they assured me," he said. "It's not that I had a concern that I would embarrass myself, it's just that there's a lot of great players in this league and I will be 35 in December. Plus, there was a concern that I wanted to do it or not."
Bird on prospects for the Big Three and the 1991-92
Celtics:
"You seen what happened last year when all of us were healthy early in the season, and at the end of the season when none of us were healthy and we went down pretty fast.
"I think Dee Brown is gonna improve a lot, and Reggie Lewis is starting to come into his prime, and I think Brian Shaw is gonna have a great year. They're going to be a big key for us. I think we're a little deeper. If we stay healthy, we'll have just as good a chance of winning as anybody."
How much of it is luck?
"A lot of it is luck," he said. "We were very lucky that Bill Walton played 10 games for us in 1986. Anybody that gets hurt on a stationary bicycle, you gotta be very lucky."
Finally, we asked if success might spoil Dee Brown.
"I think he'll be twice the player he was last year," said Bird. "In the United States, every young kid in the world wants to dunk like Dee Brown."
What about you, No. 33?
"No, he said. "I'd rather shoot like . . . Larry Bird."