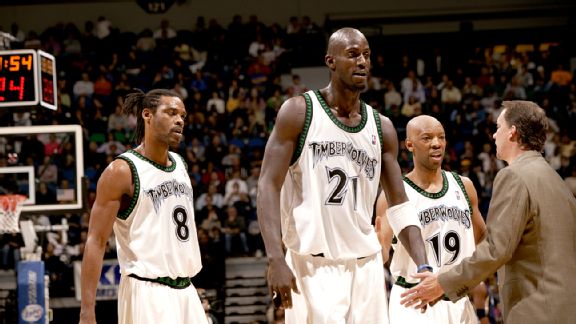 Demise of New Big Three Costs Flip His Job
February 14, 2005
Last June, the Lakers and Timberwolves competed for a spot in the NBA Finals. It looks like this June they'll be competing again - for a coach.
In a desperate move to stop its season from slipping away, Minnesota fired longtime head coach Flip Saunders on Saturday. General Manager Kevin McHale replaced him, an arrangement that should hold for the rest of the season - unless Phil Jackson says he'd like to begin sooner than this fall.
Saunders had the second-longest tenure of any NBA head coach and was enough of an institution in the Twin Cities that his dismissal would have been unthinkable last autumn. But it's a sign of how far the T-wolves have fallen that nobody was surprised to see the ax fall on Saturday.
The first eight years of Saunders's reign in Minnesota were an undeniable success. He took a woebegone expansion team and transformed it into an annual playoff participant, culminating in last year's Conference Finals appearance. But in Year 9,Flip flopped. A 25-26 record is never anything to brag about, and it was even harder to swallow when set against the raised expectations following last year's success.
The T-wolves' tumble wasn't entirely Saunders's fault. McHale took three big gambles before last season, trading for veteran guards Latrell Sprewell and Sam Cassell and signing free-agent center Michael Olowokandi. Though Olowokandi was a fraud, the other two worked out great in the short term. Cassell had his best season as a pro in 2003-04, making the All-Star team for the first time, while Sprewell energized the team defensively and gave it a missing open-court threat. Together they helped Minnesota pile up 58 wins even with high scoring forward Wally Szczerbiak and key reserve Troy Hudson missing much of the season.
But just one year later, Cassell and Sprewell were the key contributors to Saunders's downfall. Both began whining about contract extensions before the season, with Sprewell having the gall to turn down an overly generous three-year, $21 million extension. The two grumpy old men started acting their age on the court as well. Cassell, 35, has missed 12 games this season with various maladies and has hobbled through many others, resulting in a drop in offense and absolutely atrocious defense. Sprewell, 34, has appeared equally diminished, rarely getting out in transition and declining noticeably at the defensive end.
Minnesota's demise is rooted in those defensive deficiencies, and that's where the finger starts pointing back at Saunders. Defense is as much about effort as it is about talent, and considering Minnesota ranks 22nd in Defensive Efficiency (my measure of points allowed per 100 opponent possessions), it's apparent they aren't getting much of either at the moment.
Helped by the off-season rule change cracking down on hand-checking, opposing point guards are blazing past Cassell and Hudson like they're traffic cones. The big men, meanwhile, aren't moving fast enough to stop penetrating guards in their tracks, and when they do, the other T-wolves aren't rotating fast enough to the other shooters.
The stats reflect the team's growing defensive indifference. Because the T-wolves are so slow to rotate out, their opponents are shooting 37.6% from downtown - only two teams defend the line worse. And because they've made such a slovenly effort overall, the T-wolves are 29th out of 30 NBA teams in forced turnovers, creating just 11.6 miscues per game.
Most sudden defensive declines happen when the players start tuning out the coach, and that looks to be the case here, too. That's not a knock on Saunders - it's amazing he lasted as long as he did without that happening sooner, and his overall record in Minnesota is beyond reproach. But while Saunders is an amazing tactician who comes extremely well prepared for each game, this team probably needs to hear the same suggestions from a different voice. Don't feel bad for Flip, though: He's getting paid through the end of next season, and he'll certainly resurface soon on an NBA bench.
The big surprise Saturday wasn't Saunders's firing, but the T'wolves' announcement that McHale would take over. McHale has no coaching experience at any level, and unlike Isiah Thomas, he's never seemed particularly interested in the job. For that reason, one would have thought an experienced Minnesota assistant like Randy Wittman - who was a head coach in Cleveland - would have made a better interim coach. But McHale ultimately decided that an interim coach would never be able to command the kind of effort needed to get the T-wolves' season back on track.
McHale has his work cut out for him. No motivational speech is going to make Cassell and Sprewell any younger, and Olowokandi's funk means the team has no true center. Garnett is battling a sore knee, which could be the final blow that knocks the T-wolves out of the playoffs entirely. And even if McHale gets this team to the postseason, Minnesota looks likely to make its eighth first-round exit in nine years.
But whatever Minnesota accomplishes the rest of the way only sets the stage for the much bigger dilemma this summer. It's obvious that McHale's first call will be to Phil Jackson, and this job could hold quite a bit of interest for the Zen Master. McHale can dangle the chance to coach the reigning MVP in Garnett, which is how Jackson has preferred to operate (see Jordan, Michael; O'Neal, Shaquille). Plus, Jackson is looking for a new challenge, not a repeat of the same one in L.A., which is why this job should hold some luster for him.
Additionally, it appears the Lakers and T-wolves' positions will be the only two marquee jobs available this summer, unless the Sonics foolishly decline to renew Nate McMillan's contract. No other attractive gigs are likely to come open, leaving Jackson to choose between L.A. and Minnesota.
It's hard to discern which way the quirky Jackson might be leaning, but consider this: Jackson grew up in North Dakota, lives in Montana in the off-season, and spent a decade in Chicago. The Northern prairie is his kind of place, and with a team-oriented, hyper-competitive centerpiece like Garnett, it's his kind of team. McHale can only hope that's more important to Jackson than wearing shorts in January.