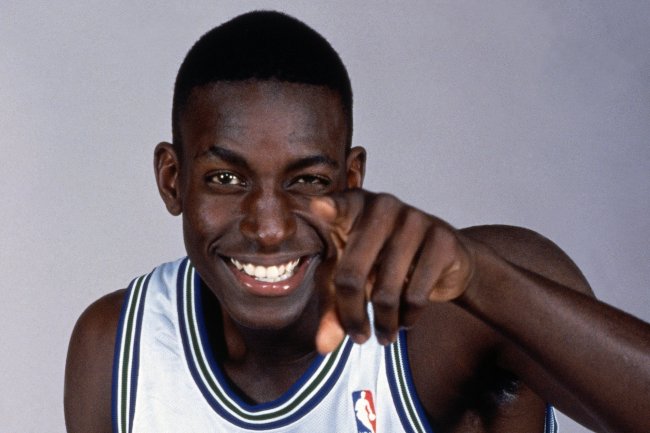 Garnett Staying; How about Googs and Marbury?
January 7, 1999
Long live Da King! Now, about Da Kingdom.
The beat-the-count settlement this week that averted a knockout for the NBA also guaranteed that Kevin Garnett will remain the world heavyweight salary champ for the foreseeable future.
With a six-year contract weighing in at $ 126 million, Garnett seems likely to keep the belt at least until this new collective bargaining agreement expires in 2005.
And that makes him Da Luckiest Kid on the planet.
But the end of the lockout also makes the Timberwolves - man, it's been a long time since I wrote that word - one of the more interesting teams in the league. While most people who still care about the NBA will be watching to see if Michael Jordan returns for another season, the Wolves will start shaping the supporting cast around Garnett on one of the league's best young teams.
They don't have much time to do it, but don't think Kevin McHale and Flip Saunders have spent the last six months drinking beer and reminiscing about their college days. They played it cool Thursday when they got their first chance to talk about the season ahead, and the most telling signs for the Wolves' future were in what McHale and Saunders didn't say.
To wit: They didn't say re-signing Tom Gugliotta was their top priority. In fact, they made it seem like they're working equally hard to get Dejuan Wheat in the fold.
"We're not going (to say), 'This guy's more important than the other guy,"' Saunders said.
Not a very enthusiastic endorsement of the Wolves' feelings about Gugliotta.
Both sides in this deal grew a little weary of each other last season, when Gugliotta missed the last 3 months of the season after having foot surgery. The Wolves thought Gugliotta should have tried to play with the ailment, but he thought season-ending surgery was the best way to go.
Not a major disagreement, but a disagreement just the same. Gugliotta also has showed a tendency to pout during his time in Minnesota.
After struggling initially without Gugliotta last season, the Wolves re-invented themselves as a scrappy bunch. They scratched out a team-record 45-37 record before nearly upsetting Seattle in the first round of the playoffs.
They proved they could get along nicely without Gugliotta. Foreign star Zeljko Rebraca could join the Wolves as soon as next season, and he's a similar player to Gugliotta.
The new bargaining agreement makes it impossible for Gugliotta to earn more than $ 85.7 million with the Wolves over the next seven seasons. They probably won't offer that, and the most another team could pay Gugliotta is $ 67.5 million.
To stay in Minnesota, Gugliotta also will have to accept his role as a subordinate to Garnett and, for at least this season, Stephon Marbury.
"The decision's going to be whether Tommy wants to be here or not," McHale said.
Gugliotta's agent, Richard Howell, didn't return a telephone call Thursday.
And what about Marbury? The Wolves can't pay him more than $ 85.7 million over seven years, either. That's a bargain compared to the Garnett-range deal Marbury was greedily eyeing before the lockout. Marbury still must decide if he can deal with Minnesota winters or whether he'd prefer to play closer to his New York City roots, but it's starting to seem more likely that he'll stay and Gugliotta will go.
And what will the rest of Da Kingdom look like? A lot like last season.
Along with Garnett and Marbury, Anthony Peeler, Chris Carr, Micheal Williams, Paul Grant and Billy Curley are under contract for the upcoming season. Sam Mitchell, Terry Porter and Tom Hammonds also seem likely to be back.
Don't expect much in the way of big-name guys after that, even though Gugliotta is just one of several high-profile, high-price free agents available.
"We don't have a lot of guys," McHale said, "and we don't have a lot of money."
But McHale and Saunders also believe the franchise's upwardly mobile track record over the past two seasons has made the Twin Cities an attractive place to play. They expect to keep it that way and position themselves well for the future no matter what decisions they make in the next couple of weeks.
"I feel as comfortable as any other team out there," McHale said.