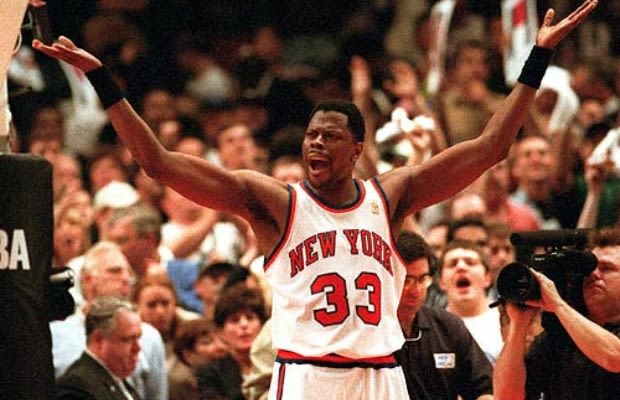 On rare occasions, an individual can inspire an entire group with the magnificence of his efforts. Yesterday afternoon, before a national television audience and a joyous crowd at Madison Square Garden, was one of those special times.
The inspiration came from an expected source, the rookie center Patrick Ewing. But even those who have watched him grow through the season could not have predicted something like this. The Knicks trailed the powerful Boston
Celtics
by as many as 25 points in the third period, but in the fourth quarter Ewing simply took command of the basketball game. 18 Points in Final Period First, he erased the memory of his lackluster first half by scoring 18 points over a stunning 8 minutes 30 seconds of the fourth period, bringing his team back from a 71-59 deficit and helping force overtime. Then, after suffering a sprained knee early in the first overtime that sent him to the bench for 1:40, he rallied his teammates from a 5-point deficit with a nifty crossover-dribble for a basket, then made a heady pass to the guard Trent Tucker, who nailed a 3-pointer to cause a second extra period.
Thus inspired, Ewing's teammates buried the
Celtics.
They pulled away with a 12-1 surge in the second overtime to earn a stirring and unlikely 113-104 victory.
Ewing finished the contest with a season-high 32 points, along with 11 rebounds, 3 assists, 2 steals and a blocked shot in 45 minutes of playing time. Rory Sparrow added 22 points and 8 assists, and Gerald Wilkins had 14 points coming off the bench.
The achievements of Ewing and his teammates were even more impressive because they came against a team with a record of 21-7 that is second-best in the league to the Los Angeles Lakers' 24-3.
''What people saw,'' said Hubie Brown, the Knicks' coach, ''is Patrick Ewing taking his game to another plateau. They've seen him have excellent moments, and they've seen him have big nights. But they've never seen him take over a game against a quality team.''
Ewing had little to do with the beginning of the comeback. The Knicks trailed by 58-33 with 6:39 remaining in the third period and seemed headed for defeat. At that point, Sparrow said, the team altered its goal.
''We called the guys together and said: 'Let's make it a personal thing and don't let your man score for the next two minutes,' '' the Knicks' playmaker said.
The Knicks succeeded better than they expected. They held the
Celtics
scoreless for nearly 4 minutes. And by the start of the fourth period, they trailed by 10.
With 9:29 remaining in the game, the lead was back to 12. That was when Ewing, with four personal fouls, returned.
He missed his first shot, but Wilkins grabbed the offensive rebound and scored. Then, after Larry Bird missed a 3-point attempt, Ewing capped a fastbreak with a layup that sliced the lead to 8 with 8:39 remaining.
Ewing then followed two free throws by the
Celtic
forward Kevin McHale with a 17-footer that boosted his confidence and prompted him to tell Sparrow to get him the ball - on every play.
''I wanted the ball,'' Ewing said later. ''I hadn't been playing well. In the first half, I was giving Robert Parish too much respect. I was pump-faking a lot when I should have been taking it straight up.''
Ewing helped bring New York to within a basket, 86-84, with 59 seconds remaining. Sparrow tied it 25 seconds later with two free throws to force the first extra period.
Thirty-one seconds into the first overtime, a pall fell over the arena when Ewing came up limping after trying to block a 20-footer by guard Danny Ainge. He left the contest, but after an examination on the bench by Dr. Norman Scott, the team physician, Ewing returned. But he was ineffective, and the Knicks fell behind again - this time by 97-92 with 1:09 remaining.
After a timeout, however, Ewing slid past Parish with a nifty cross-over dribble that surprised the
Celtic
center and scored with a another finger-roll shot. Then, after Boston failed to score twice in succession, he saved an inbounds pass Parish nearly stole, and got a pass away to Tucker, who nailed a 24-foot 3-pointer to tie the game at 97-97. ----King Makes Appearance Bernard King, still recovering from knee surgery, made his second appearance of the season at the Garden and was on the Knick bench. . . . Dr. Scott said he will determine this morning if Ewing will be able to travel to Chicago for the game against the Bulls tonight.