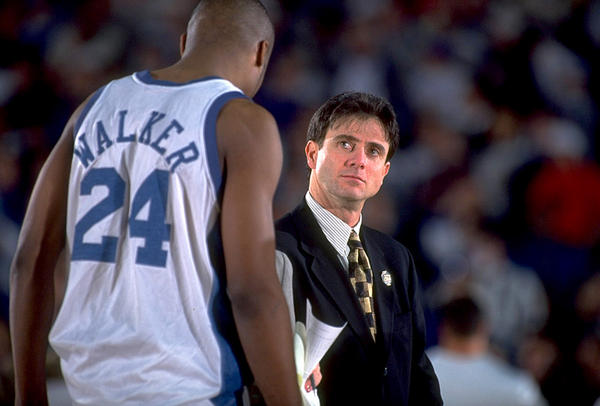 November

2, 1997
His autographed, black-and-white picture hangs above a mirror on the shop's back wall. You could easily miss it since it is considerably smaller than the nearby Michael Jordan poster, which dominates the area. Antoine Walker doesn't find a problem with this. He doesn't want to claim celebrity status at Symphony, his regular barber shop in the South End. He couldn't. Let him try to pull that here or at home on the South Side of Chicago. Somebody will undoubtedly tell him about himself.
He finds an easy balance between his Competitive Self and Social Self. You could compete against this 6-foot-9-inch man in basketball, bowling, or video games. He would annoy you. He'd make all kinds of noise, tell you how good he is, how important he is, and ask why you were silly enough to challenge him.
Rick Pitino wants him to do that a lot this season for the
Celtics.
Walker, 21, is their best player. Pitino, the new coach, is the sideline legend, the resuscitator of programs and franchises. Larry Bird, the new Pacer coach, is the legend who left the
Celtics
for another opportunity. Walker is up. Pitino says he can be an All-Star now. Orlando coach Chuck Daly says he was the best player in the 1996 NBA draft. He is the
Celtics'
legend-in-waiting. He realizes the importance of that and wants all the pressure you can bring.
If Friday night's season opener is any indication, Walker showed he's ready to take on that responsibility. He scored 31 points, pulled down 8 rebounds, and made 5 steals as the
Celtics
beat the Bulls, 92-85.
But he comes here to get a haircut. Talk sports. He wants to be around regular people because, he tells you, he's regular people himself. He waits his turn when he comes in. Sometimes you see his car parked on Massachusetts Avenue, but he is across the street at Subway ordering a No. 2 or No. 3 special that will help make his wait seem shorter.
On one of Walker's visits here last season, a young man came in and wanted to talk about the
Celtics.
He didn't censor himself.
"Walker, you're all right," he said, "but some of them dudes is sorry. They don't play defense, they don't set picks. They're sorry."
No special treatment here. Walker doesn't want it.
"That was just the way I was brought up, man," he says, sitting at a table in the back of the shop. His voice rises above the sounds surrounding him, a television blaring music and people participating in equally lyrical conversation. He is comfortable, much more comfortable than he seems in front of a television camera.
"I always learned to be cool with people, down-to-earth," he says. "When you're at this level, when you're in the NBA, people tend to put you at a higher level than maybe you feel you're at. You just got to let people know you're a normal person. You like to do the same activities they do and have the same interests that they do. Having money changes your lifestyle, not who you are."
When he didn't have a three-year guaranteed contract worth more than $ 5 million, he was a babysitter. And not for pay. He is the eldest of Diane Walker's six children. When she was working various jobs, Antoine had to be the one to make sure things were going smoothly with Tobias, Darius, Jarvis, Twyanna, and Kenesha at their South Side home. In between, he was playing shortstop and point guard in baseball and basketball. He wore No. 11 back then because he wanted to be Isiah Thomas. He watched all the old Bulls, from Reggie Theus to Quintin Dailey to Granville Waiters. "I was a diehard," he says. He grew too tall to go deep in the hole at short, so he concentrated on basketball. He became a 17-year-old father when his daughter, Crystal, was born. He told himself he had to do something dramatic two years later, in the spring of '96.
His University of Kentucky team had won the national championship and his family was struggling. Had he stayed in school another year, he probably would have been taken second behind Tim Duncan. But Diane Walker had sacrificed so much, worked so hard for the kids to have "things like the other kids had," he decided to declare for the draft and help the family.
Now the lessons of his childhood remain. He is sensitive to those who don't have money. He ran a free camp in Chicago during the summer, a camp that cost him about $ 15,000 and kids nothing. A friend asked him during the summer why he didn't publicize it to out-of-town media. He shrugged, "Maybe next year."
"That's just the way Antoine is," says Mike Irvin, Walker's best friend from Chicago. "He doesn't have a big head."
Friends like Irvin help prevent it.
"I have good friends, tough friends," Walker says. "Like Mike, he's my best friend and worst critic. He doesn't just say, 'Good game, man.' He'll tell me where I messed up, where I can improve."
Irvin, who played at Chicago's Martin Luther King High, often helps Walker work on his game during summer pickup games in Chicago. They'll play and Walker will tell point guard Irvin to look for him exclusively on pull-up jumpers if he wants to work on his outside shots that day. Sometimes it's inside moves. Sometimes it's a medium game.
"He used to imitate me," Irvin says, smiling. "I played point in school and was a year ahead of him. So he got that point guard game from me."
Wherever Walker got it, Pitino wants him to use it to lead the young
Celtics.
A few times in the preseason, the coach compared his vision to Magic Johnson's. Many people scoffed at that, saying Johnson was not conscious of his stats. Walker says neither is he.
"Look at what we did at Kentucky. None of us cared. We knew that if we won, we'd all get the credit. I think a lot of people misunderstood me last year when I backed myself for Rookie of the Year. I knew Allen Iverson should have won it. I was just saying that if you compared the numbers, and that's all anyone was talking about was numbers, mine ranked right up there. People didn't understand that."
Walker averaged 17 points and 9 rebounds for one of the worst teams the NBA has seen in 10 years. His statistics were not bloated; he was and is the team's best player. But he had to be reminded that he was not an invincible man last season. M.L. Carr is accused of babying Walker, but "most people don't know that me and M.L. didn't have the best relationship for a while. I thought I was ready and he didn't think I was. I wasn't. He not only helped me on the court, but he taught me how to be off it."
It was Carr who was infuriated when Walker brazenly talked to former assistant Dennis Johnson, leading DJ to say he wanted to resign after a December game in Indiana. Carr told Walker to apologize and gave him a nice seat on the bench the next night in Detroit.
Walker says he is more mature now. His friends, the tough critics, agree. His priorities away from the court are topped by wanting to see his daughter grow up.
He also could be the spokesman for Athletes Encouraging Autographs. "My brothers and sisters love basketball," he says, adding that he is their favorite player. "I would hate to see them go to a basketball player, ask for an autograph, and be told no. When I'm out there, I'm always thinking of my little girl. I can picture her growing up a basketball fan, wanting an autograph from a player. Someone telling her no would hurt me. So I think, it takes two seconds to say no and two seconds to sign it, so what's the difference? You might as well just sign it."
On the court? Well, don't expect him to be nice there. He plays against pros, collegians, and everyday blue-collar workers at various Chicago gyms in the summer. Randy Brown, Tim Hardaway, and Juwan Howard often participate. They talk a lot of trash. Walker handles himself well, verbally and athletically.
But you should see him here. Kind of quiet. Silly at times. A nice guy in
Celtic
warmups who asks the barber to shave a little off the sides, please.