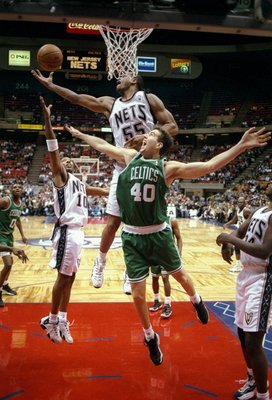 November

13, 1997
It was a night that forced you to declare your NBA philosophy. Are you a victory-at-any-price type? Or are you a discerning critic, one who demands that your basketball team be trimmed at the edges and polished just right?
The
Celtics'
96-86 win over the Nuggets at the FleetCenter last night would have helped you work out your position. It was a 48-minute conversation piece played before 15,760 people. What kind of conversation was it? Well, once again, it depends on your interpretation.
The
Celtics
shot 37 percent from the field, saw 5-foot-11-inch Dana Barros block more shots (1) than their entire starting lineup - he played four minutes - and were outrebounded, 48-43.
Generally, this is not good.
But they also broke a five-game losing streak, forced the Nuggets into an astounding 29 turnovers, and watched the visitors abuse their rims with 21 percent shooting in the fourth quarter.
Generally, this is good.
So where do you stand?
"You know, the style of basketball we play, you can play kind of bad and end up on top," Bruce Bowen said. "Coach Pitino tells us, 'I've had teams down by 16 with five minutes left and we've won.' I can't say why it works that way, but Coach knows."
Rick Pitino knows that if you continually pressure a team, particularly a winless one without its leading scorer, you have a very good chance of winning. So it didn't matter that the Nuggets opened the game with 6 straight points, took an 8-point lead into halftime, and led by 10 (61-51) with seven minutes left in the third quarter.
Even when they were ahead, they looked tired (they played in New York Tuesday night). They handled the basketball as if some prankster had dipped it in a few vats of cooking oil. And when they desperately needed someone to give them points, they looked to a young rookie (Tony Battie) and a rusty veteran (LaPhonso Ellis).
While they were doing this, Travis Knight and Antoine Walker were doing a fine score-rebound tag-team job. The 7-foot Knight scored 11 points in the third quarter. Most of his 17 points on the night were short hooks and layups in traffic.
"It was good to see him mix it up," Pitino said.
That's exactly what Knight did. He scored 9 points in the final six minutes of the third. When he started that streak, the
Celtics
trailed by 9. When he hit a 3-pointer with 3:32 left, they trailed, 66-62. And when Walker tipped in a hoop three minutes later, the
Celtics
had the lead.
Pitino said he thought Walker had a great game. If you heard only that statement and then read only Walker's shooting line (4 for 15), you would probably suggest that the coach needed a rest. But Walker added 12 rebounds (7 in the third) and 5 assists to his 19 points on the night.
"He saw some of his inside moves not going down, shots that normally go down," Pitino said. "He thought he got hit on a few plays, but he never let it get to him. He kept on playing. He threw some great passes and let the offense come to him."
Fans in Denver may see it another way. They saw their team blow a 13-point lead, then crawl back to 85-84 with 2:30 to play. Some of them may be thinking that their team blew it. They could be right.
"I think they're getting better," rookie Danny Fortson said of the
Celtics,
"and we're not."
Celtics
fans could counter that Knight made him feel that way. With the ball and a chance to take the lead, the Nuggets' Johnny Newman tried to force a pass into the post. Knight picked it off. Ron Mercer (16 points) ended the play with a layup. Rookie coach Bill Hanzlik shook his head and called time.
The game would be over, technically, a minute later. Chauncey Billups sneaked into the lane for a short jumper and the
Celtics
had an 89-84 lead with 1:08 remaining. He wouldn't have had the ball if the Nuggets' Dean Garrett hadn't turned it over on the previous possession.
So now the Nuggets go to Orlando feeling sorry for themselves. The
Celtics
have no sympathy for them. Pitino stood in a FleetCenter room last night and said how the
Celtics
could have won at Milwaukee, could have won against Cleveland, and could have won against Miami.
He didn't have to talk about could-haves last night, despite the lack of artistry.