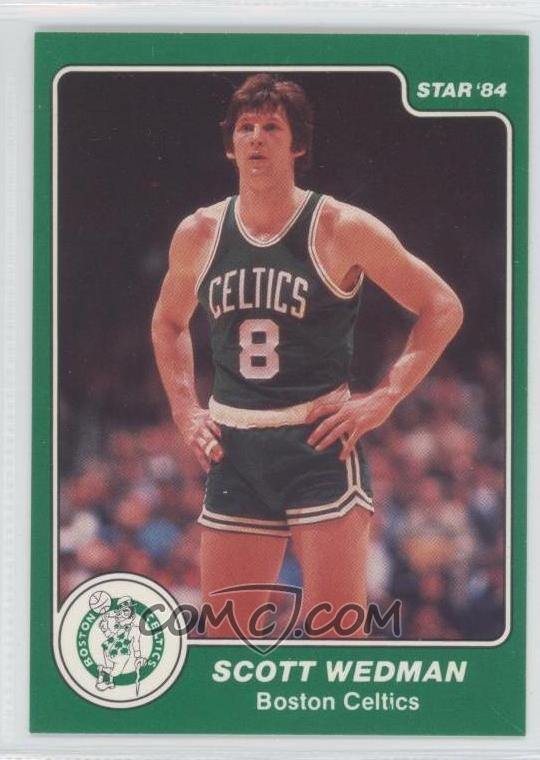 1983-84 Boston Celtics

Celtics 106, Bulls 83

Record 35-9

February 1, 1984

CHICAGO
Bad team, bad crowd, bad building, bad neighborhood. On nights such as this, the Celtics can only beat themselves - which is something they have refused to do in this magical mystery tour through NBA America. The Celtics picked up where they left off before the All-Star break last night, pounding the pitiful Chicago Bulls, 106-83, before 9430 at archaic Chicago Stadium. How bad are the Bulls? The Celtics outrebounded Chicago, 64-42. Boston shot 38 percent in the first half and still managed to build a 52-39 lead.
How apathetic are the Chicago fans? When Rod Higgins, who almost died on the Madison Square Garden floor two weeks ago, made his first appearance since the accident, hardly anyone noticed. Of course, by then, the Celtics were running the Baby Bulls silly and it was hard to get excited about anything unless you took pleasure in the shameless showcasing of Reggie Theus. Boston's highlights were many. Larry Bird hit 12 of 20 and led with 28. All 12 Celtics scored. Robert Parish (20 mintutes, only three in the second half) got some well-deserved rest and the lead over Philadelphia is up to 5 1/ 2 games.
These easy victories have to be viewed in perspective. Beating Cleveland and Chicago is always expected, but it takes total concentration and commitment to avoid letdowns. In winning six straight, and 26 of 30 since Nov. 22, the Celtics have demonstrated an ability to stay the course without ugly, untimely upsets. "We're on a mission," said Kevin McHale, who had 18 points and 10 rebounds in 29 minutes. "We really want to get everything and keep moving forward. Last year at this time we started to fall apart and we don't want to let it happen again. When we get ahead by 10, we try to make it 20. When we get to 20, we try to make it 30."
They were up by 13 at intermission. Bird had one of those halves (9 of 15 from the floor) in which he appears capable of making anything from inside halfcourt. "Robert set some good picks and I had it going pretty well," said Bird, who always enjoys playing near his Indiana motherland. "It was one of those nights when I though my off-balance shots would fall and anything I threw up would go in." The Bulls got back to within 10 briefly in the third period, but Dennis Johnson scored nine points in five minutes, and Bird and McHale repeatedly beat the Bulls down the floor. Cement-footed Dave Corzine made McHale look like Norm Nixon. When McHale wasn't leading the break with easy baskets, Bird was dropping in open jumpers and Greg Kite and Carlos Clark were getting antsy.
"When we have Larry going for rebounds (12), I know he's going to get it; so I just try to beat my guy down the floor," said McHale. "Running is our game and we've got to keep doing it," added K.C. Jones. "Early in the year we were walking the ball up the court a lot. We must run." A 12-2 Celtics' surge late in the third quarter made it 84-59. The only remaining question was whether Chicago would crack 80. Boston led, 91-67, with 7:17 left. Victory cigar Kite appeared with 4:49 left and Clark came in nine seconds later. A Scott Wedman basket with 2:34 left gave the Celtics their biggest lead (99-74), and M.L. Carr ended it with a three-pointer. Chicago coach Kevin Loughery could only shake his head. The Bulls shot 38 percent (33 for86) and were outrebounded by 22. "You can't shoot 38 percent against them and expect to beat them. Against a great team like Boston, you can't get down by 13 in the first half and expect to fight back."
The only highlight for Chicago fans was the appearance of Theus, who's spent more time in the doghouse than Snoopy. Sir Reggie has played in only four of the last 17 games. When Theus walked on the floor, organist Nancy Faust played "When The Saints Come Marching In." When Theus scored, Faust played "She Works Hard For The Money." Mr. Solid Gold Dancer ended up with a team-high 15.
MISC
Danny Ainge and Quinn Buckner continue to pile up the minutes. Ainge played 22 minutes last night; Buckner was on the floor for 26. "The second quarter was the key for us," said K.C. Jones. "Danny and Quinn did the job bringing the ball up." . . . Ainge, who says he isn't going to shave until the Celtics lose, broke his string of 76 consecutive minutes without a turnover. He had three last night . . . Gerald Henderson was 1 for 8 from the floor and missed three three-pointers . . . The Celtics are 19-2 against the Central Division . . . Chicago's point-total (83) was its low for the year . . . Washington appears to be the new team in the Reggie Theus hunt. Bulls general manager Rod Thorn admits an Eastern team is hot on the trail, and Bullets GM Bob Ferry has been in Chicago for a couple of days. After last night's 25-minute opportunity, Theus said, "This is basically a situation that has gotten out of hand. I understand the coach's situation, but I also understand that there have been many times when we needed what I do best." . . . Kevin McHale, a native of Hibbing, Minn., is still in mourning over the retirement of longtime Minnesota Vikings coach Bud Grant . . . The Celtics are home for three straight against Kansas City (tonight), Indiana (Friday) and Detroit (Sunday afternoon).