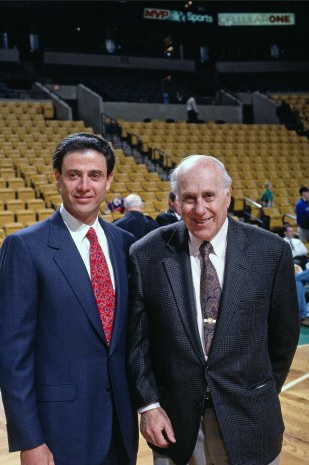 Aug 17, 1997
There won't be any bugs in the lights or surveillance cameras hidden in the bleachers at Brandeis, but the NBA insists it will monitor Rick Pitino's "voluntary" workout sessions the next two weeks. "We are keeping an eye on the situation," said Jeffrey Mishkin, the league's executive vice president and chief legal officer. "We will enforce our rules." The rules say that teams can't have practices, scrimmages, or workouts with the regular roster players before the start of training camp. Individual workouts with coaches are permitted. So, you think Pitino is having all these players in this week and next for one-on-ones with the coaching staff? Or that there will be no drills, scrimmages, workouts, or anything else that might be construed as a practice? Or that there really is a Tooth Fairy? Not eager to come down too hard, the NBA nevertheless did call the Celtics again last week - by our count, that's three notices this summer - to remind them what the rules are . . . Pitino isn't the only one who likes to look at his players a lot.
We hear that Pat Riley is doing something similar down in Miami, with returning veterans P.J. Brown, Mark Strickland, and Ike Austin among the participants. Riley also has a few free agents in town, including such immortals as Matt Fish, and the Heat draft picks . . . Kevin Mackey, who just coached Atlantic City to the USBL championship, feels the NBA will soon start signing a lot more players who have been hardened by 3-5 years of international or minor league experience. "I feel very strongly that there is a group of players in the 24- to 27-year range that are better now than the kids coming out of college," Mackey said. "A lot better. Take away the lottery players, and I'd rather have one of them. Give me 10 or 12 of them and let me play the post-lottery guys in a seven-game series, and it would be no contest. My guys would do a dance on them." . . .
The Nuggets' entry in the recent Salt Lake City Summer League went winless in five games. No bulletin there. Tony Battie got hurt (not seriously) and Danny Fortson announced, "I'm going to be a monster by the time January comes." The team also had warmup shirts that read, "We're Not A Running Team, We're A Sprinting Team." . . . Byron Scott, now one of Dino Radja's teammates at
Panathinaikos, wrote a letter to the fans in Los Angeles explaining his decision to go overseas. According to Scott, he wanted to stay with Los Angeles but the Lakers said no. "Why did Laker management turn me down?" Scott wrote.
"Because Laker management knew what was best for my wife, Anita, and my three children - continued financial security. Their advice was tough to swallow, but they were right." Gee, we all know Jerry West can wrangle deals, but he also knows that $ 1.4 million is more than $ 327,500. No wonder this guy is ahead of everyone else . . . If Chris Mullin can stay healthy - and that is not a given - then the Pacers are the easy short-term winners of last week's big deal. Golden State is going nowhere with or without Mullin, and to hear Donnie Walsh talk about Erick Dampier, you'd think the big guy was the next Hakeem Olajuwon. Mullin instantly gives Indy something it had to have: a reliable scoring threat not named Reggie Miller. Dampier might have been an intriguing prospect, but with Rik Smits and the Davises, where was he going to play? The Pacers were the runaway leaders for Underachievers of the Year last season.
That can happen when your coach bails out on you in midseason and your big guy is hurt all year. That won't be the case this year, at least with the coach . . . Best wishes to former Celtics assistant coach and player development director Jon Jennings. He's on his way to Washington on a White House fellowship . . . McHale was asked if Billy Curley had any shot of being a factor this season. "Let's put it this way," he said. "He's a great kid and he works his tail off. But he's missed the last two years and he still can't run. Camp starts in a month. What are the chances?"