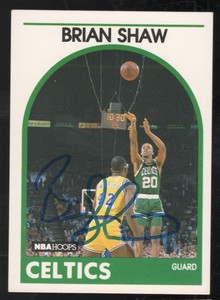 September 13, 1990
Shaw Saga Comes to an End
The long, sometimes sordid and routinely bizarre Brian Shaw affair is about to end.
Sources said yesterday that Shaw and the Celtics have all but finalized a deal in which he would agree to return to the team and honor his contract.
However, the sources cautioned that the arrangement still is not final, and one major sticking point is that the Celtics must agree to drop lawsuits against Shaw and Il Messaggero, as well as refraining from any future litigation against Shaw's agent, Jerome Stanley.
There also is the matter of his application before US District Court Judge A. David Mazzone to be purged of contempt. Mazzone found Shaw in contempt of court on July 21 and fined him $5,000 a day. Shaw accumulated roughly $30,000 in fines before asking the court's forgiveness, but Mazzone has not ruled on the matter, which has been standing for six weeks. Shaw also has asked the judge to relieve him of all the fine money.
Another condition of the proposed rapprochement with the Celtics is that Shaw will not be compelled to issue a statement of regret or apology for his actions.
"That won't happen," one source said.
Another source added, "The basketball part, I think, is comfortable to Brian. It's the non-basketball part that still needs some work. There still is a lot of debris out there."
The Celtics had no comment. However, Kevin McHale said Tuesday that after visiting with club officials, he was reasonably certain a settlement was in the works.
According to the sources, the agreement is close enough to fruition that it could be finalized by the end of the week. The Celtics entourage will be departing today for Florida for the annual NBA meetings, which could delay any announcement until early next week.
What now seems obvious is that Shaw at last has decided that playing for the Celtics would not be such an onerous endeavor. That runs contrary to his thoughts this summer, when he and the team were engaged in a bitter suit stemming from his desire to return to Il Messaggero and complete his contract with the Italian team. All through the proceedings, Shaw said through his attorney that he had no intention of returning to Boston.
However, a source said, "He now knows what his options are, and I think you'll soon be seeing him in Celtics green again. I think you will find that that is going to happen."
Such a situation seemed thoroughly implausible this summer. Shaw, through Stanley, notified the Celtics in early June that he intended to return for a second and final season with Il Messaggero. That stunning development came after Shaw signed a contract with the Celtics last January, one that runs through 1994, including a $450,000 signing bonus and a salary of $1.1 million for the upcoming season.
The Celtics, floored by the unexpected salvo, immediately went to arbitration to get the NBA contract enforced and were successful. The arbitrator forbade Shaw to play for any team but the Celtics and also ordered Shaw to notify Il Messaggero on June 20 that he would not be returning.
When it became clear that Shaw still wanted to return to Italy, and had no intention of obeying the arbitration decision, the Celtics sought further support from Mazzone. He upheld the arbitration decision and was supported by the 1st US Circuit Court of Appeals.
Shaw had until July 20 to notify Il Messaggero that he would not be returning. When the date arrived and he still refused to do so, the Celtics were given authority by Mazzone to send the termination letter.
Mazzone then chastised Shaw for behavior the judge termed "unacceptable" and "incomprehensible" and initiated the $5,000-a-day fines on July 21. Shaw's initial request to be cleared of the contempt charges, filed on July 26, was not accepted by Mazzone. The second, refined application, in which Shaw revealed he had sent a letter to Il Messaggero, was filed Aug. 1 and is pending.