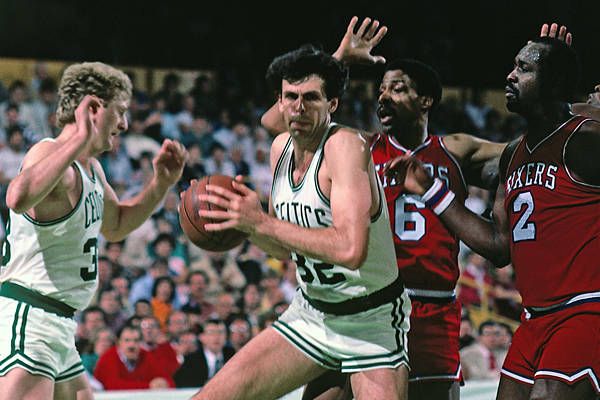 1983-84 Boston Celtics
Celtics 105, Sixers 104

Record 29-8
January 14, 1984


PHILADELPHIA
Said Sixers coach Billy Cunningham: "The way these two teams play, we ought to just play the last minute."
Bingo.
They have met three times and produced two one-point margins, and an overtime classic. There has been virtually nothing to choose. When the final five minutes roll around, you know that Larry Bird, Robert Parish, Kevin McHale, Gerald Henderson and Dennis Johnson are going to be out there against Moses Malone, Julius Erving, Bobby Jones, Andrew Toney and Maurice Cheeks.
It is trench warfare, and the combatants fight for every square inch of territory. There is no better showcase for what the NBA can be. The Celtics outrebounded Philly, 51-44, and scored 18 points on 19 offensive rebounds . . . Both teams committed only 13 turnovers . . . The Sixers blocked 12 shots . . . It was largely a six-man effort by the Celtics. McHale had 20, but the rest of Boston's bench scored only two points.Celtics trainer Ray Melchiorre made an interesting observation on the way to the airport yesterday morning."At 9:13 this morning, I noticed that we were playing on Friday the 13th and the itinerary showed that this was our 13th trip of the season. That worried me a little."
Those who are plugged into Sportschannel must have felt like the folks who built fallout shelters before the Cuban missile crisis. Last night's war was not on free TV in the Boston area, and Sportschannel subscribers found themselves with a lot of new friends who were eager to watch the game . . . Celtics assistant general manager Jan Volk was in attendance, as was Cedric Maxwell's agent, Ron Grinker. Grinker says he talks to Red Auerbach almost daily, and there is no real threat of Maxwell playing elsewhere next season. "Max has got no problems," says Grinker. "We're not looking to go anywhere." Grinker says he thinks Maxwell will sign a new contract before the end of the regular season. The Celtics take on the slumping Bucks tomorrow (1 p.m., Ch. 7) in Milwaukee. The Bucks had lost four straight before defeating the Knicks last night