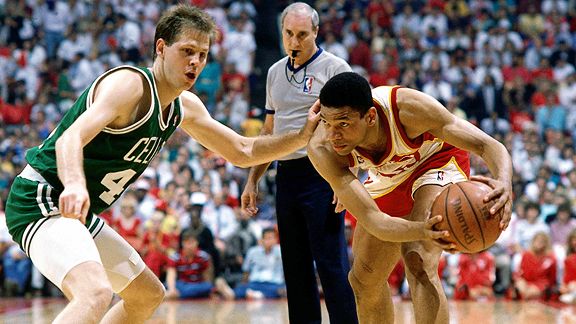 January 3, 2005
AUBURN HILLS, Mich. - The potential loss of Gary Payton with a strained left hamstring was briefly a laughing matter last night after the Celtics dropped a 100-88 decision to the Pistons. When asked how he would get through one and possibly many more games without the veteran point guard, coach Doc Rivers decided he would call up executive director of basketball operations Danny Ainge. But he was not talking about a quick phone conversation.
"[I'll] activate Danny," said Rivers. "Get Danny in a little shape. He's a little heavy right now. Maybe he could come back and give us a couple minutes. I don't know what our backup plan is because Delonte [West] is out as well. He can't even work out. I think it will be more Ricky [Davis]. But if Gary can't go, it just hurts us in so many ways that will not show up on paper, but we'll deal with that as [it comes]."
Rivers surely will look to backup Marcus Banks for more minutes.
"It's not like I haven't been in there playing," said Banks, who had 3 points and 2 assists in 18 minutes against Detroit. "I've just got to step up and take up the slack from Gary and play solid minutes."
Close call
During the Celtics' free agent search last summer, forward Antonio McDyess was at the top of their list. Familiarity with Ainge (his coach in Phoenix) and Raef LaFrentz (his teammate in Denver) pushed the Celtics to the top of McDyess's list. It came down to a choice between Detroit and Boston and McDyess wound up signing a four-year deal worth $22.5 million with the Pistons. The final year is a player option.
"It was real close," said McDyess. "It was either of these two teams. With Danny Ainge and Raef LaFrentz [in Boston], I pretty much thought I was going to go there. In the beginning, it was a strong possibility. But I talked to Chauncey [Billups] and they were the champions. I felt like we could do it again. I thought we could get a ring here quicker than there."
Enough said
With players such as Ben Wallace and Richard Hamilton to worry about, Rivers did not devote extra time in his pregame pep talk to proper player decorum. Even though last night marked Boston's first trip to the Palace of Auburn Hills since the infamous brawl between the Pistons and Pacers, Rivers did not believe any reminder was necessary.
"I think it's been said enough," said Rivers. "Trust me, they know. It would be more interesting if the Detroit fans had changed with the verbal jabbing that they do behind the bench. They're one of the worst in the league. But the bottom line is, as bad as that was, and it was awful, it was a great lesson not only for our league, for sports. Hopefully, we've all learned. My pregame speech is, 'Just win, baby.' "
Added Walter McCarty: "I haven't even thought about it. That was something that really escalated. There's been things thrown before. When we beat them in the playoffs a couple years ago, somebody threw beer on Erick Strickland. It happens more than people think it does."
Toned down
The Palace went unexpectedly retro last night, relying on a backup sound system for announcements and music. A power outage following Thursday night's game vs. Miami created a surge that damaged the computers that normally operate the public address and sound systems. As a result, the volume was lower than usual and the Pistons scaled back some in-game entertainment . . . While Davis kept his unbraided 'do, Ben Wallace was back in cornrows. The Celtics entered the contest 1-1 when Davis sports an Afro. Before he knew Wallace had changed his hair style, Rivers said, "I didn't think about it until Ricky walked into our [morning] meeting with the 'fro going. And I was like, 'It'll be a hairy game tonight. [Wallace] started that [when I was] in Orlando and they had stats for the 'fro games and the braid games. We were .500 regardless."
Enough said, Part 2
When it was mentioned that rookie Al Jefferson's recent poor play and practice could be attributed to a bad cold, Rivers said, "Al's been sick too long. That's all I have to say." . . . To help raise funds for the victims of the recent tsunami that hit southeastern and central Asia, the Celtics are partnering with the American Red Cross. During the next three home games, volunteers will be stationed throughout the FleetCenter to collect money. The Boston Celtics Shamrock Foundation will make a donation and will match donations made by fans. Those wishing to make contributions may do so at the following games: tonight vs. New Orleans; Wednesday vs. Golden State, and Friday vs. Detroit . . . With four blocks last night, Ben Wallace became only the second player in Detroit franchise history to record 1,000 blocks. Terry Tyler (1978-85) holds the franchise record with 1,070.