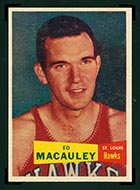 Ed MacAuley played six seasons (1950-56) with the Celtics and was an all star in all six seasons. Also with the Celtics, MacAuley was a member of the All-NBA first team three times and was the 1951 Most Valuable Player in the very first NBA All Star game scoring 20 points, which was played at the Boston Garden on March 2, 1951. He had his Celtics No. 22 retired on October 16, 1963 at the same time with Bob Cousy's No. 14. They were the first two to have their numbers retired by Boston.
These days, "Easy Ed", who turns 77 on March 22, resides in St. Louis, Missouri with his wife Jacqueline. The two of them have been married 52 years and have seven children and 17 grandchildren. MacAuley is retired and previously he was a Sports Director for two television stations in St. Louis. With retirement, MacAuley is currently very involved with his church serving as a Deacon and has written a book entitled "Homilies Lives" with Father Francis Fredle.
"We have given homilies workshops in Canada and United States to other deacons and other priests," said MacAuley. "It is a wonderful experience." The two have also started up the website homiliealive.com. "We've had it for about three and half years now and have had over 750,000 hits to the website," said MacAuley. "We think we have done pretty well and have had comments from all over the world. We have about 40 priests and deacons throughout the country and a few from outside the country that write the homilies for us." MacAuley is a legend in St. Louis where he starred at St. Louis high school and went on to become a Hall of Famer at St. Louis University. In college, MacAuley was a first-team All-American and was named the Player of the Year in 1949.
MacAuley played a total of ten seasons in the NBA. Prior to the Celtics, "Easy Ed" played one season in St. Louis and then after the 1956 season was traded back to St. Louis for Bill Russell. MacAuley played three more seasons before retiring and won an NBA title with St. Louis in 1958. "I got a call from Walter Bown and he said they had a deal that would send me to the St. Louis Hawks," said MacAuley. "When we were in Boston my son Patrick was diagnosed with spinal meningitis and we came back to St. Louis where he was under care.
"Walter said he didn't want to make the deal because he couldn't imagine the Celtics without me. Walter and I were close and I told him he would be doing me a favor and to make the deal (because my son's care was there). That's the way the deal went down." "Easy Ed" retired as the NBA's third all-time leading scorer trailing only George Mikan and Dolph Shayes at the time. MacAuley was inducted into the Hall of Fame in 1960 at the age of 32 and to this day he is still the youngest player ever enshrined. "I didn't start playing basketball until I was in the eighth grade and that was for a team that didn't win a game," said MacAuley. "I didn't think I was going to have a great career in basketball."