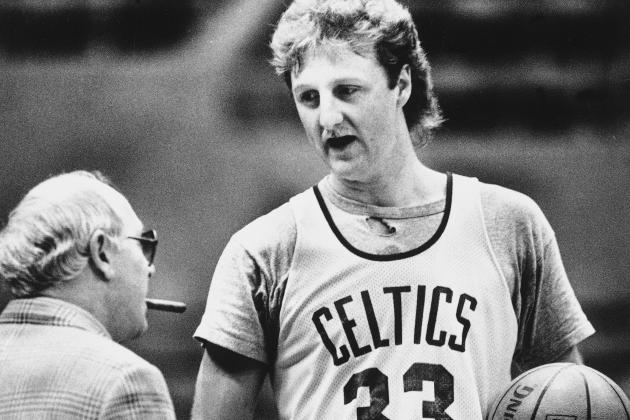 1983-84 Boston Celtics

April 15, 1984
Weatherman Harvey Leonard thinks Dennis Johnson is going to make the difference. The guys at the Newton Y are worried about Gerald Henderson's ballhandling at the end of close games. A Celtics' season-ticket holder says Boston will win it because it's Red Auerbach's curtain call. There is no shortage of opinions. The Bruins are home for the religious holidays, the Red Sox are comfortably nestled into their season without hope, and New England now turns its eyes toward the team that has rewarded loyalty with 14 world titles.
The 1983-84 Celtics are ready. They have blitzed through the regular season, carry the league's best record into the playoffs and have a relatively healthy and rested team, plus the unexpected momentum of a late-season winning streak. "I think we're playing much better now than we were at the end of last year," says Cedric Maxwell. "An upward climb and timing mean a lot at playoff time. We're playing consistently right now, and I think we have a good shot to win."
The Celts were in disarray after last May's sweep by the Bucks. Picking up the pieces of shattered hopes and egos was not an easy task, and new coach K.C. Jones deserves much credit for steering this group to more than 60 victories without alienating or exhausting his players.
Any analysis of the Celtics' championship hopes starts with the backcourt. Still the team's most vulnerable spot, the acquisition of Dennis Johnson appears to have solved a lot of the backcourt problems. DJ is the big, defensive guard the Celtics have lacked. He's done a credible job on Andrew Toney, Sidney Moncrief and Co., and gives the Celtics a guard who can take his man down low. He plays hard, plays hurt and is a proven playoff performer (1979 MVP with Seattle). Henderson has complemented DJ perfectly, and the Celtics must hope that Henderson's hamstring injury is better for Washington. He's been bothered by trapping defenses at times, but enjoyed an outstanding season.
Quinn Buckner emerged as the third guard, and Scott Wedman proved that he can play back there against certain teams. Danny Ainge's star-crossed season leaves him out of the picture as the playoffs get under way. The "four-guard" problem of 1982-83 never materialized. When the Celtics were buliding their big lead over the 76ers and Knicks, K.C. was using DJ and Henderson for 35-40 minutes a game.
Underneath, the Celtics are stronger than ever and undoubtedly possess the NBA's most dominant frontcourt. Larry Bird is the MVP-designee, Maxwell is back from a year on Neptune, and Robert Parish has played more consistently than any center, with the possible exception of Kareem Abdul-Jabbar. Fatigue may be a factor with Parish. His minutes are up from last year (when he fizzled in the playoffs), but he says that less strenuous practices have saved his strength. Kevin McHale remains the player opponents fear. Playing with Parish, he gives the Celtics tremendous mismatch opportunities.
Bird, the leader, says, "I think we're as ready as we're going to be. We're all a lot more confident than we were earlier in the season. We accomplished the goals we set out to accomplish. I think the key was when we went out on the West Coast and played well (4-2) out there. That led up to what we're doing now. "I'm not going to say we'll go out and win it, but we have a lot better attitude, especially after what happened last year."
Boston was 4-2 against the Bullets this year. Both of Washington's victories were in the Garden. The Celtics didn't rebound especially well against the Jeff Ruland and Co., and got into trouble when they stopped running. "I think our players believe we can get to the Celtics, and I think the Celtics think we can beat them," Washington coach Gene Shue said last week. The Milwaukee massacre should serve the Celtics well. The wound still stings, and it's unlikely that Boston will take any team lightly. Assuming they beat Washington (best-of-five), the Celtics will play either New York, New Jersey, Milwaukee or Detroit in the second round (best-of-seven).
What about the World Champions from Philadelphia?
"They're playing better now, but they're not invincible like they were last year," says Maxwell. "Their armor has been tarnished a little. They can be beaten." The Celts were 2-4 against the Sixers this season. A Boston-Philadelphia conference final is what everybody waited for and missed last year. The two teams met in the Eastern showdown in 1980 and again in '81 and '82. Philadelphia won two of those three series. A seven-game Celtics-Sixers tong war should decide who plays the Lakers in the final, but speculation beyond Philadelphia is foolhardy. There'll be plenty of time for that if the Celtics keep winning.