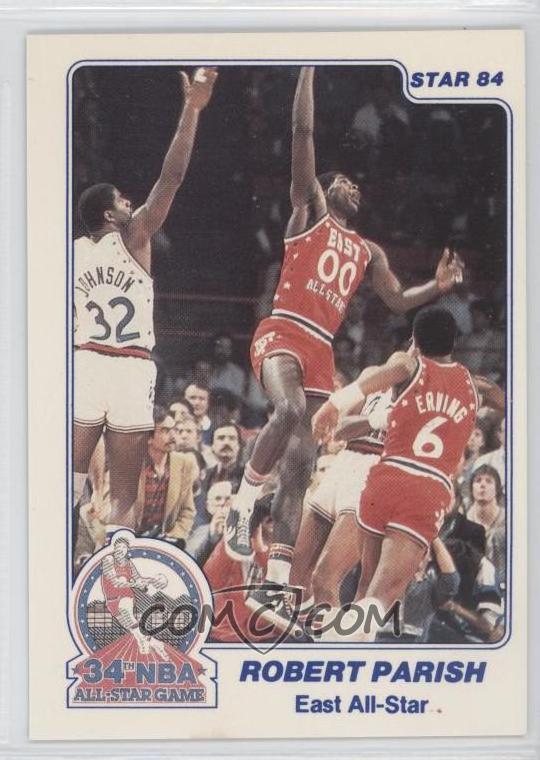 1983-84 Boston Celtics

Celtics 102, Sixers 98
Record 34-9
January 26, 1984
Robert Parish will be the Eastern Conference's starting center in Sunday's NBA All-Star game. Moses Malone, who turned his ankle against the Knicks Tuesday night, did not play against the Celtics last night and will not be in Denver Sunday. Malone was voted starting center by the fans. Detroit's Bill Laimbeer will fill Malone's spot on the East roster, but East coach K.C. Jones has selected Parish to start. "It would be nice, but it's not what I anticipated," said Parish, who finished fourth in the fan balloting. "I anticipated playing 20 minutes tops. This kind of changes things. I'll have to be a good boy out there." Jones had no trouble deciding on a starter and doesn't believe his choice is a provincial one.
"Robert's been around the league a few times this year and teams have seen his rebounding and scoring," said Jones. "I think that's impressed them enough to make him a starter." Parish ranks with the league leaders in rebounds (11.1) and shooting percentage (.571). He is averaging 12.7 rebounds in his last 16 games and has shot 63 percent (81 of 128) in his last 10 games. He has appeared in three All-Star games, but this will be his first start. "We'll miss Moses, though. I was hoping to play Moses and Andrew Toney and Doctor J 48 minutes each, so it would be hard for them to play against us the rest of the year," said Jones with a smile. "Moses blew that for me."
Malone turned his left ankle with less than seven minutes left against the Knicks. He flew to Philadelphia yesterday morning and was examined at Temple Universiy Hospital. "He'll be out 10 days to two weeks," said Sixers trainer Al Domenico. "He gets this quite often in both ankles. I talked to him this afternoon and he made the decision." Hope you've enjoyed the early-season glut of Celtics-Sixers contests. The Celts play the Sixers in the Garden again Feb. 12, then play Philadelphia only once in the last 31 games.