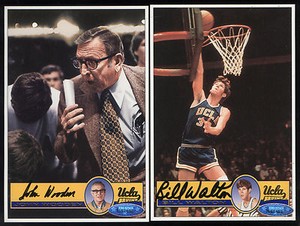 Midway through the second half of the 1973 NCAA Tournament championship game at The Arena, UCLA guard Greg Lee spoke up during a timeout.
"Greg said to Coach Wooden, 'C'mon Coach, we've got a 20-point lead, can somebody else besides Bill shoot for a while?'" recalled the subject of Lee's plea, center Bill Walton. "And Coach Wooden looked around and said, 'Why?'"
Why, indeed. With the Bruins continually dumping the ball inside against flummoxed Memphis State, the 6-foot-11, 235-pound Walton, a junior from San Diego, was in the midst of the most productive -- and most efficient -- performance in title-game history. And Bruins coach John Wooden was in no mood to change anything.
"We were going to continue that until it was no longer working," said Wooden, who at age 94 "plus several months" still retains sharp memories of UCLA's 87-66 victory.
Walton, a mop of red hair bouncing atop his lanky frame, took 22 shots; he made 21. More than three decades later, his 44 points on March 26, 1973, in front of a capacity crowd of 19,301, remain a championship game record. And that total easily could've been considerably higher.
"They took, I think, four or five baskets away from me for dunking," which was illegal at the time, said Walton, 52. "And I was an embarrassing two for five from the free-throw line, including two misses on the front end of one-and-ones."
UCLA brought an unprecedented 73-game winning streak to St. Louis, which was serving for the first time as host for the national semifinals and final (it wasn't called the Final Four then). The Bruins had won the six previous national championships, and they were heavily favored to make it seven in a row.
The tournament field then comprised 34 teams, and UCLA defeated Arizona State, San Francisco and Indiana by an average of 14.3 points to reach the final. The Bruins took a 29-0 record into the championship game, which was played on Monday night for the first time. Previously, the semifinal games were contested on Thursday, with the final on Saturday.
UCLA's matchup with Memphis State (28-2), a 98-85 winner over Providence in the semifinals, was televised by NBC, with Curt Gowdy doing the play-by-play. It drew a viewing audience of 39 million and at the time was the highest-rated basketball game ever.
Memphis State was coached by Gene Bartow, a native of Browning, Mo. The Tigers' stars were center Larry Kenon and guard Larry Finch, although Bartow directed considerable praise toward his starting point guard, Bill Laurie of Versailles, Mo., for the team's success.
"Bill was a great team leader, very unselfish," said Bartow, now 74 and working part time for the NBA's Memphis Grizzlies. "He was very team-oriented and very dedicated to winning games." Laurie, owner of the Blues hockey team, declined to be interviewed for this story.
Bartow, whose big men quickly got into foul trouble, employed several defensive strategies attempting to neutralize Walton, the reigning college player of the year. "He was as skilled a post player as you could find," ESPN analyst Dick Vitale said.
"We were trying to zone and box-and-one . . . we tried a lot of different things," Bartow said. "He still got the ball about wherever he wanted it. And when he shot, he made all of them. I don't remember which one he missed. I've kidded him a time or two about missing. He probably shouldn't have missed, as good a shot as he was getting."
For the record, Walton's misfire came in the first half. "It was a little short shot," he said, "and I just grabbed it and put it back in."
Still, it was 39-39 at the break. And when Walton was whistled for his fourth foul early in the second half, it appeared as if Memphis State might be primed to pull off the upset. Instead, the Bruins' offensive machine clicked into another gear. Walton never got a fifth foul, and UCLA smothered the Tigers 48-27 over the last 20 minutes.
Walton, who also collected 13 rebounds, soaked up the lion's share of the accolades, but he emphasized that he gets "way too much credit. That was UCLA basketball at its best, a team game. Our guards had 23 assists between them. Lee set an NCAA championship game record of 14 assists, and Larry Hollyfield had a career-high nine assists."
Wooden takes devilish delight in pointing out that Walton's prowess on one end of the floor was nearly matched by his ineptitude at the other. "It wasn't one of Bill's better defensive games," Wooden said dryly, noting that Kenon scored 20 points against him.
UCLA won 10 national championships under Wooden, the "Wizard of Westwood" who retired after the 1975 title game. Comparing teams, he said, is difficult. "I had four teams that went undefeated and won national championships, and I had three that lost only one" game, Wooden said. "And I'm not sure that one or two of those teams that lost only one might have been just as good as some of those that didn't lose any."
But it would be hard to argue that any player had a greater game in the glare of the national championship game spotlight than Walton did 32 years ago at the "old barn" on Oakland Avenue.
"He was absolutely dominating," Vitale said. "That was as close to perfection as one can get."