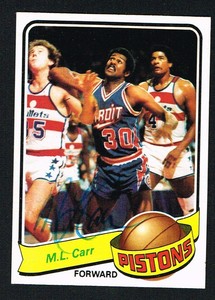 A Day in the Life During the ML Carr Era
June 2, 1995
The day began like any other for M.L. Carr. The alarm in his FleetCenter efficiency apartment-luxury box went off at 4:30 a.m., leaving just enough time for Carr to slip into his waterproof electronic gear and hit the shower.
"Hi," Carr said as he groped for the shampoo. "Welcome to coffee with Carr, sports fans."
Damn, Carr thought. Morning drive time was tough after a road loss to Utah. That slavedriver Ordway. Radio was no job for a Celtic executive, but somebody had to do it. The franchise had to go with its best at all times.
"Hey, M.L., first-time caller from Norwood," sounded a voice in Carr's ear. "How long are you going to tolerate that coach messing up his playing rotation? Imagine playing Dominique at point guard."
"We have every confidence in the coach," said Boston's basketball chief of operations. "When you consider the injuries this team had this season, he's done a fine job. Don't forget, a win tonight and we're in the playoffs for the second straight year."
"M.L., Eddie on a car phone," said another voice. "I blame the front office. What coach can win with these players?"
"I think management gave me the personnel to win," answered the Celtics' head coach. "It's my job to find the right formula. We're getting close. I know we can succeed as a running team. If Malone doesn't hit those 14 lucky shots in the fourth quarter, we win."
WEEI went to commercial, but as Carr was shaving, his private line rang. "M.L., it's your broker. The Nikkei crashed last night, and Celtic International went with them. The merger with Sony is off."
"Call them back," answered the Boston Celtics' majority stockholder. "Sweeten the deal by 30 a share another lunch with Red and Larry."
Before Carr tied his tie, the line rang again. This voice was vaguely familiar.
"M.L., this is your family. Please call. We only see you on Ch. 38."
Carr threw his trademark towel across the bedroom toward his living room-office. There were times when he was tempted to chuck it. All of it.
People thought it was easy being owner-GM-coach-broadcaster-trainer of the Boston Celtics. But it was lonely at the top.
There was no one in the office for Carr to talk to, and none of the players had spoken to him in weeks. Carr was honest with himself. He had made mistakes. The trade for half of Michael Jordan wasn't an unqualified success.
The way it worked, the Celtics sent Eric Montross to Chicago for the right to play Jordan anytime Michael decided to wear No. 45. The Bulls kept Jordan when he wore 23. Jordan wore 45 only one night, scored 47 points. and coach Carr's Celts beat the Magic. Then Jordan retired again. Word from Nike base camp was that Jordan and Spike Lee were halfway up Everest, the first men to climb the peak in sneakers.
A front office had to be on the same page, thought Carr. There were no arguments at Celtic board meetings. There was only one chair at Celtic board meetings.
And fans loved radio man Carr. The live broadcasts of Celtic timeouts got phenomenal ratings.
If only Pat Riley hadn't brought his own radio to the game. If only Carr had remembered to push the cough button when he'd said those things to Jess Kersey. If only Dino Radja hadn't broken both legs tripping over the mike cords.
Carr was no man for ifs. He had plans. He planned to eat a hot meal sometime this week, for example.
Owner Carr knew he needed the playoff money to keep making his bank payments.
Coach Carr knew his team needed another scorer off the bench to edge out Toronto for the last spot in the new 24-team playoffs. GM Carr had an idea.
The Nets led, 110-109, with five seconds left when Carr called time.
"Fellas," he said, "we're setting up a 3-pointer in the corner for the man the GM signed today."
As the Celtics stared and the crowd screamed, Carr gave his towel a mighty wave and ripped his suit in two. There he stood, No. 30, the greatest Celtic 12th man ever, M.L. Carr, player.
When the play began, Carr was wide open. The Nets thought he was still coaching. But Dee Brown's inbounds pass hit a courtside fan. The Celtics lost. Went into Chapter 11, too.
It wasn't Brown's fault. The fabled parquet was too inviting, the timeout 30 seconds too long.
M.L. Carr, the Celtics' indispensable man, was curled up on the floor fast asleep.